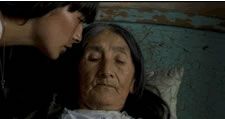 Magaly Solier and Anita Chaquiri in The Milk Of Sorrow
Claudia Llosa's second feature The Milk Of Sorrow - about a girl coming to terms with Peru's history of violence - won the Golden Bear at Berlin. Now on release at cinemas across the UK, we caught up with Claudia to talk to her about the symbolism in the film and her hopes for the future.
You approach the legacy of the Shining Path's violence in Peru partially through magic realist devices. Can you tell us a bit about why you chose to do that - and talk about your particular brand of magic realism, which is much less 'fantastical' than many of your contemporaries. Can you explain why you were drawn to this subject in the first place - did you bring your own experiences of this traumatic period in your country's history to bear on the narrative?
Claudia Llosa: Magic realism is the art of surprising, the art to sow a doubt in the mind of the reader - in my case, "viewer" - to such point that it is difficult to distinguish the fiction from the real. Magic realism possesses its own logic, but the argument is always based on a true story, to which the writer-director adds a "illusory ingredient" in order to create a statement and several ways of read the world represented. Totally on the opposite side, a fantastic story only allows two interpretations: the rational and irrational one. In that same way, I used my own experience, the ones I found surrounding me, and the ones that are totally fictional to create the story.
This isn't just a film concerned with Peru's past, it also examines class issues that endure today. How important was it for you to consider these and how difficult was it to balance this aspect with the film's other themes?
CL: The film is like a prism, you can relate totally differently to it, depending on where you are standing and what you are looking for. For example, the singing and the Quechua language turned into symbols loaded with resistance. The word enclosed in the body of all the victims, legacy of The Shining Path's violence: the process of healing and releasing the pain of the war. The wound -"tumor" that stays inside our society uses an element like the "POTATO" (a nationally very loaded symbol), which speaks to us about the basics: our memory. With the potato, was the presence of the mummified body or mallki, (not death, rather a latent thing). Also the hollow of tomb turned into swimming pool speaks about a culture that turns "need" into "virtue". Large doors that separates two worlds, fractured worlds unable to relate to each other, a fractured county, etc.
But without the need to decipher it all, the viewer can connect with the film on an emotional level, using this symbols, images or singing, as the feelings that the body encloses, the body of the film.
This is the second time that you have worked with Magaly Solier - and you are credited with 'discovering her' - did you always intend to work with her again? Was it hard to persuade her to take on the emotionally difficult role of Fausta? How different was it working with her now she is a 'professional' actress?
CL: We met when she was very young, but still she had this ability to talk through the skin, without needing to open her lips. When she started with Madeinusa she felt really connected with the character. But with Fausta it was totally different, she felt she did not understand her. So we somehow found the connections though "the singing and the love for the mother"
I'm now developing my next film, a totally different approach to the first two. Although it is really too soon to start talking about it. As for Magaly, I'm sure that we will work together again sooner or later.
Cultural themes run deeply through your films and the Quecha language is used in Milk Of Sorrow. How important is it to celebrate the indigenous culture of your country? Is it true that you used actual wedding parties in key scenes?
CL: Well, I did not shoot on actual ones, I went to different styles of weddings and asked the groom and bride to come to my shooting day, bringing those exact clothes, friends and family. The casting crew helped us to organize everything. Was amazing.
How did you first get drawn to filmmaking? Your have some famous 'creative' relatives, did they have an influence on you?
CL: Well I never planed to be a filmmaker, totally the opposite. I wrote my first script as a personal project, and then I wanted someone to read it, besides my mom.
So, I sent it to the Havana Film Festival, and won for best non-shot script. That was the beginning for Madeinusa and my career. Just imagine, that on my first day of shooting I was really nervous, because it was my fist time on a shooting set ever. So yes, I had to learn my way on set, day by day.
You have been living in Spain for some years now? Do you find that being in a different country has an affect on your work?
CL: 100 per cent. I have Italian passport, so living in Europe was always a temptation. But much more when you are realising you want to become a filmmaker (at that time being a filmmaker in Peru, was as difficult as being an astronaut). So I knew that here I could find many more opportunities, and create a place for my film. Just being part of a more developed industry has changed my approach completely, in order to find the mechanisms to raise a budget for the both my films.
Do you think it has been harder for you because you are a female filmmaker - in the minority everywhere, let alone in Peru? If so, what challenges did you face and how did you overcome them.
CL:I do not believe gender has anything that determines the quality nor sensibility of a film. I have never experienced a difficulty in that matter. But although it is not the case for me, I miss the fact there are not more women in my situation.
The Milk Of Sorrow has gone on to great critical acclaim, including Oscar nomination. How important is this sort of international recognition for your work?
CL: I'm thrilled with the nomination and so grateful to the Academy for supporting artistic movies, regardless of how tough and hard they are. But I think that the real prize is to know that we all have the right to dream and accomplish our goals with the right support.
Milk Of Sorrow is currently showing at selected cinemas across the UK. You can watch the trailer here
Share this with others on...