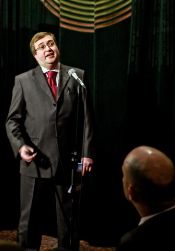 Festival co-director Allan Hunter (picture by Stuart Crawford)
Now in its fifth year, the Glasgow Film Festival is bigger and better than ever. The Festival is the fastest-growing film event in Britain, attracting audiences of more than 20,000 in 2008 when it played host to a bumper array of UK premieres including Lars And The Real Girl, Cassandra's Dream, The Cottage, The Bank Job, Honeydripper and The Spiderwick Chronicles.
Opening with the eagerly-awaited In The Loop - an caustic satire on the underbelly of British politics - at which a host of stars are expected to appear, it showcases a great selection of movies including several UK premieres. Alongside this there'll be guest appearances from the likes of Bill Paterson and Michael Caine, a celebration of short films, an Audrey Hepburn retrospective, gigs by local bands, special tie-in club nights and even a live demonstration of sword fighting in tribute to centenary swashbuckler Errol Flynn.
You can look forward to two days of Frightfest horror films (also, don't miss Tomas Alfredson's classy prepubescent vampire masterpiece Let The Right One In), see the best of contemporary Mexican cinema, or join in the activities at the exciting new Youth festival. Other premieres include Clint Eastwood's Gran Torino, a swansong for the screen legend's career. The closing gala will feature Last Chance Harvey, so don't miss your chance to get in on the action between the 12th and 26th of February. We'll be bringing you hot news, reviews and features throughout the festival here.

View Films by Strand:
View previous years coverage of the Glasgow Film Festival festival:
Glasgow Latest Reviews
Glasgow Film Festival Features