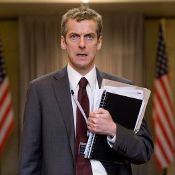 Opening Gala feature - In The Loop - starring Peter Capaldi
Last night saw the launch of the fifth Glasgow Film Festival, now bigger and better than ever. After last year drew an audience of nearly 20,000 people, this year's event is firmly on the festival map, and a fantastic selection of films, plus numerous special events, should make sure that it lives up to its promise.
Top billing this year goes to a movie described by critics as "the best British film of the year", veteran TV comedian Armando Iannucci's dark comedy In The Loop, which will feature in the opening night gala; Iannucci himself, along with stars Gina McKee, Tom Hollander and Peter Capaldi, is expected to attend and will appear on the red carpet to greet fans. Other stars set to visit the festival include Michael Caine, appearing in Is There Anybody There?; Tomas Alfredson, director of indie hit Let The Right One In; and the entire band from Anvil! The Story Of Anvil.
GFF co-director Allison Gardner
This year's festival retrospective focuses on the much-loved Audrey Hepburn, with films including My Fair Lady and The Children's Hour playing in tribute to her, and Funny Face scheduled for Valentine's Day. There will also be a Mexican strand at this year's festival, marking the first chance for British audiences to see hits like The Desert Within and The Infinite Frontier. There will be a celebration of the silver anniversary of Bill Forsyth's Comfort And Joy, with Bill Patterson in attendance to talk about making it, and there will be a tribute to Glasgow-born character actress Mary Gordon, who in her time starred in everything from Sherlock Holmes Faces Death to Bride Of Frankenstein.
Frightfest will be back this year, now extended to two days, featuring films such as Dorothy and the eagerly awaited The Unborn, whilst the festival will also be showing classic horror such as FW Murnau's Nosferatu. There'll be a birthday tribute to Errol Flynn featuring Captain Blood and The Adventures Of Robin Hood, and younger attendees can also look forward to a special youth festival put together by local teenagers.
If that's not enough, the festival, which has now expanded into extra space at The Arches, will be hosting four different disco nights, and one screening of new documentary Who Killed Nancy? will be followed by a performance by a local punk band. There will be several UK premieres, including Clint Eastwood's Gran Torino and US hit Marley & Me, and the festival will close by offering you the chance to see Dustin Hoffman and Emma Thompson in Last Chance Harvey.
Share this with others on...