Captain Blood
Wednesday at the Glasgow Film Festival kicked off with swashbuckling action, as Stuart pirated up to attend a screening of Captain Blood in a further tribute to Errol Flynn. Poor Drew, exhausted by his work so far, slept through it, but everyone else had fun, even if Stuart was misquoted by The Cine Skinny. Meanwhile, Donald headed to a screening of Fermat's Room, which he enjoyed, echoing Amber's opinion that it does a good job of making mathematicians into generally engaging and interesting characters. Drew was impressed by the notion that it might easily have been made 50 years ago, though that didn't mean he liked it any less.
I didn't catch any films myself that day, having other work to do, but I joined some of the star guests and organisers in the evening for a Mexican Fiesta. This was held on the top floor of a hotel in the city centre. I rode up in a squeaky lift which first stopped one floor down, revealing a completely red-painted corridor containing a single door with a large number four on it and another digit I couldn't quite see. People who've seen INLAND EMPIRE will understand why I hurriedly pressed the lift buttons again and made my escape.
Upstairs, the party room was hung with colourful streamers, with two plump piñatas hanging overhead. Tempted though I was to hit them with my stick, I felt that sort of thing would be better left until later in the evening when there was more potential for entertaining (albeit dangerous) drunken accidents. I got a beer and watched Mexican wrestling hero El Santo in Santo And The Vengeance Of The Mummy on the plasma screen on the wall (just a little too posh for the rest of the décor), whilst catering staff in similar masks circulated with trays of tapas - cream cheese and tuna and spicy jalapeños. There were lots of nachos and dips but the bar wasn't free, which led to some journalists leaving early, missing the free margaritas that started to circulate after a while. I stuck around for a couple of hours, until it was time for me to go and catch up with my writers elsewhere.
Leaving early, I missed an appearance by Jodie Whittaker, star of Good, which was possibly a good thing given what I thought of her performance when I saw the film the following day (to be fair, she was working from an awful script). Everyone says she's a lovely person, though, and she certainly made lots of new friends at the festival. Thursday wasn't really my day as I also failed to be charmed by The Grocer's Son, which was simply too good at conveying the miserable side of rural life for its plot to make sense. It did attract a sell-out crowd, though.
Donald had rather more success that day, attending a screening of Rez Bomb which he said was the best thing he's seen at the festival so far. Afterwards one of its producers talked to the audience about his reasons for making it and about the very real problems of poverty in the Pine Ridge Indian Reservation where it's set.
In the evening I had wanted to attend the festival's Valentino Party, where everyone was wearing red, but Stuart persuaded me to accompany him to Sloan's instead, where he had bands to photograph. Unfortunately bad sound engineering meant that it was hard to appreciate what they were trying to do musically. These things remind me how spoiled I am by the excellent technical work in most of the films I see.
On Friday morning I received an urgent communication from Amber, who thinks she's figured out what this year's List Surprise Movie is. She makes a good case, which my further research seems to support, and if she's right then the audience could really be in for a treat, which a special guest turning up into the bargain. Hurrying down to the GFT, I managed to secure one of the last few tickets and grab a bite to eat in Café Cosmo before it was time for my first film of the day. Queueing outside, I chatted to a woman who shared my enthusiasm for Cherry Blossoms, the pick of the festival so far, and then I bumped into Drew, who was just leaving a screening of Childless after a long discussion with its director. He looked as if he hadn't slept in days, poor thing - and there are still two days, plus the Oscars, to go!
I'm really glad I went to see Tulpan. "Just brilliant!" said my neighbour when it finished. A distinctly odd little film about a Kazakhstani sheep herder who fails to find a wife because his ears stick out, it presents a really tough world with a warmth and sense of humour that really seem to come from the heart. I had hoped to talk with director Sergei Dvortsevoy about it, but unfortunately he didn't get his visa cleared until today - maybe I'll catch him tomorrow. More than anything, I'd just like to tell him how impressed I am, especially as this is his début feature.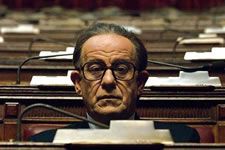 Biopic Il Divo
Next up was
Il Divo
, a biopic of Machiavellian Italian politician Giulio Andreotti, who has been described as "either the most corrupt politician in history or the most persecuted". Impeccably stylish, beautifully shot, and equipped with a striking soundtrack (even if it did leave me identifying a little too easily with the subject's proclivity to develop headaches), it's an intriguing piece of work, but it's a lot to take on for viewers unfamiliar with Italian politics. After Tulpan, I couldn't help but get a little distracted by Andreotti (Toni Servillo)' s own rather peculiar ears, which reminded me of Max Schreck in Nosferatu.
Whilst I was watching Il Divo, Stuart was busy photographing Andy Kemp, the director of Hell's Pavement, who appeared at a screening of that film to talk about the work he's done attempting to improve the lot of children in the social care system, and to ask audience members to help. He's hoping that his film will raise public awareness of the awful problems many such children face even after the authorities have supposedly stepped in to help them.
Stuart and I had time for a quick cup of tea and some cheese toasties later, but then he had to go back out to photograph Bill Paterson, attending a retrospective of his much-loved comedy Comfort And Joy at the Mitchell Theatre. Things were getting busy at the GFT by then, as Frightfest was starting, once again bringing Scotland the pick of the horror films from its regular London event. Donald was our man on the ground - he'd been to see Hush earlier, which he described as a cross between Rear Window and Duel, but he still had plenty of stamina left for watching horror films into the wee small hours.
The first of these was Deadgirl, the story of two teenage boys who discover an attractive young woman chained up helplessly in an abandoned lunatic asylum, still just alive. "Deadgirl pushes the bounds of taste and decency in a way that I've not seen in a horror movie in quite some time," he said, noting that one older couple walked out, though other viewers found parts of it funny. It was probably the pick of the night, followed by the rather less challenging Outlander - "Mad Max II with Vikings, with aliens, and without the gay subtext." Though he acknowledged that it did have fun bits, he reported that the script didn't work at all on an emotional level, adding "It works on a chronological level," as if that might make it okay...
The evening finished with architect-versus-explosives-expert thriller Walled In, but that's not the end of Frightfest - it'll be going on all tomorrow, too. In the final edition of this diary we'll let you know what happens there, whether or not we were right about the surprise movie, and how the closing gala goes.
Share this with others on...