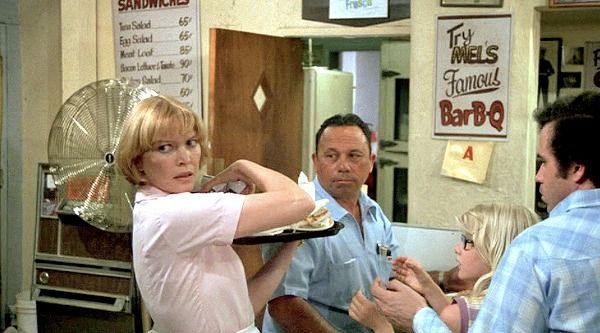 Ellen Burstyn in Alice Doesn't Live Here Anymore
As we put 2020 into the rearview mirror and focus on the year ahead, plenty of us will be making resolutions for the year ahead - planning to give something up on take on a new challenge. As we're wishing all our readers a happy and peaceful year ahead, we thought we'd focus our spotlight this week on fresh starts on film - some more successful than others - and look out for screwball comedy Palm Springs, which presents a sort of Groundhog Day for the modern generation coming to cinemas this year.
Alice Doesn't Live Here Anymore, BFI Player with subscription and other platforms, from £3.49
Ellen Burtsyn deservedly won an Oscar for her central role in Martin Scorsese's film about a single mother taking back her life after the death of her husband frees her from an unhappy marriage. Driven by nostalgia as much as anything else, Alice decides to take a road trip to Monterey with her son Tommy (Alfred Lutter) in a bid to reignite her singing career. The road trip provides the sorts of  new faces and challenges you'd expect - with the acting talent including Kris Kristofferson, Scorsese regular Harvey Keitel, Diane Ladd and Jodie Foster - but Scorsese also roots the film in family drama and self-discovery as Alice finds happiness in unexpected places.
Wild, Amazon Prime, and to rent from £3.49
Jennie Kermode writes: Bereavement, divorce, heroin addiction: these were three good reasons for Cheryl Strayed to walk away from her old life and set out solo along the 1,100 mile Pacific Crest Trail. She turned her experiences into a bestselling book and Reese Witherspoon stands in for her in this screen adaptation by Jean-Marc Vallée. She's poorly prepared and soon finds herself fatigued by the harsh landscape and hot sun, but one gets the sense that she has done this to herself deliberately, pushing herself to the edge of what she can cope with in an echo of past risk-taking behaviours. She knows what it will take to force change. Facing numerous hardships and dangers en route while stubbornly maintaining her independence, she shows herself, as much as the audience, what she's capable of. Witherspoon is ideally suited to the role and there's a great supporting performance from Laura Dern as well as some stunning views to enjoy in remote regions of California.
Gloria, Amazon Prime and to rent from £3.49
Another of the films on our list to be marked out by a magnetic central female performance - the camera barely leaves star Paulina Garcia's Gloria for the entire film. With divorce a decade behind her, at 58, she's looking for a fresh start in romance and wonders if the more recently single Rodolfo (Sergio Hernandez) might provide it. Though this might sound like a familiar tale, writer/director Sebastián Lelio avoids sentimentality and cliche to serve up a slice of feminist drama that acknowledges the challenges faced by its protagonist and celebrates her strengths, without resorting to cheap gimics or easy resolutions. If you really can't bear the subtitles, then try Gloria Bell (also on Amazon Prime), the English language version of the film starring Julianne Moore, that retains the refreshingly sentiment-free drama while adding more humour. Read what Sebastián Lelio and Paulina García told us about the film here.
Psycho, Amazon, YouTube and other platforms from £2.49
Jennie Kermode writes: There's an underlying theme in Hitchcock's famous thriller which concerns people doing monstrous things because of the strain placed on them by the disapproval of others. Heroine Marion (Janet Leigh) just wants to be able to live with the man she loves, but the attitudes of the time mean they would need to marry, and that would require money, and he isn't earning much. The only way she can see to make a new life for them is to steal a large sum of money temporarily left in the care of her employer. The plan goes awry when, during her subsequent flight, she stops off at the Bates Motel, where a conversation with the manager, Norman (Anthony Perkins) - who also longs for a new life, beyond the control of his mother - alters her perspective. As it turns out, she never gets to return the money, nor to tell her boyfriend why she took the action she did, because of an incident in the shower which you're probably already familiar with, but alongside the horror that made this film famous is wistful speculation on what might have been.
The Martian, Netflix
Not all fresh starts happen by choice and so it is for astronaut Mark Watney (Matt Damon), who suddenly find himself stranded on Mars, with supplies thin on the ground and rescue four years away. A born survivor, the astronaut throws himself into the business of starting from the ground up - with potatoes - and proves a resourceful everyman it's easy to root for. Director Ridley Scott brings the sort of stunning visuals he has built his career on, while keeping things pacy and Drew Goddard injects an impressive amount of humour into the script, emphasising the practical rather than the psychological, which helps the film to feel more grounded in reality and less ponderous than many other 'trapped in the outreaches of space' films. Read our interviews with Scott, Jessica Chastain, Damon and Goddard.
Hunt for the Wilderpeople, Amazon, Apple TV and other platforms, from £1.99 Jennie Kermode writes: Ricky (Julian Dennison) is an orphan under the impression that he has seen everything civilisation has to offer, and that's not very much. When the promise of a new life being looked after by an older couple on a remote farm is cut short, he decides to take matters into his own hands and go and live in the wilderness. Gruff farmer Hec (Sam Neill) sets out in pursuit and pretty soon they're both on the run, the latter suspected of kidnapping - but Taika Waititi is at the helm and even in its darker moments the film never loses its sense of fun. Hec wants a quiet life without any trouble. Ricky wants attention all the time. The bond that forms between them may be dictated by the plot but it feels natural and gives the film real warmth, as do the various strangers who help them along the way. Ricky may be naïve about how much he can take on at a tender age but it's clear that there's a bright future ahead for him if only the pair can avoid getting into more trouble than they can handle.
Dreamcatcher, Dogwoof, to rent from £3.99
Fictional fresh starts often look easy, while in the real world changing course can be tough. Former street worker Brenda Myers-Powell, however, didn't just stop at creating a new life for herself - she now dedicates her life to helping other women get off the street. Documentarian Kim Longinotto has a knack for shining lights on bigger issues - in this case the spirals and cycles of abuse - by focusing on the intensely personal. She follows Myers-Powell - a whirlwind of positive energy - on outreach in prisons and schools as she tries to help one generation find new lives away from sex work, while also attempting to stop the next generation from slipping into prostitution. Despite the difficult material, there's a positive and hopeful sweep to this film. "I want to make films where watching the film inspires you to be stronger and makes you feel you can be stronger," Longinotto told me - this one certainly does.
Finally, our short this week, sees a man give a literal fresh start to his own action hero in Bruce, Tom Judd's animation that considers the potential dark side of and open-source future.
Bruce - by Tom Judd from Tom Judd on Vimeo.
If you're still looking for inspiration over the rest of the holiday period, you can read our latest Stay-at-Home Seven here.
Share this with others on...