Eye For Film >> Movies >> Alice Doesn't Live Here Anymore (1974) Film Review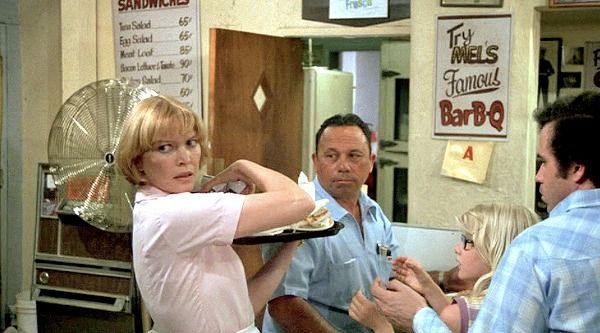 In the opening scenes of Martin Scorsese's Alice Doesn't Live Here Anymore (written by Robert Getchell), it's clear we're also not in Kansas any more, with a rural setting that could have been plucked straight out of The Wizard Of Oz drenched in the burning orange light of sunset, made ominous by its magnitude, and with the young Alice sporting a line of invective that would make young Dorothy blush. We are also a long way from the Mean Streets of New York where Scorsese had mainly been creating tough male-driven dramas, although Alice's steely personality suggest she could be a distant country cousin of the girl in Who's That Knocking At My Door.
Even though more than 40 years have passed since the film was made, it still has a vibrancy to it and the character of Alice (played in adulthood by Ellen Burstyn) - who faces a struggle to define her own independence throughout the film - puts many more recent heroines into the shade. At 35, Alice's life is not in a great place. Her husband Donald (Billy Green Bush) is a brutish presence at home and her young son Tommy (Alfred Lutter) just about a precocious as it gets. When Donald dies unexpectedly, Alice decides to pack up and head out from New Mexico with Tommy, determined to reignite her singing career and aiming for Monterey in California - a destination you sense has been chosen for nostalgic reasons as much as anything else.
Scorsese expertly blends the family drama elements of the film - in particular, the thoroughly believable mother and son dynamic - with the road trip narrative as Alice struggles to keep her family unit afloat at the same time as negotiating potential romance, first with a guy she meets in a bar (Scorsese regular Harvey Keitel at his most explosive) and then with bearded rancher David (Kris Kirstofferson). The film is packed with well-observed scenes of humour, such as a water fight that breaks out between mum and son or the enjoyable scenes involving Tommy's even more streetwise pal Audrey (Jodie Foster, who's CV was already as long as her 11-year-old arm). Once Alice takes a waitress job, the diner itself offers a sort of comedy respite from the more tangled emotions that she experiences elsewhere and is notable for a cracking supporting turn by Diane Ladd as a fellow waitress. Scorsese's direction isn't showy but he keeps his camera fluid, giving scenes a sense of movement even when the characters are static.
Burstyn, who proved it was third time lucky with the Academy as she won an Oscar for her role after nominations for The Last Picture Show and The Exorcist, runs the full gamut of emotion here. Though the melodramatics are on the strident side, especially for more modern audiences, this is more down to script failings, which expect her to suddenly go from calm to fever pitch. Despite this, Burstyn is never less than fully believable, the meltdowns indicative of a woman who has been pushed to the limit.
Where Alice will finally end up living is left refreshingly open but the film stays true to its feminist principles to the last, suggesting that wherever it is, it will be a place she chooses.
Reviewed on: 06 Apr 2017
Share this with others on...