Balthasar Kormakur: "Despite its scale it is still very intimate."
Photo: Richard Mowe
Icelandic director Balthasar Kormakur's Himalayan epic Everest, which follows the avalanche disaster that killed more than 35 people trying to scale the world's highest mountain, has had Festival premieres in Venice and last night (Sept 4) Deauville where we caught up with the man behind one of the autumn's biggest blockbusters as well as one of his actors, Jason Clarke.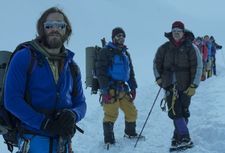 RM: What made you want to tackle another man versus the elements subject after your film The Deep, about a fisherman who survived after his boat was sunk far out at sea?
BK: Everest is back to my roots in a bigger form. It is a very similar take except for the opportunity to make it bigger. Despite its scale it is still very intimate. And I would not have been able to do it on an Icelandic budget! I feel at home in this environment having grown up in Iceland and faced seriously bad weather every other day. You are very much aware of Nature and you realise how small and weak you are in the face of such power. All of these elements came in to play. Remember when one of our volcanoes erupted a few years ago and flights were disrupted? People were annoyed about about their travel plans being affected but Mother Nature is bigger than all of us and any airline schedule.
RM: Where was the starting point for the narrative?
Jason Clarke: "The families had sat on the tapes for 18 years, but they were the key to everything."
Photo: Richard Mowe
BK: We travelled to New Zealand at the start of all the preparations and spent time with the loved ones of the deceased. We were lucky to be able to talk to them. And they shared with us tapes that were recorded on the climbers' radios at the time. It was very emotional because these women had not listened to them for 18 years. It was very informative because we had the chance to go back and listen to every word and to analyse what they meant. It was more important than any book and there have been ten written on the subject. We were not making an obituary - we wanted to be fair but there were mistakes made and we wanted to show them in a critical way.
RM:How did you react to playing the leader of the expedition company?
JC: The families had sat on the tapes for 18 years, but they were the key to everything. I wanted to communicate a sense of being the last person standing at the top of the world. I trained with various mountaineers so I could look after myself and also some of the other actors who were not trained. Before the shoot I climbed in various places including Scotland on Ben Nevis in a massive big storm because we want to find out what it is like to be out there in real weather.
RM:What is the attraction in attempting such feats?
JC: We do these things because we are human and without risk you do not achieve, change or grow. I climbed previously and I would definitely climb again. I had backpacked to Nepal in 2002 as a graduate and it is a very special place. The whole thing has been an extraordinary journey from day one. Freezing my ass it was worth it.
Share this with others on...