The Glasgow Film Festival moved into its third day on Saturday with films like Bosnian-set drama For Those Who Can tell No Tales and powerful Edinburgh documentary Everybody's Child among the daytime highlights. The event that drew the most attention was the UK première of another documentary, 20 Feet From Stardom, which explores the life and work of backing singers. It was attended by Claudia Lennear, once Mick Jagger's muse and the inspiration behind The Rolling Stones' Brown Sugar. Described in lyrics by David Bowie as Lady Grinning Soul, she was certainly all smiles when she greeted the audience. Meanwhile, in New York, Eye For Film's Anne-Katrin Titze was interviewing the film's director, and you can read what he said about the making of it here.
Richard Dreyfus and Jason Priestley on the red carpet
Photo: Eoin Carey
Later that day, Richard Dreyfus attended the festival (wearing a hastily procured flat cap so he could look appropriately Scottish), along with his director, former 90210 star Jason Priestley, to introduce their new film, Cas & Dylan, about a man on the verge of giving up on life who finds inspiration in a young hitchhiker. Showing at the same time, Hank And Asha looked at a more challenging relationship between strangers, whilst Of Horses And Men pondered humanity's relationship with the equine species and a father and son were reunited in prison in Starred Up, introduced by its rising star Jack O'Connell. In the evening, Submarine director Richard Ayoade presented his new film, The Double, and gave a lengthy interview to festival director Allison Gardner. "I'm going to open up to the audience now," said Allison, drawing her questions to a close. "Right," said Richard. "What are you going to tell them?"
For those who didn't want to tear themselves away from the movies to eat their dinner, Street Food Cinema returned with When Harry Met Sally, with the bets on as to whether or not any customer would be brave enough to fake an orgasm whilst dining. For those not having what she was having, there was a screening at the CCA of Between Weathers, part of a special focus on Shetland called North Atlantic Drift. The story of what happens when an American businessman wants to buy up a local beauty spot to turn it into a golf course (and having, of course, no characters with any resemblance to real persons, whether living or dead) it was introduced by its producer, Jim Brown, who afterward accompanied viewers to the Fjanna! for a cabaret event including spoken word poetry by Robert Alan Jamieson and a performance by Shetland band The Teevliks.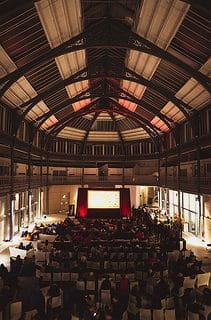 Street Food Cinema at The Briggait
Photo: Eoin Carey
Showing elsewhere that evening were Polish magical realist drama The Girl From The Wardrobe and Belgian neo-giallo The Strange Colour Of Your Body's Tears. There was also the premiere of festival stalwart Robert Florence's debut film The House Of Him, finished and handed in only two days before. Rab was delayed getting to the film so unfortunately the Q&A planned for afterwards had to be cancelled, but the presence of several other people who worked on the film meant that interested audience members had no shortage of people to talk to.
After a long and busy night, it was impressive to see people peeling themselves out of bed in the morning to watch Bette Davis in Dark Victory, part of the Vintage Hollywood strand. This was to prove one of the busiest days in the festival's history, with almost every screening packed full. Among the daytime films were Irish drama Run & Jump, powerful documentary The Last Of The Unjust and James Dead classic Rebel Without A Cause, which will be back on general release later this year. The evening saw Brontis Jodorowsky, son of the legendary Alejandro Jodorowsky, present his father's latest work, The Dance Of Reality, in which he (Brontis) plays his own grandfather. It was an event that attracted many devoted fans of his father's work and Brontis succeeded in charming them with his friendliness and bizarre anecdotes.
Rab's Videogame Empty
Photo: Max Crawford
Appropriately enough on a day when Cannibal was screening, Street Food Cinema was back, this time for a double helping, with Ratatouille in the afternoon and an evening dedicated to the rather more liquid pleasures of Withnail And I. Elsewhere, festival fans were watching a documentary about influential musical artist and punk, [The Life Of Bruno Wizard[/film], with the man himself in attendance, described by one viewer as "like an older Withnail."
The other big event of the night was Rab's Videogame Empty, in which Robert Florence took over part of the CCA and invited people to come and compete at old-style video games. In a winner takes all tournament, the big prize went to a competitor who managed to stay alive for 10 seconds on Super Hexagon. Given the general quantity of alcohol consumed at the festival and how little sleep many people there get, this was by no means a bad result. Of course, there are still another six days of festival to go.
Share this with others on...