Morgan Neville introducing 20 Feet From Stardom stars Darlene Love, Judith Hill, Lisa Fischer with RADiUS-TWC's co-presidents Tom Quinn and Jason Janego
Photo: Anne-Katrin Titze
At the National Board of Review Awards Gala earlier this year, before the Oscar nominations were announced, 20 Feet From Stardom director Morgan Neville, David Heyman, producer of Alfonso Cuarón's Gravity, and screenwriter Terence Winter for Martin Scorsese's The Wolf Of Wall Street, shared with me their favorite fairy tales. All three have since received Academy Award nominations.
20 Feet From Stardom shines the spotlight with insight and intimacy on the careers of Darlene Love, Merry Clayton, Lisa Fischer, Claudia Lennear and Judith Hill as background singers for the likes of Bruce Springsteen, Stevie Wonder, Mick Jagger, Bette Middler, and Sting, with recent interviews. It also features archival performance and studio footage with David Bowie, Talking Heads, the Rolling Stones, Luther Vandross, Ray Charles, Michael Jackson and Phil Spector.
Morgan Neville on the National Board of Review Awards Gala red carpet
Photo: Anne-Katrin Titze
Merry Clayton talks about her start with Ray Charles, "I willed myself to be a Raelette" and her first late night meeting with the "Rolling somebodies". Darlene Love speaks about when she thought herself finally free of Phil Spector and found out otherwise. Lisa Fischer describes the subtleties of auditioning for Luther Vandross, whose instructions were like this "Now, can you give that to me with more air?" "He knew how to pull each gift together and make this beautiful piece of jewelry." Bruce Springsteen talks about taking the bus to Philadelphia on the invitation of David Bowie in1973. Bowie was recording Young Americans with Vandross as backup singer. Claudia Lennear recounts going from Ike and Tina to the Stones and swapping clothes with Mick. Judith Hill describes preparing for a world tour with Michael Jackson and says : "And then all of a sudden, we're on our way to rehearsal and we get the news." His death turned her career upside down.
On the weekend before the Academy of Motion Picture Arts and Sciences announces this year's winners, Morgan Neville and I had a conversation on what it takes for a filmmaker to document the undocumented.
Anne-Katrin Titze: When we spoke right before Christmas at Peggy Siegal's wonderful caroling party, you told me that there was nothing written about the subject of backup singers when you started the project. You began with oral histories.
Morgan Neville: It is really reportage. We did not have an agenda.
AKT: Is it a completely different way to start when you have a film project like this?
MN: Every project is different. When you deal with culture, usually you can do your homework on it.
Darlene Love with Paul Shaffer joyously belting out Christmas (Baby Please Come Home)
Photo: Anne-Katrin Titze
AKT: You can read up?
MN: Here, there was no way for me to do homework.
AKT: You start with Bruce Springsteen being quoted on camera. He talks about the walk from the background to the front of the stage. He calls it a "conceptual leap". Were there conceptual leaps for you to take in the film?
Springsteen says to Morgan in the film "Singing background remains a somewhat unheralded position… So people make that leap. It's a conceptual leap and if you can comfortably come up with it, then you may find a spot out there."
MN: Absolutely. First of all I had misconceptions about backup singers, that I think a lot of people have. That they [don't sing as well] that they don't have personalities, that they don't have character. I was very wrong and I was happy to be wrong.
AKT: People won't be able to leave the cinema after seeing your movie with the same misconceptions.
MN: The other thing I had to deal with was how it changed what I heard when listening to music. You have to re-train your ear to listen to the background. And I did that. Once I did that, I was going through my record collection listening to everything. Listening to the radio. Even on the internet there was no information on backup singers.
AKT: Of course, when it's oral history, there exists no canon, no list to go by.
MN: And the backup singers themselves are often their own worst historians. They sometimes pay attention...
AKT: Aren't we all our own worst historians, really? You found beautiful visual expression to block out the non-backup singers.
John Baldessari homage in the opening credits of 20 Feet From Stardom
While the opening credits play with images from album covers and performance stills, colorful dots mark the screen and we hear Lou Reed's Walk On The Wild Side.
MN: That's based on the work of the artist John Baldessari. I had interviewed John for a documentary I had done about modern art and he was friends with our producer Gil Friesen. Gil and I bonded on modern art when we first met. It's just the perfect way again. I was talking about retraining your ear and that's a way to tell people to retrain their eye. Stop looking at the centre of the image and start looking at the sides.
AKT: Did you approach some of the other people in the center, so to say, such as David Bowie or Joe Cocker for interviews?
Claudia Lennear talks about working with Cocker, "he gave us free rein and everybody's face would light up," intercut with Mad Dogs And Englishmen performing Learning To Live Together.
Ed Bahlman's homage to Baldessari with Andy Warhol - Walk On The Wild Side
Photo: Anne-Katrin Titze
MN: No, I didn't. Bowie I didn't because he hadn't given an interview in years. This was before his album came out. He was really off the radar. And Joe Cocker I thought about, but I came to a point where I had so many great people that it would have been too many.
AKT: The editing process must have been really tough. I saw that two of your editors also worked on The Invisible War.
MN: Yes, Doug Blush. He is also the editor for Kirby Dick. He would go from one project to the other.
AKT: From The Invisible War to 20 Feet From Stardom? What a combination!
MN: Yeah, he said it was a vacation.
AKT: Let me guess, which one felt more like a vacation!
Mick Jagger describes the need for a female voice to do the "Rape, murder - It's just a shot away" shouts and do them justice. In 20 Feet From Stardom, Merry Clayton recounts being called to the studio in the middle of the night by the Rolling Stones to participate in the recording of Gimme Shelter.
"Mick Jagger said: 'You wanna do another [take]?' I said, "Sure, I'll do another one." So I said to myself, Mm-hmm, I'm gonna do another and I'm gonna blow them outta this room." Mick Jagger agrees she did: "You know you do these things at two in the morning and then you come in the next day and you go, "Bloody hell, that's good."
Lisa Fischer with Mick Jagger and Keith Richards: "It's great to have a female voice, you know."
MN: Hands down the hardest thing about making this film [was the omissions] because I met so many great people and I had to resist the urge to anthologise.
AKT: I am sure many people were asking you if there will be a part two?
MN: Yes, people have. It certainly set the trail for documentaries about Nashville country backup singers or the scene in London or James Brown backup singers, male backup singers. I like to say, in no way is this the last word on backup singers, it's the first word.
AKT: You touch on important issues. Concerning questions of race, you have the Sweet Home Alabama montage, that has to contain so much. Then there's the point about the "readers". Also the points on gender - comments about the women as "eye candy" or "action figures". It must have been hard to cut those issues short.
Bette Midler explains that readers are backup singers glued to the pages of what they were singing. Darlene Love comments," they could do nothing without that music sitting right in their face."
MN: That was hard. We had a lot of work done on those issues. We had a lot that concerned the history and it's all interesting. We made the decision to concentrate on the characters' stories. Their stories touch on all of those things.
Darlene Love, Judith Hill and Lisa Fischer in perfect harmony at Peggy Siegal's holiday celebration
Photo: Anne-Katrin Titze
AKT: I like how you kept yourself in the film in the scene in the car with Merry. And she says something like " how can you not have music on, Morgan, in Merry Clayton's car." she addresses you and speaks of herself in the third person and you lift the veil for us a bit and say "oh, it's much better if we put the music in afterwards."
MN: I think that came from the editor. I wouldn't have thought of it and he thought we should try this. And it says everything about Merry's character. She's a diva. She calls herself diva right there.
AKT: And it tells us that you are there in the back of the car to capture her. That's what is wonderful about your film - it shows how something is made.
MN: I like that. I think there are a few more moments when I kept my voice there. Breaking the fourth wall is saying someone is there trying to tell a story.
AKT: How much did the lyrics of the songs help you to structure the film?
MN: I put together a two CD soundtrack. I think about what the lyrics are and how they might fit together. I feel that every song in our film is really about the story or a character. It's not just a filler.
AKT: It's more than mood and never feels like manipulation, yes. The story Darlene Love tells of her experience with Phil Spector, I couldn't help but think of Hollywood history, the plot of Singing In The Rain.
Merry Clayton in 20 Feet From Stardom on the influence of Ray Charles: "I willed myself to be a Raelette"
MN: Darlene's story is maybe more extreme but certainly another version of a story that is not uncommon throughout history. The difference with Phil was that he wasn't just interested in money but he wanted power. He could have made a lot of money out of Darlene and he instead chose to keep her in a box.
Love describes her continuing nightmare, when her new contract with Gamble and Huff in the mid-Seventies was sold back to Spector. "This was the new Phil," she says, "he did the Beatles thing and was a big star," who decided to act out in front of his "little star Darlene Love," which forced her to quit and walk away.
AKT: There's an extra cruelty in doing that.
MN: With everybody knowing where he is now and where Darlene is now. Seeing the scenes and knowing what happens to them later is thrilling.
The film shows Bette Midler presenting the "long overdue" Rock And Roll Hall Of Fame induction honour to Darlene Love in 2011.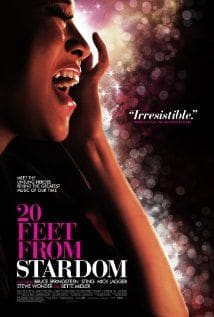 20 Feet From Stardom Poster
AKT: A beautiful connection to the fairy tales we talked about at the National Board of Review Awards Gala. Justice prevails at the end. There is such a sense of justice in your film. The link was a common desire for a just outcome.
MN: For Darlene, there was certainly that moment of justice. But even beyond the film. The audience's response to the film - in a way like in supporting the film, they try to further rectify these wrongs. Seeing how the women's lives changed over the past year - people by supporting the film feel they are supporting these women. It's even beyond what's in the film. A campaign for recognition of backup singers. You never anticipate that.
AKT: You said you knew there was something different with this project after two days.
MN: I think I knew after one day. People recognising not only what the women themselves do but the industry. I have backup singers come up to me and thank me because people now think about what they do.
AKT: You also bring up the temptation to live in somebody's shadow in plain sight.
MN: Yeah. The assumption that just because you are on stage with a rock star means that your life is like a rock star's. I think the idea that these people work hard and take pride in their work and their craft, is something people identify with. I can identify with it - most work is collaborative.
AKT: I loved how you play with a reversal of roles as the end credits roll. Now it's Darlene Love front and centre singing "he's such a fine, fine boy," to an overjoyed Bruce Springsteen playing the role of backup singer. The film has come full circle. The Oscars are coming up. How are you feeling?
MN: Darlene called me right when we got nominated. She is on an Oscar diet. What I was trying to do with this film was to give people the attention they deserve. People don't get much more of a spotlight than they get at the Oscars.
AKT: They deserve every bit of it. I'll never forget Darlene Love singing Christmas (Baby Please Come Home) at the caroling event. You not often get to be in a room with so much joy.
MN: It was an amazing party. Everybody had so much positive energy.
AKT: Your film brought this all together. Now are you on your Oscar diet as well?
MN: I wish. I've been travelling.
AKT: You said earlier you were working on a film about Yo-Yo Ma?
MN: I'm also working on a documentary on the feud between Gore Vidal and William F. Buckley.
AKT: A non-music project for a change?
MN: I made other non-music films. But music films are much easier to get made.
Mick Jagger, in conclusion, hits the nail on the head in 20 Feet From Stardom: "It's great to have a female voice, you know. Otherwise its me, me, me, me and me and then it's a bit of Keith."
Share this with others on...