The Glasgow Film Theatre prepares to welcome guests.
Photo: GFF14
After an impressive build-up provided by the Glasgow Short Film Festival (for which we still have reviews coming in), the main Glasgow Film Festival opened its doors on Thursday night for the UK gala première of Wes Anderson's eagerly anticipated The Grand Budapest Hotel. Screening to an invited audience of movers and shakers in the Scottish film industry, the film was a big hit, backing up its success at the recent Berlinale. It was introduced with a short video from the director, and members of the public got to see it the following afternoon, with an equally positive response. It opens across the UK on the 7th of March.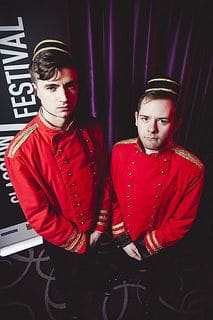 At your service.
Photo: Eoin Carey
After the screening, the launch party was held, appropriately enough, in the city's Grand Central Hotel. Whilst the GFT, where the festival in centered, has recently enjoyed a make-over and now looks perfect for the festival's vintage Hollywood theme, the hotel has itself undergone major renovations in recent years and made a splendidly elegant venue for the event, which went on late into the night - until, in fact, the police had to be called to intercept two thieves trying to make off with a Grand Budapest Hotel standee. Meanwhile a spillover party happened in west end venue The Squid & The Whale, with Darjeeling cocktails and bottle rockets. Several local celebrities were in attendance, including Belle & Sebastian's Stuart Murdoch.
There was a lot of celebrate, with the Youth Festival have proven a big hit as films like Felix and The Rocket packed in the crowds and Beetlejuice attracted fans of all ages. There were so many strong Scottish entries to the Short Film Festival that that strand had to be expanded, with its top prize eventually going to Ewan Stewart's Getting On and the overall festival prize being awarded to Chinese film The Questioning. One might think that fans who had been to th screenings and parties at both these events might already be experiencing burnout, but several of them were among those who returned on Friday to see festival highlights like Blue Ruin and The Girl From The Wardrobe. Reindeer herding documentary Aatsinki also proved a hit, impressing audiences with its stunning open landscapes and compelling silences. It was introduced by its director, Jessica Oreck, known for Beetle Queen Conquers Tokyo, who spoke enthusiastically about her love for Glasgow and her intention to spend the next few days exploring it.
Jessica Oreck
Photo: GFF14
Highlights off the evening included London Film Festival Best Fist Feature award winner Ilo Ilo and contemplative Italian thriller Salvo, whilst an eager crowd gathered in the CCA where acclaimed Dutch minimalist composer and Jim Jarmusch collaborator Jozef van Wissem was providing a live soundtrack to experimental Chilean film Partir To Live.
Meanwhile, quite a crowd was gathering at covered market The Briggait for the first in a series of events entitled Street Food Cinema. Themed gourmet food provided by Street Food Cartel accompanied a screening of mob classic Goodfellas. Unfortunately the venue proved quite chilly and the candles on the tables didn't give off much warmth, so if you're planning on going to the upcoming Street Food Cinema events, the advice is to wrap up warm. Staff are trying to find more heaters, but the chill didn't seem to put off attendees too much, and several have said that they plan to go back for more.
Whether your tastes encompass food or films, there's still plenty of good stuff yet to come.
Share this with others on...