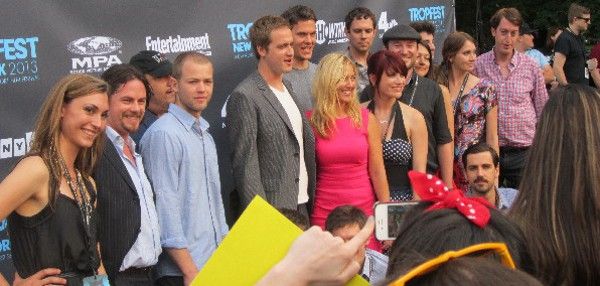 Tropfest founder and director John Polson tapped Liev Schreiber to host the first Brooklyn edition. The star of the brand new Showtime television series Ray Donovan had a show of support from partner Naomi Watts earlier in the evening prior to the screenings. On the firing line were the judges, Academy Award winning producer Fisher Stevens for The Cove, screenwriter Charles Randolph, writer Malcolm Gladwell, actress Lake Bell and WNYC host Leonard Lopate who were seeing the films for the first time on a monitor.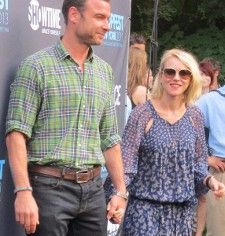 Polson informed me that the judges watch the films "live, they score them. And then we show them the results before we go on stage to make sure they're happy. This is a live event. We're going to be up there ten minutes after the last film announcing the winner." The Australian team Tristan Klein and Nick Baker from New South Wales were selected as the winners of the $20,000 First Prize for The Unlikely Maestro.
The second Tropfest New York brought filmmakers from near and far to present their short films of seven minutes or less to an enthusiastic audience of thousands on a supermoon-lit night at the Nethermead Meadow of Brooklyn's Prospect Park, the adopted home to this year's celebration.
Right behind us was a lineup of food trucks, parked on the Center Drive, not the meadow, a wise and park friendly decision after last month's disastrous not so Great Googa Mooga wreaked havoc causing severe distress of the lawn that is still in evidence today. Schreiber said, "I like the lobster roll truck, it's very good" when asked to name his favourite, "I don't know if its here."
Here are three more of the finalists from very different backgrounds as they made their way across the "black carpet" on the green meadow earlier in the evening.
Anne-Katrin Titze: How did your film get selected? You sent it in for the New York edition of Tropfest specifically?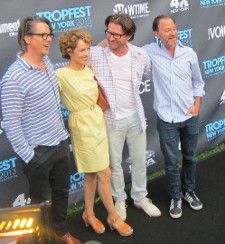 Scott Holgate: Tropfest is fairly well known in Australia. I knew that John Polson was starting up something in New York. I thought this would be a great excuse to travel to New York. It's such a great city. I always liked New York films and filmmakers.
AKT: Is this your first time here? What is your film about?
SH: I've been here as a tourist when I was a lot younger. It's great to come back now. My film is called Pocket Money about a young boy who mows his grandmother's lawn for pocket money.
Jessica M Thompson, who was here with her film Across The Pond, discovered Tropfest at home in Australia when she was 15. She now lives in Brooklyn and loves Prospect Park.
AKT: Are you enjoying this lovely evening?
Jessica Thompson: This is really exciting to me. I grew up in Australia going to this festival and now I get to be in it and show my film.
AKT: Where in Brooklyn do you live now?
JT: I live in Williamsburg. I do come to Prospect Park all the time. I'm a cyclist. I cycle around here a lot.
Christo Erasmus came all the way from South Africa to present his film The Pencil.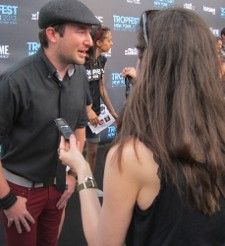 AKT: Is there a special Brooklyn connection in your film?
Christo Erasmus: No, not really. I'm from South Africa. There's a Brooklyn in South Africa.
AKT: Is this your first time here?
CE: Yes, first time in New York. It's a bit surreal. I can't believe I'm here for one of my films.
AKT: How would you sum up your film The Pencil in two sentences?
CE: It's a guy who feels that he doesn't fit in the world because he isn't supposed to fit in the world.
Best Actor Award went to director Eve Danzeisen for her role in The Hardest Part (read our interview with her here).
Second and Third Prize for Best Film went to New York natives Carmine Famiglietti for Rooftop King and Max Damashek, for University Glimpse (The Musical Movie).
Read more of our coverage of Tropfest here.
Share this with others on...