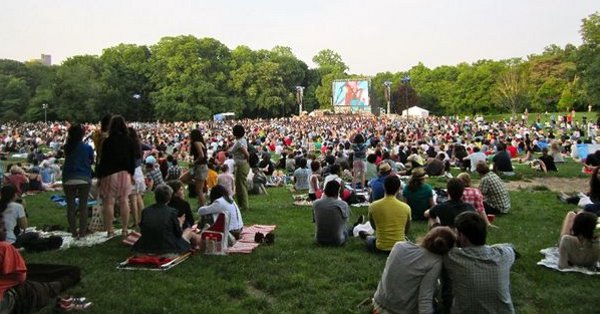 Billed as the largest short film festival in the world, Tropfest took flight for the second time in New York City on the evening of June 22, and landed on a scenic meadow in Brooklyn's Prospect Park, which Frederick Law Olmsted and Calvert Vaux, who also designed Central Park, considered their crown achievement in urban park design.

Hosted by Liev Schreiber, who was accompanied earlier in the evening by Naomi Watts, the festivities culminated in the announcement of the winners, chosen by this year's judges Lake Bell, Malcolm Gladwell, Leonard Lopate, Fisher Stevens and Charles Randolph.

I spoke to the founder of Tropfest and its director, John Polson, about how it all began. The atmosphere was relaxed and joyous in anticipation of the screenings of the short films, seven minutes or less, selected for 2013.
Anne-Katrin Titze: Here we are in idyllic Prospect Park in New York City. Any specific Brooklyn theme about this year's selection?
John Polson: Well, many of the sixteen finalists are from Brooklyn. I think that's pretty great. The audience, a lot of them are from Brooklyn, obviously. Tropfest, though, is not a country related event. It is really about the local community wherever we go. But we're open - there's films here from California, from South Africa, a couple from Australia. There are films from all over, but mostly from Brooklyn, Queens, Manhattan.
AKT: You live not far from this park?
JP: I live right down the road.
AKT: So you picked the location on a stroll?
'Let's go to Prospect Park and see if we can get a crowd' <em>Photo: Ed Bahlman</em>
Photo: Ed Bahlman
JP: Yes. I wanted it to be here last year, to be honest. But I was well aware that the Tropfest brand is very unknown in America, so we should be in Midtown Manhattan. We should make a big splash. We should make it easy for people who are just walking by. And it worked. We got Hugh Jackman as host, which was great. We couldn't do Bryant Park again this year. I thought, you know what? Let's go to Prospect Park and see if we can get a crowd. And looking around right now, that decision was not a bad one.
AKT: You are also lucky, this is a beautiful night. What was the first film you ever saw outdoors?
JP: That's a great question…
AKT: You as the founder of Tropfest hesitate…
JP: Well, I am a big fan of Cinema Paradiso. So even though I didn't see it outdoors it obviously is all about seeing films outdoors. I think when I was very young, I saw a film called The Red Balloon, a short film.
AKT: The French one from the fifties directed by Albert Lamorisse?
JP: Yes, a French film. I was very young and on a beach somewhere in Sydney and someone set up a screen. I think that planted two seeds in me. One about outdoor screenings and one about short films.
AKT: So this was the first short film you remember making an impression?
JP: Yeah, that for sure. That's the first short film I ever saw and I didn't know films very well at that point but I did go, wow, this is only half an hour and a pretty stunning thing. The other one is a short film called An Occurrence at Owl Creek Bridge [directed by Robert Enrico in 1962, based on the Ambrose Bierce short story] which aired as a Twilight Zone episode - that had a huge impact on me.
AKT: Did your jurors fight a lot about who deserves to win?
JP: No, they haven't seen the movies yet.
AKT: They are watching all 16 films together with the audience for the first time tonight?
JP: Yes. They score them. It's very civilized. They don't discuss them.
AKT: I thought you were going to lock them up in the tent behind us to fight it out.
JP: No, they fill out scorecards and then we announce the winners.
First Prize winners for The Unlikely Maestro <em>Photo: Ed Bahlman</em>
Photo: Ed Bahlman
The Australian team Tristan Klein and Nick Baker from New South Wales were the winners of the $20,000 First Prize for The Unlikely Maestro, described as "a rat's tale, who dreams of becoming a world-famous conductor." At the start of the evening we chatted on the black carpet on the green lawn of the western side of the Nethermead Meadow.
Anne-Katrin Titze: What brings you to Prospect Park in Brooklyn?
Nick Baker: We've flown out from Australia specifically for the festival. I'm actually in town for four days. Tristan a little longer. Two of our entries are in the festival.
AKT: You say two of your films. Not one each, you worked on both of them together? Tell me about the films and how you collaborate.
Tristan Klein: Nick comes from a journalism/ writing background. I come from an animation, sort of illustration background. We came together and both direct and produce.
AKT: I like that when you say illustration you make boxing movements with your hands.
TK: I'm afraid it's a bit like boxing [he says half jokingly about their work together]. So one film, is a black and white one called Apart which is about a guy and a girl in a long-distance relationship. And there's an other one called The Unlikely Maestro, which is about a rat who lives in Carnegie Hall and wants to be a famous conductor.
AKT: That sounds like a very New York film.
The Best Actor nod went to Eve Danzeisen from Los Angeles, acting in her own film The Hardest Part, a "story of getting sick, not knowing what's wrong, and then getting better" by touching "on themes of isolation, fear, community, and love." See our interview with her here.
Second Prize winner was Carmine Famiglietti, director of Rooftop King, from New York City about "Howie, a thirteen year old and his passion for pigeons." Carmine shouted out from the black carpet "I love the guy with the Canon."
Third Prize went to Max Damashek of New York for University Glimpse (The Musical Movie), a flash forward short in which a high school graduate suddenly meets "the important people from his future college life."
Read more of our coverage of Tropfest here.
Best Actor Award for director Eve Danzeisen of The Hardest Part <em>Photo: Anne-Katrin Titze</em>
Photo: Anne-Katrin Titze
Second Prize winner Carmine Famiglietti, director of Rooftop King <em>Photo: Ed Bahlman</em>
Photo: Ed Bahlman
Third Prize winner Max Damashek, for University Glimpse (The Musical Movie) <em>Photo: Ed Bahlman</em>
Photo: Ed Bahlman
Share this with others on...