50 Children: The Rescue Mission Of Mr And Mrs Kraus, premieres on HBO in the US on April 8
HBO and the United States Holocaust Memorial Museum presented the New York premiere screening of 50 Children: The Rescue Mission Of Mr And Mrs Kraus last week. The documentary is narrated by Alan Alda, with Mamie Gummer reading from the memoir of Mrs Kraus. Attending the screening were two of the rescued children, Henny Wenkart and Dr Erwin Tepper. At the reception, I had a chance to speak with director Steve Pressman and Alan Alda.
The film tells the story of a Jewish couple from Philadelphia, Gilbert and Eleanor Kraus, who traveled to Austria and Germany in 1939 and managed to repurpose unused visas to bring 50 Jewish children back to America. The single largest-known group of children to emigrate to the US during the Nazi regime, it is astonishing that the story is practically unknown. The director Steve Pressman explains how he got started with this important documentary.
Anne-Katrin Titze: The starting point for your film was Eleanor Kraus's unknown memoir?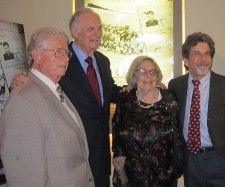 Steve Pressman: The memoir was in my wife's family. Not a public document, not well known. When my wife [Liz Perle, the granddaughter] and I met some years ago, she showed me this manuscript and when I read it I suddenly realised what an incredible story this was. And shockingly enough, a story that has never been told publicly outside the family. A few years ago, having never made a film before, I decided that this had all the material, all the makings of a terrific documentary film and the project took off from there. Once HBO showed interest in the film, I was absolutely delighted.
AKT: It's important to tell stories of civil courage.
ST: The story serves as a great reminder the world over, not only about what happened during the Holocaust. The incredible ability to witness an ordinary couple from Philadelphia become extraordinary heroes. The ability to discover those stories, tell those stories, serves as a reminder that we all should keep looking for those stories.
AKT: Two of the 50 children are here tonight?
ST: Two of the 50 are here. Henny Wenkart is in the film. There is one other gentleman, Dr Tepper, who is not part of the film.
AKT: Are they the only survivors?
ST: Oh, no, no. They are the only ones here. I don't know exactly how many survived. It was hard to find all 50, women changed names. I guess that about half are still alive. There are nine in the film. I reached one way or another 15 to 20 of the 50.
AKT: How did you find them?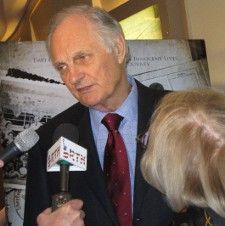 ST: Google searches. I had the list of the original document and I just started going online, typing in names. It was an investigative expedition. Luckily, I was able to find a number of them, who were happy to talk after all those years. It was such a wonderful part of the journey on my part to find - we keep calling them children, they are now in their eighties - those people who were so wonderful to talk to.
AKT: Why did you think of Alan Alda as your narrator?
ST: Alan Alda has such a wonderful voice that so many people are familiar with. He was very engaged in the story. He had done some research on his own. He was no stranger to great stories about the Holocaust. He brought great spirit along with that wonderful voice to the project. He is a great addition to the film.
Alan Alda was the perfect choice to be narrator. Archival footage shows swastikas lining the streets in Germany and Austria. Just when Gilbert and Eleanor Kraus were staying at Berlin's Hotel Adlon to finalise the children's visa at the embassy, so were Foreign Minister von Ribbentrop, who was celebrating the "Pact of Steel" with Italian Foreign Minister Ciano, Mussolini's son-in-law.
Anne-Katrin Titze: The documentary is concerned with a courageous rescue mission of 50 children out of Nazi-controlled, post-Anschluss Vienna in 1939 and also with US immigration policies at the time.
Alan Alda: The revelation for me, a very sad one, was that the antisemitism of the Nazis was matched, in a lesser way, but matched by the antisemitism in the government of this country. We should all be ashamed of how difficult it was made for these kids to get not just out of Germany but into America. It's a sad moment in our history and we have to take responsibility. We've got to make sure that something like this never happens again.
AKT: Was this something you became aware of through this film?
AA: I was aware of it in a general way. The details were sort of the things that were not there any more.
AKT: It's always the details that make the real impact.
AA: That's right. That's how you can feel the enormity of it. I got to speak to the people here, there are only a couple of them here, who were the kids in the film who were taken out of Vienna. To get a chance to talk to them, they made it specific for me. I'm really very glad I'm here to speak to them.
AKT: How did you get involved in the project?
AA: Somebody asked if I would be the narrator and I was happy to because I think these stories need to be told. There are hundreds of thousands, millions of stories of people surviving in the face of these kind of atrocities that need to be told - that should be told for the next couple of hundred years. We are going to start losing the people to whom the stories happened.
AKT: Recently, I had the sudden awareness that next year will mark the centenary of the First World War.
AA:
When I was a little boy, this was during the Second World War, the First World War wasn't that far away.
The documentary touches on the Evian Conference on Jewish refugees of 1938 and President Roosevelt's policies. "A consummate politician, saving Jews was not one of his pressing issues," the film comments. Ten thousand children were sent to England in the Kindertransport, no comparable action was taken by the US government.
Gilbert Kraus, a 42-year-old business lawyer from Philadelphia, discovered that the quota figures did not match the actual immigration numbers and decided to take action.
50 Children: The Rescue Mission Of Mr And Mrs Kraus debuts on Holocaust Remembrance Day, Monday, April 8, exclusively on HBO.
Share this with others on...