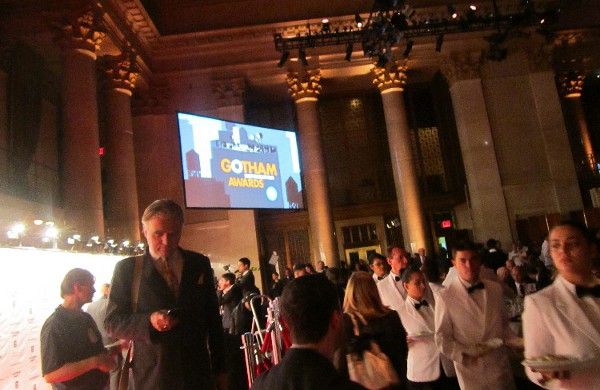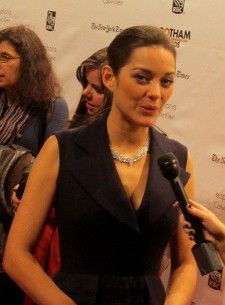 The 22nd Annual Gotham Independent Film Awards on November 26, 2012, began with a red carpet entrance by the filmmakers being honored into the ballroom of Cipriani Wall Street in New York City. I spoke with Marion Cotillard, Marina Abramovic, Jack Black, Mickey Sumner, and Sacha Gervasi.
In addition to the filmmakers for the competitive awards, career tribute honoree Marion Cotillard walked the red carpet. As the spokesperson for Christian Dior she looked glamorous in brand new House of Dior designer Raf Simons' very contemporary variation on Dior's famous 1947 New Look. Cotillard was thrilled to receive acknowledgment for her work in film.
Marina Abramovic walked the red carpet with Klaus Biesenbach, Director of MoMA PS1. When I asked her about the nominated documentary directed by Matthew Akers Marina Abramovic: The Artist is Present, she replied: "We got really good material out of it. One year of following me around. It really is for people to understand the power of performance art. I only looked at it three times and I cried each time."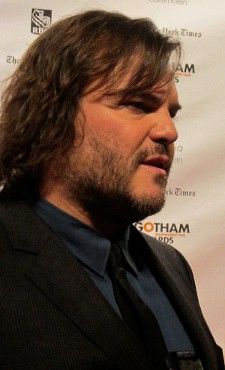 I asked her if she watched the whole film. Abramovic, who knows a thing or two about overcoming your own obstacles replied: "I'm a professional, I had to. I didn't have any output in the editing. When we started doing it, I didn't really believe in the filmmaker. From a non-believer to a believer." No regrets with the film? "None, I'm a tough professional," she said.
Jack Black, who was nominated as part of the ensemble cast in Richard Linklater's Bernie for his role as undertaker Bernie Tiede said he really enjoyed both films by the "Anderson brothers", meaning Paul Thomas's The Master and Wes's Moonrise Kingdom. He went on to discuss Hawaii and sushi as the voices on the red carpet mingled and mixed and then I found myself across from Mickey Sumner.
Mickey Sumner was on the jury for the euphoria Calvin Klein Spotlight on Women Filmmakers' 'Live the Dream' grant, a $25,000 (£15,600) cash award for an alumna of IFP's Independent Filmmaker Labs. (The grant aims to further the careers of emerging women directors by supporting the completion, distribution and audience engagement strategies of their first feature film.)
The 2012 grant was presented by actor/director Famke Janssen and Sumner to Stacie Passon for her upcoming film, Concussion.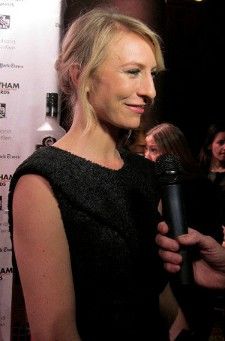 On the red carpet, I spoke to Mickey Sumner about her wonderful performance as Sophie in Frances Ha. Sumner called Greta Gerwig, who plays Frances and co-wrote the script "a queen." She said that working with her and Noah Baumbach was "sort of the highlight of my life". I asked Mickey who came up with the film's trademark greeting "Ahoy, sexy!". She told me that "it was in the script, either by Greta or Noah. It's a great line". Sumner's black dress that evening, sexy but not very maritime, was by Calvin Klein.
Sacha Gervasi, the director of the 2012 film Hitchcock and Gotham Independent Film Awards' jury member for Best Ensemble Performance, stopped by to talk about the "wonderful energy around the project to tell the story of this incredible woman Alma Reville (Alfred Hitchcock's wife and collaborator) who remained in the shadows all this time".The casting of Helen Mirren, who looks nothing like Reville, had other advantages: "We were really excited that Helen Mirren wanted to play the role and bring her own experience of being married to a director (her husband is Taylor Hackford) to it."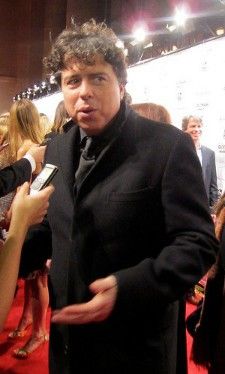 When asked about the choice for best ensemble cast, Gervasi kept up the suspense. "I can't tell you the winner. I will be shot. We had very vocal, passionate discussions about it."
I asked him if he was happy with the result. (The award went to the cast from Lynn Shelton's Your Sister's Sister later in the evening.) "Very happy," he said. "We had a bit of a fight, but a good one." My final question to Gervasi was about the very first Hitchcock movie he remembered seeing. "Psycho, at 15. Very, very disturbing for a developing male to watch Psycho."
Read about the award winners here, and see more photos from the red carpet in our Gothams gallery.
Share this with others on...