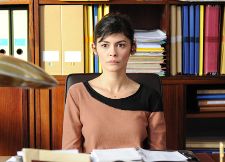 Audrey Tautou in Delicacy
Adapted from the book of the same name, Delicacy is a French romantic comedy which tells the story of a woman who, after the death of a loved one and a period of mourning, finds love again in an unexpected way.
Brothers and co-directors David (author of the novel) and Stéphane Foenkinos breeze into the theatre with the same easy, likeable charm as their film, which preceded this gentle interrogation of the two Frenchmen.
Compere Gail Tolley got proceedings underway, asking: "With the novel's huge success in France, at what point did David decide to adapt it himself?"
David answered: "When I began working on the novel, I never thought about making a movie. It was my brother who read the book and said we should make this into a film. I've had other books which have been bought for movies and never wanted to be involved. But this was the first time I wanted to do more as I felt I hadn't finished the story. I wanted to live again with the characters. And, like in a dream, we said let's try for Audrey Tautou for the part of Nathalie. And she loved the story... and... it's hard work to keep talking so much"
Stéphane interrupts in a playful manner that typifies the Q&A, the two trading banter like a distinctly French - and immaculately dressed - version of Morecambe and Wise: "Yes, I want to talk! One question and he goes on..."
As ever is the case when in Edinburgh, the weather - on this particular evening, a cloack of mist - was never far from the conversation, David said: "It's so great to be in Edinburgh today but it's a shame I'm seeing nothing. This weather. I'm sure it's a wonderful city, everyone tells us its beautiful. We had dinner up a tower for a wonderful view and we can't see across the street.
Back to the movie at hand, how was it working with Audrey Tautou?
Stéphane steps forward to answer this time: "It's very rare to find an actress who could portray that woman through her journey across 10 years. She can be believable as a young woman and as an executive figure. We were very lucky she liked the script. It was more of a casting challenge to find Swedish actors [to play love interest and Swede Markus]. We went to Sweden but, there are very few French-speaking Swedes, so we found Markus (François Damiens) in Belgium.
David chips in: "He's famous in France for doing candid camera shows. When we met him we told him we had a screenplay where he's going to seduce Audrey Tautou and he said: "where's the camera?"
The wardrobe and general design of the film are remarkable, how heavily involved where the two of them with all the little details in the film?
David answers: "It's a women's story, during eight years, so we had to choose every dress and try to reflect all the different moods and periods she went through. I'm also crazy about women's hair..."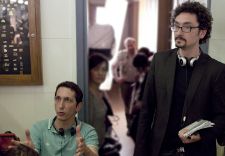 Stéphane, again unable to resist a gentle dig, says "As you can tell... [quoting a line from the film] 'I could go on holiday in your hair'. The back and forth continues with David, "François actually said to us when he read the script, 'how can I seduce her saying such sentences?. Nobody will believe it."
The floor was opened up to the audience, here's the pick of the questions:
"Was there any particular reason why you chose Sweden?" [It must be noted here that the film paints a broad picture of the Swedes as a rather dull bunch, although not without their own deadpan humour.]
David answers with another question – "Have you ever been to Sweden?" To which the audience member responds he has. Stéphane jumped in quickly, laughing as he added "Ah, so he knows." Brother David continued the rouse: "I take it you came back quick? It's really just a joke about clichés about Sweden. It'll be released there... we hope they like it! When I wrote the book, I needed a depressed character and so immediately I thought 'It can only be a Swedish guy". They are so depressive."
Finally, perhaps fearing a Swedish boycott, Stéphane offers a case for their defence – "We always said though, that in the end the Swede gets the girl... Even dressed like that!"
"The soundtrack was excellent. How did you sort that out, was it there when you wrote the screenplay?"
Davis politely thanked the audience member for the question, before saying "Do you want to answer that Stéphane?"
Quick as lightening, Stéphane responds: "Yes, it will be quicker. When we started thinking about the film, my brother said Émilie Simon will write the music. It was his obsession, as she's his favourite singer, so he contacted her. It's actually a sad and beautiful story, if we can be serious for a minute. When we sent her the script, we didn't know that she had actually been through this herself. Not only had she lost her boyfriend but his name was also Francois, like in the film. We would never sent her it if we had known that. We thought she'd reject it but she was already writing songs for him and she met us and came on the set and saw how much we liked her music that she decided to do it.
Seriousness over, it isn't long before the Swedes were under attack again - an audience member asking: "Did the actor playing Markus bring his own jokes to the film?"
"No it was all written. It could have been two hours of jokes about Sweden. I used to go to Ikea with my wife... before we got divorced! We were always arguing in Ikea." Said David, shaking his head in mock disappointment.
Stéphane continues the Ikea analogy: "Everyone assumes the company they work for is Ikea, but we never explain what they do. It's always a waste of time, it's all just about files. The company that we shot the film in was exactly the same. They were working all the time, but we never understood what they did.
A final questioner asks: "Why does the number 114 keep coming up in the film?" [Nathalie initially meets Markus when discussing file 114, and the ambiguity of the case becomes a running joke].
"It's a funny question, because when I wrote the book, I thought about this file and there was no signification of the number I chose to give it. But one day, one of my readers spoke to me and said, 'I understand completely why you chose this number, because in the book this is the chapter when Markus and Nathalie are making love for the first time'. So, I said, 'Exactly, that's why I wrote that'. It sounds good, no?"
And with that, David smiled and shrugged as Gallic a gesture as possible without falling into parody before the Q&A drew to a close.
Delicacy is out on April 13 and is reviewed here.
Share this with others on...