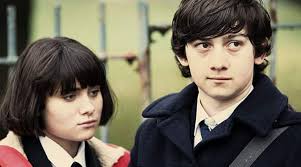 This British indie gem deserves to become a cult classic - it's a charming, eccentric and often hilarious coming-of-age story. Our protagonist is Oliver Tate (Craig Roberts), a 15-year-old schoolboy living in a small Welsh town who has two aims - to lose his virginity and save his parents' marriage.
But his girlfriend is an eczema-ridden, sometime pyromaniac and bully with a disdain for affection, while his mother is being seduced from his depressive father by a new age life coach with a mullet.

Oliver monitors his parents' fading sex life by checking the dimmer switch in their bedroom - halfway indicates sex - and forges raunchy letters from his dad Lloyd (Noah Taylor, Charlie And The Chocolate Factory) to his mum (Golden Globe winner Sally Hawkins, Happy-Go-Lucky).
But he also has to focus on his blossoming romance with the school femme fatale Jordana (Yasmin Paige), an emotionally stunted and often cruel teen with a troubled home life.
First-time director Richard Ayoade - best known for starring in British sitcom The IT Crowd - has created an offbeat yet poignant story full of dry humour, exquisite detail and insight. In this respect it is not unlike the movies of Wes Anderson (The Royal Tenenbaums, The Life Aquatic With Steve Zissou), while the cinematic effects owe much to French New Wave directors such as Godard. The use of jump cuts, long takes, frozen frames and slowed down/speeded-up action all pays homage to this genre.
Roberts gives a captivating performance as our anti-hero Oliver, a deluded but bright and exceptionally self-aware teen in a duffel coat. His insight and worldiness are admirable yet are combined with a childish innocence as he worries about an endless string of trivial things and concocts foolish plans.
The quirky action is accompanied by yearning songs by Alex Turner of the Arctic Monkeys, his melancholy voice perfectly matching the subdued tone of the story. Enjoy your ride on this mellow submarine.
Reviewed on: 15 Mar 2011
Share this with others on...