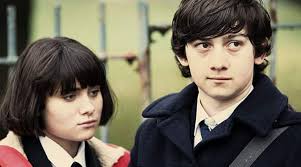 A brief synopsis of Submarine might suggest the sort of coming-of-age comedy that has been done countless times before, but Richard Ayoade's debut is in fact a stylised genre reinvention of a kind not seen since Wes Anderson's Rushmore. Something similar might be said of the extras on this DVD, which sound conventional enough (commentary, Q&As, etc), but are in fact revitalised by the mercurial presence of Ayoade himself, whose aloof, quizzical and decidedly eccentric approach to these established forms is matched by a surreal brand of humour. It is not often that a dvd's extras will have you laughing out loud.
Take, for example, the full audio commentary that Ayoade shares with his DP Eric Wilson and Joe Dunthorne (who wrote the novel Submarine). Sure, we learn that shooting took place mostly in natural or available light; that the film's overt (and sometimes not so overt) referencing of other films – from Le Samouraï to Taxi Driver - was meant to reflect the eclectic cinephilia (and self-aggrandisement) of protagonist Oliver Tate; that Londoner Yasmin Paige (Jordana) spoke in a Welsh accent throughout the production; and that the film began with a shot of Oliver looking to camera because that is how most other coming-of-age film end. Amid all these nuggets of information, however, there are free-associative digressions on having to bring your own birthday cake to work, on the unusual properties of lead actor Craig Roberts' hands ("so soft", apparently, that they "don't hold ink"), and on the tendency of filmmakers to tell lies when recording DVD commentaries. Ayoade ends by thanking us for "buying, or illegally downloading, this DVD".

The two Q&As are, if anything, even quirkier, with Ayaode launching into hilariously surreal riffs in response to virtually every question. Evidently his preparations for filming in Wales included: "A lot of press-ups, we went there, we kind of wore armour, we did a lot of weapons training – just the stuff you'd do when you go to Wales." We also learn that executive producer Ben Stiller's role in the film was essentially "catering... we fired the first caterer, and [Stiller] cooked us a meal, and it was acceptable."
Stiller himself shows up on another extra, a video message that he sent mid-production from sunny California to the cast and crew in an unseasonably rainy Wales. "I'm sorry I couldn't be there, I just – didn't want to go," he deadpans. "The work you guys are doing is incredible, and I really look forward in future to taking credit for it."
The 16-minute 'featurette' Through The Prism is in fact the full 'video cassette release' from mulleted psychic Graham T. Purvis (brilliantly incarnated by Paddy Considine) in which he lays out his 'system', his short-lived career in TV sci-fi series and his philosophy on life. There are even more of Graham's ridiculous posturings in the 15 minutes of extended and deleted scenes, as well as a pricelessly awkward Christmas dinner sequence and a touching scene shared between Oliver and his depressed father Lloyd (Noah Taylor).
Far more conventional are the short, press kit-style on-set interviews with Roberts, Considine, Paige, Sally Hawkins (Jill Tate), Taylor, and producers Mark Herbert and Andy Stebbing. Finally there is a four-minute camera test (for the rail bridge sequence), and a music video to one of Alex Turner's songs written especially for the film, Piledriver Waltz.
Reviewed on: 02 Aug 2011
Share this with others on...