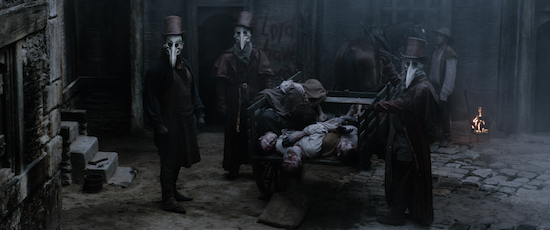 Neil Marshall's The Reckoning
Photo: Fantasia International Film Festival
The first part of this year's Fantasia International Film Festival was announced today, including opening film The Reckoning, the latest thriller by Neil Marshall, which is set against the backdrop of England's Great Plague and subsequent witch hunts. It stars Charlotte Kirk and Sean Pertwee and will be the second Fantasia opener for Marshall, whose The Descent was the headlines 15 years ago.
The festival will celebrate 45 years of Troma with Lloyd Kaufman's take on The Tempest, his second stab at Shakespeare after Tromeo And Juliet in 1996. Other highlights include Lucky, the second feature by Imitation Girl director Natasha Kermani, which will remind you to play it safe and wear your mask because you won't want to be the person without one, plus Chino Moya's Undergods, which journeys through a fantastically decaying Europe and employs the talents of Geza Rohrig and Kate Dickie.
This year's Fantasia will be held entirely online in recognition of the continuing threat from Covid-19. We will be bringing you coverage here at Eye For Film.
Share this with others on...