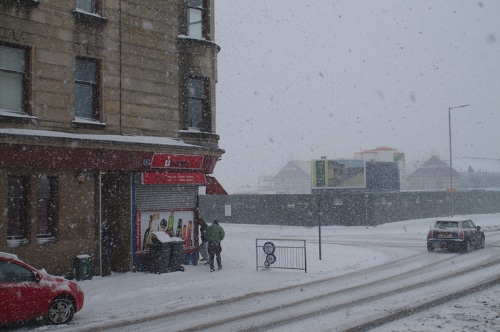 Today's snow has blanketed the Glasgow area, making road travel unsafe
Photo: Donald Munro
The Glasgow Film Festival was forced to cancel its evening events and screenings today after the Met Office issued a red weather warning for the city and surrounding areas. Hopes remain high that this will not affect plans for later in the week.
Strong easterly winds are expected to keep bringing snow into the west of Scotland until Thursday morning, with settled snow potentially getting as deep as 40cm in places. Although some bus services continue to operate, road conditions are said to be dangerous. All schools have been closed and the Scottish Government and Police Scotland have advised against all non-essential travel.
Film fans had been looking forward to screenings of Madame, The Camino Voyage and How To Talk To Girls At Parties, as well as the legendary Surprise Film. It is not yet clear how much of the programme will be able to be rescheduled but the School Disco event, featuring screenings of Gregory's Girl and Clueless, has been moved to Wednesday 7 March.
"We're optimistic we'll get to Glasgow tomorrow, as the airport has reopened and no snow is forecast for the city tomorrow. We are dependent on Virgin Trains running though, so fingers crossed the horror stories will be only on-screen!" said Frightfest co-director Greg Day, whose annual feast of fear is scheduled to run on Friday and Saturday.
"We apologise for any disappointment," said the Glasgow Film Festival organisers in a statement about today's cancellations. "Our priority is the safety of all our volunteers, staff and audience."
All tickets for cancelled events will be refunded.
Share this with others on...