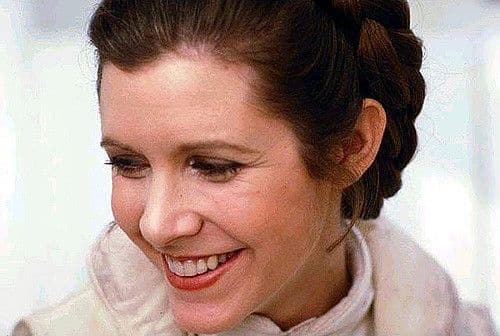 Carrie Fisher as Princess Leia
Photo: jimivr
Carrie Fisher has been pronounced dead at the age of 60, four days after suffering a massive heart attack aboard a flight from London to Los Angeles.
"It is with a very deep sadness that Billie Lourd confirms that her beloved mother Carrie Fisher passed away at 8:55 this morning," said a spokesperson for her family. "She was loved by the world and she will be missed profoundly. Our entire family thanks you for your thoughts and prayers."
"I'm deeply saddened at the news of Carrie's passing. She was a dear friend, whom I greatly respected and admired. The force is dark today!" wrote Billy Dee Williams upon learning of her passing, while Mark Hamill simply described himself as devastated.
Born into showbiz as the child of Debbie Reynolds and Eddie Fisher, Carrie Fisher made her first big screen appearance as a teenager in Shampoo, alongside Warren Beatty, whom she said offered to sleep with her exactly twice. Appearing in Star Wars at the tender age of 19 made her a megastar and also led to a passionate affair with co-star Harrison Ford, whom she recently sad she had never ceased to love. She also made an impact as the murderous former lover of one of The Blues Brothers, and starred in Woody Allen's acclaimed Hannah And Her Sisters.
"They were looking for a girl who was very beautiful or had a big personality," said Fisher of her Star Wars casting. "So obviously they went with the big personality." But Fisher's look in the film and its sequels defined standards of beauty for a generation, with thousands of fans imitating her style, including a young Ewan McGregor, who would go on to star in the prequels and said Princess Leia was the character he always wanted to be. She changed forever the public's idea of what a woman's role was in a genre film.
"Carrie was brilliant, funny and talented," said Mia Farrow, and William Shatner said that he would miss their bantering.
Alongside her acting, Fisher stood out for her coruscating autobiographical writing, which filled several volumes and detailed her conflicts with her mother, her troubled marriage to musician Paul Simon and her experience of cocaine and alcohol addiction and manic depression. Part of her story was adapted into the hit film Postcards From The Edge, which starred Meryl Streep.
Fisher had been expected to play a pivotal role in Star Wars episodes VIII and IX, with Leia moving to the fore to deal with the loss of her husband, the return of her brother and attempts to reclaim he son from the dark side of the force. Her hospitalisation had led to an outpouring of concern from fans who said that they hoped the force would be with her.
Fisher is survived by her mother, her daughter and her beloved dog, Gary, who stayed by her side during her final days.
Share this with others on...