Robert Pattinson receiving the New Hollywood Award in Deauville
Photo: Richard Mowe
A new prize is to be inaugurated at the Deauville American Film Festival (Sept 4-13) - with the first recipients named today as Robert Pattinson and Elizabeth Olsen.
The 41st edition of the festival in the sedate Normandy seaside resort will see both stars in attendance to receive their New Hollywood Awards.
Other names scheduled to attend include Keanu Reeves, Jake Gyllenhaal and Orlando Bloom.
A total of 14 films will screen in competition including Chloé Zhao's Songs My Brothers Taught Me, which premiered at Cannes, Ramin Bahrani's 99 Homes and Jeremy Saulnier's Green Room.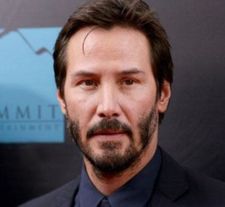 Keanu Reeves - special tribute in Deauville
Photo: Deauville American Film Festival
French director Benoît Jacquot will preside over the competition jury among whose ranks are writer Pascal Bonitzer, actress Louise Bourgoin and film-maker Louis-Do De Lencquesaing.
Baltasar Kormákur's mountaineering drama Everest will open the festival, just two days after its world première at Venice.
The director and some of the cast of the film, which features Jake Gyllenhaal, Keira Knightley and Josh Brolin, look set to appear for the French première.
As already announced, Denis Villeneuve's Mexican border-set thriller Sicario, which world premiered in competition at Cannes, will close Deauville with a gala screening on 13 September.
Other titles screening in the selection include Bill Condon's Mr. Holmes, Terrence Malick's Knight Of Cups, and Sleeping With Other People, the latest film from director Leslye Headland (Bachelorette).
The screening of Knight of Cups is part of a lifetime achievement tribute to Malick, much revered in France, and will include screenings of The Tree Of Life and To The Wonder.
Orlando Bloom - lining up for the Normandy sea breezes in Deauville
Photo: Deauville American Film Festival
Deauville will also celebrate actors Reeves, Bloom and Ian McKellen, and writer Patricia Clarkson, all of whom are expected to attend. Blockbuster guru Michael Bay will also receive a focus and attend screenings of Pain & Gain and Armageddon. Quentin Tarantino's long-time producer Lawrence Bender also is in line for a career focus.
The centenary of the birth of Orson Welles will be recognised with many archive screenings.
There will be a showcase devoted to TV series with a number of eagerly awaited US TV shows including the first three episodes of Michael Connelly and Eric Overmyer's Los Angeles crime series Bosch. It has yet to be seen in France.
Competition
99 Homes (Ramin Bahrani)
Songs My Brothers Taught Me (Chloé Zhao)
Cop Car, (Jon Watts)
Dope (Rick Famuyiwa)
Tangerine (Sean Baker)
Day Out Of Days (Zoe Cassavetes)
Babysitter (Morgan Krantz)
Dixieland (Hank Bedford)
Emelie (Michael Thelin)
James White (Josh Mond)
Madame Bovary (Sophie Barthes)
Krisha (Trey Edward Schultz)
Green Room (Jeremy Saulnier)
Diary Of A Teenage Girl (Marielle Heller)
The premières
Documentaries
Altman (Ron Mann)
Hitchcock/Truffaut (Kent Jones)
Janis (Penny Lane)
Steve McQueen: The Man & Le Mans (Gabriel Clarke, John McKenna)
This Is Orson Welles (Clara Kuperberg, Julia Kuperberg)
The Wolfpack (Crystal Moselle)
Share this with others on...