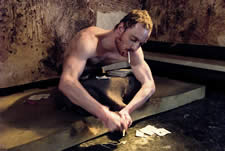 Michael Fassbender as Bobby Sands
Steve McQueen's debut feature film, Hunger, recounts the last days of Bobby Sands' in the Maze prison, but also broadens out to examine the atmosphere and events that existed within the infamous H-Blocks of the Long Nesh prison in the early Eighties. Following a press screening at the New York Film Festival, he gave a press conference alongside producer Robin Gutch (carving out a real name for himself as the joint managing director of Warp X, which has already brought us A Complete History Of My Sexual Failures and Donkey Punch, this year). The edited highlights are below. It is worth noting that, while in no way confrontational, McQueen is a man who won't answer a question he doesn't feel is relevant. In fact, the conference got off to a slightly shaky start when the first question – regarding whether a trip by the filmmaker to Iraq in 2003 which didn't work out was in any way connected to the inception of Hunger – was batted away with a simple "No". Fortunately, the subsequent answers were more revealing.
How did Hunger come about?
It was one of those moments where things just stick in your head an event where it is resonant. When I was young, about 11, my parents always watched the news, usually at nine o'clock and there was always an image of this guy on the TV screen, a photograph. And beneath the image was a number and every night that number would increase. Slowly I found out that the reason this was going on was this person had stopped eating in order to be heard. The idea of someone who stopped eating – the whole oral situation of the mouth – and not intaking food to get louder, resonated with me a bit. It was the same year of the Brixton riots and that Tottenham won the FA Cup. It was quite an emotional rollercoaster that year.
To what degree were you attracted to the physical conditions in the Maze?
Well that was my main research. I was looking at the texture of the sort of environment that one was living in, or subjected to, for four and a half years, as well as prison officers having to go into these sorts of spaces and go home afterwards. Making this extraordinary situation feel ordinary – waking up in the morning with maggots, to bluebottles and the cold. These sorts of elements, the problem of communication, how to smuggle things in and out, became the essence of the story.
What effect do you think your film can have politically in the general sense and in the specific sense?
None. A momentary thing and then people are out the door buying ice-cream. Nothing.
Politicians make a situation but I'm interested in how people deal with that situation.
Robin Gutch: In the British and Irish context, this is one of the most painful periods in recent history and I think what Steve and his team have done is restore the humanity to something was clouded by a lot of ideology and rhetoric and posturing on all sides. So what it has done is restored a humanity to that, so the meaning of that image.
Did you talk with the families, such as Bobby Sands' family before or after and have they seen the film, and has it been screened in Northern Ireland?
RG: The first British screening of the film will be in Belfast. It was very important that the film was seen in Belfast before anywhere else in the two countries. Steve and I met Bobby Sands' two sisters at the start of the research. They did not want to be involved. We invited them to a screening of the film before it screened in Cannes, as a courtesy, and they decided that they didn't want to experience the film and I can understand that. What was your relationship with screenwriter Enda Walsh?
RG: Steve and I did the original research and then we set out on a search to find a writer and one thing was really clear was that it would have to be a writer of real originality and an Irish writer – and Enda fitted both bills. One thing he didn't want to do was to come up with a conventional interpretation of it, which was a perfect match with Steve.
Now that the situation has changed – is there a problem that people might have forgotten what happened?
I think it's also related to what's going on now if you look in the Middle East. It happened 27 years ago but it has as much relationship with what's going on now, unhappily. The situation in Belfast, it's one of those situations where when you look back it has a lot of resonance.
Could you talk a little bit about the choices of the look of the film?
It's one of those things. It was really tough but I also wanted to do a good job. What I mean by that, is that if you think of painters like Goya, who painted the worst images of war in such a way that they were engaging. One has to make movies like these engaging but not as one sees often – and I apologise here – in most American movies, where there is violence which is pornographic or sexy. It becomes much more, what can I say, numbing, as it if it doesn't matter to me. But if you look at violence as something which has consequences, in the way that you direct the film, is in relation to that event.
How important was it strike the political balance in the film?
For me it was never about of left and right it was always about you and me, in a sense of who we are as human beings. It sounds really corny to say it but I can identify with the prison officer absolutely. I can identify with the blanket protestor absolutely. It was just one of those situations when you put yourself in their shoes and think how does it feel, what would it be like, as such and there is some kind of humanity to that.
Share this with others on...