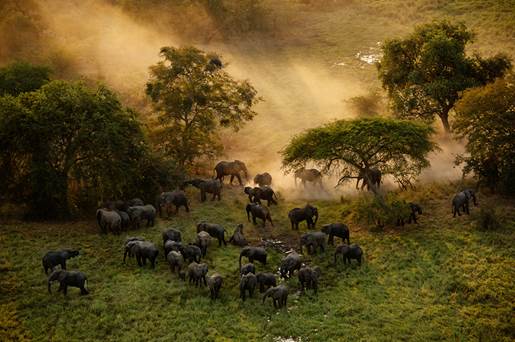 Elephants in the wild in The Last Animals
In an age when mammal species right across the Earth are in serious decline - humans being a noteable exception - larger creatures are being hit particularly hard. Documentarian Kate Brooks took up her camera to explore the danger facing elephants and rhinos - and to tell the story of the brave people who put their lives on the line to defend them. The Last Animals is a film destined to fascinate and delight audiences in equal measure. I asked Kate how it all began.
"In 2010 I was working with a medevac team in south Afghanistan and at the end of that I went on a pre-planned vacation in Kenya," she begins. "I went to the Masai Mara trying to process everything that I'd witnessed, and during that process I saw a herd of elephants in the wild for the first time, walking across my eyeline, and that was an incredibly healing experience for me when I was trying to make sense of all that human destruction, and it was then that I felt compelled to want to work with wildlife.
A ranger guards Garamba National Park
"A couple of years later I was a fellow at the University of Michigan, I was the wildlife fellow, so that was when I researched this project and stories trickled in about the poaching crisis, and during that time there was an incident on the border between Chad and Cameroon where over 80 elephants were gunned down. That was when I decided to take up my camera, because that's what I do, and make a film about it.
"I set out to look at the links between the ivory trade and terrorism, which took me to Garamba National Park. Garamba was also the last stronghold for the Northern White rhinos and where they were poached to extinction in the wild about ten years ago. Today Garamba is the battleground over the ivory of the remaining elephants and where there is a true intersection between the ivory trade and terrorism."
The film follows both elephants and rhinos, getting close to some of the last surviving members of the Northern White rhino species.
The remains of a slaughtered elephant
"I was so fascinated and perplexed about how there could be just seven Northern White rhinos left on the planet in 2013, which is what ultimately lead me to follow the story," says Kate, and reflects on the personal sense of loss she felt when individuals she had grown close to passed away.
How did she go about researching the international trade in illegal ivory and rhino horn that has helped to bring about the threat of extinction? And was it risky to do so?
"I've spent several years now working on this subject so over that time I've built up links with people in conservation and law enforcement," she explains. "There were definitely times, throughout the making of the movie, then I myself and other members of the team were in danger. Some of that was when we were undercover and some of it was when we were working in Garamba National Park in the DRC. We embadded with rangers who are incredibly brave and put their lives on the line ever day, because the poachers don't just shoot at animals, they'll shoot at people too. The film itself focues more on people than animals; it's about the human beings who fight to protect animals"
And what would she most like viewers to take away from the film?
"How dire the wildlife trafficking crisis is," she says firmly. "It's incredibly vital that countries shut down the legal and illegal ivory markets and enact stronger trafficking laws. The UK government is currently in its consultation period before deciding what regulations to put in place so it's an incredibly important time for British citizens to express their viewpoints."
The Last Animals will première at the DocHouse in Curzon Bloomsbury, in London, on 8 November.
If you would like to contribute to ending the ivory trade, you can find out more at Ban UK Ivory Sales.
Share this with others on...