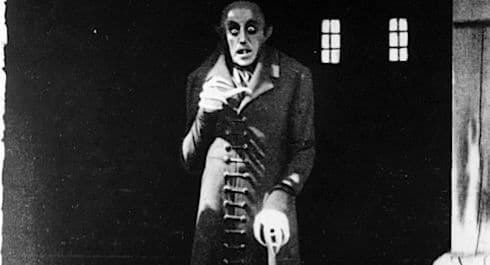 The original Nosferatu. returning to some of his old stalking grounds this Halloween
There's something in the air: the turning of the seasons, the first chill of winter, the scent of burning leaves. Of maybe it's chloroform. You'll certainly find something to shiver about if you venture into UK cinemas this Halloween. We look at some of the scary screenings you won't want to miss.
Aberystwyth
Birmingham
Bristol
28th - Bristol Cathedral: Dr Jekyll And Mr Hyde (1920 version) with live organ score
Cardiff
Dundee
27th - Dundead at the DCA: The Crazies (Romero original)
28th - Dundead at the DCA: Room 213; Doctor Jekyll And Sister Hyde; To The Devil A Daughter
29th - Dundead at the DCA: Young Frankenstein
31st - Cineworld: The Shining
Edinburgh
27th - St Mark's Unitarian Church: John Carpenter's Prince Of Darkness plus DJ set and spooky footage of Edinburgh
27th - Brewhamia: The Rocky Horror Picture Show plus live music, fancy dress welcome
31st - Edinburgh Filmhouse: Nosferatu The Vampyre
Glasgow
26th - Royal Concert Hall: Psycho with live score
27th & 28th - Scream Movie Experience at The Shed (Govan): 'scare experience' with maze; cocktails; Scream
28th - Kelvingrove Art Gallery: Ghostbusters, Halloween and DJ set; fancy dress welcome
28th - Panopticon: The Lodger with live soundtrack
29th - GFT: We Are The Weirdos female-made short horror film collection by The Final Girls
29th - A Nightmare On Renfield Street at the Flying Duck: A Nightmare On Elm Street; The Lost Boys; Halloween; The Shining
29th - Drive-in at the Riverside Museum: Ghostbusters; Scream
31st - Glasgow Planetarium: The Rocky Horror Picture Show
31st - Epilepsy Scotland event at Blackfriars: The Addams Family and Scream
Hull
Leeds
Liverpool
London
Manchester
27th - Victoria Baths: Hocus Pocus and Beetlejuice
27th - Cat Cafe: Saw
28th - Victoria Baths: Hocus Pocus and The Addams Family
28th - Cate Cafe: Scream
29th - Cat Cafe: Halloween
31st - Flick at Soup Kitchen: Night Of The Living Dead with live zombie siege
31st - The Plaza: The Wolf Man and Bride Of Frankenstein
31st - Ginema at Wood: Psycho, with gin
Newcastle
Sheffield
26th - Regather at the Odeon: Vampire's Kiss plus Cage Rage (Nicolas Cage quiz) and clips from Halloween-themed B-movies
28th - Sheffield General Cemetery: Ghostbusters and The Others
29th - Sheffield General Cemetery: The Addams Family and The Sixth Sense
York
26th - Yorkshire Museum: Scream
Share this with others on...