Guillaume Gallienne as the older Cézanne with director Danièle Thompson: 'It was a journey of discovery: I had no idea that Cézanne originally wanted to be a writer and Zola wanted to be a painter'
Photo: Unifrance
She has become French cinema "royalty" with an impeccable pedigree. Danièle Thompson's father Gérard Oury was one of the country's most successful directors whose wartime frolic La Grande Vadrouille from 1966 scored more than 17 million box office admissions - and she had her first experience of a film set working on the hit comedy. Thompson's mother was actress Jacqueline Roman - and her father, who died in 2006, later married the iconic Michèle Morgan.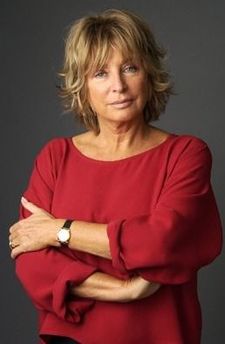 Danièle Thompson: 'The quality of TV today has improved enormously. Look at your Downton Abbey - it is a writer's dream'
Photo: Unifrance
Her son Christopher is an actor and director (together they worked on her ensemble piece
Orchestra Seats
as well as her first film as a director Seasons Beatings/La Bûche). Daughter Caroline also is an actor. She was married until their divorce to English financier Richard Thompson, hence her impeccable command of English which began when she studied art at Columbia University during a spell in the States.
After continuing to work with her father in the Sixties and Seventies on such mega-hits as The Mad Adventures Of Rabbi Jacob, she turned successfully to screen writing including Patrice Chéreau's Oscar-nominated Queen Margot before carving a niche as a purveyor of light-hearted satirical comedies among them Jet Lag with Juliette Binoche and Jean Reno, Change Of Plans with Karin Viard and Dany Boon and Orchestra Seats (also known as Avenue Montaigne) with Cecile de France and son Christopher.
Thompson, 75, for her sixth outing as a director, chose to depart from her contemporary comedic niche for a 19th century period drama Cézanne Et Moi, starring Guillaume Canet as Impressionist artist Paul Cézanne and Guillaume Gallienne as writer Emile Zola.
She came across the fact that the two had known each other and developed a strong and enduring friendship almost by chance through a magazine article. "It was about the time I was started work on my first film as a director so I put it to one side but every time I finished a film it kept coming back to me. I did some research and then after my last film It Happened in Saint Tropez (Des Gens Qui S'Embrassent) in 2013, I decided the time was ripe and launched in to it seriously. It also coincided with the publication of letters between the two of them which made fascinating reading and went into the intimacy of their everyday lives.
"With a writer like Zola you can learn a lot about the man when you read his books, but with a painter it is much more difficult. Who is the man behind all these canvases and what did he go through to create them? I wanted to look at the evolution of his work and of him as a man. There was so much material. I did not even know that Cézanne was from a rich bourgeois family - and that he was probably bi-polar with bursts of enthusiasm one moment and then deep depression the next. It was a journey of discovery. I had no idea that Cézanne originally wanted to be a writer and Zola wanted to be a painter."
Guillaume Gallienne as the older Cézanne with director Danièle Thompson: 'It was a journey of discovery: I had no idea that Cézanne originally wanted to be a writer and Zola wanted to be a painter'
Photo: Unifrance
As boys they went to the same school in Aix-en-Provence, where their friendship started to develop. "At the time Zola was a poor boy with an engineer father who left the family in poverty. He became a target for the other boys because he had Italian roots, and had a slight lisp. Cézanne was a year older and he helped to stand up for him and invited him to his house and the family helped to feed him.
"Later it went the opposite way with Cézanne down on his luck and starving and it was Zola who helped him out. Zola's work as a writer was at its height when he was in his twenties and lasted until he was 50, after which he became more of a political figure. Cézanne is the opposite - although his early works are much sought after now they were not what made him the avant-garde artist and Post Impressionist icon he became which were his works from the last ten years."
It helped in the creation of the relationship that her two lead actors had also known each other over a number of years from their days as drama students. "Gallienne is extraordinary, a multiple talent and when I gave him the script it was with the idea that he would be Zola. I always trust actors and their reactions when they read a script - and he came back to me and said he would be interested in playing Cézanne. We did some readings together and I could see how it would work. Guillaume Canet came along quickly after that - it was easy because they share the same agent. I think they both liked the fact that they were being offered something that was the opposite of what they had been doing."
Two men in a boat: Guillaume Canet as Zola and Guillaume Gallienne as Cézanne
Photo: Unifrance
Thompson appreciated her position as a female being privy to "the intimacy of men". "There was so much intimacy and passion in those youthful letters between them that it was almost ambiguous. They were like love letters - but that is normal for adolescents. There must be ambiguity and sensuality because this is the age when you are experimenting and emotions are heightened. That is why even so much later on their break-up is so painful." Gallienne (interviewed separately) had confided that Thompson "loves men and that was very important. She loves our defects, our physicality, and our moods. She knew how to accept our instincts - and our stupidity!"
After a few months off, Thompson now is planning to work on a television series. Before turning to cinema she used to write a lot for TV. "I liked the idea of being able to develop characters and storylines over a longer period rather than being constrained by the running time of film. You have much more freedom. The quality of TV today has improved enormously. Look at your Downton Abbey - it is a writer's dream."
Although not directly involved in the new restoration of her father's greatest hit La Grande Vadrouille (now available on DVD and Blu-ray from Studiocanal) she takes great pleasure in the way it has been received by a whole new audience of admirers. "It was my first film. I was the youngster of the group - my father was 46. And there I was with those two big stars Louis de Funes and Bourvil in a film that was an incredible success and still is. What a start to a career!"
Cézanne Et Moi is on release now in the US, from April 14 in the UK and from June 2 in Norway
Richard Mowe interviewed Danièle Thompson at the Unifrance Rendez-vous with French Cinema in Paris in January.
Share this with others on...