Alec Baldwin with director Michael Mailer at the Blind sneak preview hosted by the Lycée Français de New York
Photo: Anne-Katrin Titze
After our conversation on Matthew Barney's River Of Fundament at Cornelia Parker's Alfred Hitchcock Psycho inspired Transitional Object (PsychoBarn) on The Metropolitan Museum of Art's Roof Garden, John Buffalo Mailer, the screenwriter of Michael Mailer's Blind, starring Alec Baldwin, Demi Moore and Dylan McDermott, met me for lunch at Narcissa and we started with Mike Nichols and a Gay Talese smile.
Blind screenwriter John Buffalo Mailer greets Narcissa the cow
Photo: Anne-Katrin Titze
Suzanne Dutchman (Moore) is trapped in a life of luxury she cannot really appreciate. She refines her style around an emptying soul. Her leather-coat wearing, Queens-born husband Mark (McDermott) adores her and considers her his possession. "Keep that ring on your finger! You hear me?" When he is sent to prison for insider trading, Suzanne has to do community service at a centre for the blind as a plea bargain with the court.
This is where she meets Bill Oakland (Baldwin), a novelist and professor, who lost his wife and his eyesight in a crash. Baldwin plays Bill keenly as metaphor without losing touch emotionally. He is disgruntled, angry, feisty and proof that a sense of smell can be prejudiced, too. Suzanne reads his students' papers to him and fresh decisions soon need to be made.
You'd have to be blind or live too close to the fire yourself to overlook the harsh beacon Michael Mailer's directorial debut shines onto the horrors of relationships where money doesn't seem to matter anymore.
Anne-Katrin Titze: You told me to look out for Gay [Talese] in the film. He is there right at the beginning, sort of a Hitchcock cameo.
John Buffalo Mailer: Exactly. That beaming smile.
AKT: The story of this project started a long time ago, didn't it? There is very interesting chemistry between the cast.
John Buffalo Mailer: "When you bring in talent like Alec, like Demi, like Dylan, they make it their own. They take it to a new place."
Photo: Anne-Katrin Titze
JBM: It's so funny, I wrote the first draft 12 years ago and we had so many different combinations over the years. Mike Nichols got it and walked it into CAA … The heart of it never changed. I was so young when I wrote it that I was wondering, where did I get this stuff? Now ten years later I've been around the block and kind of understand more what gives in.
When you bring in talent like Alec, like Demi, like Dylan, they make it their own. They take it to a new place. She [Demi] had very specific ideas and really just crafted this character. She is a master, of course she is going to get her way. I would argue about this and that in the script. And she was very patient with me. And then of course we get into the edit room and I'd see that she was absolutely right.
AKT: Can you give me one specific instance? A scene?
JBM: It was a lot of scenes. And also she came on relatively late. I had more time with Alec to really define the part. Demi and I had three or four days sitting down together. So then on set, she would hand me pages and say "This scene we are shooting today is not working for me." I wrote this 12 years ago! What do you want me to do?
So I'd sit there re-writing but inevitably she was always right about the character's journey and the subtleties with which she was playing. I knew what she was delivering by watching the monitor. But there's nothing like seeing that on the screen and understanding - okay, there's a reason why she's one of the biggest movie stars in the world. She really knows her stuff.
Alec Baldwin (Bill Oakland) and Demi Moore (Suzanne Dutchman)
And Alec was equally masterful but maybe he didn't tip his hat as much as he knew where it was going to go. He also knew what we needed.
AKT: You probably didn't have a lot to do with the costumes, but I loved what Demi is wearing. Do you know anything about that or should I ask Michael [Mailer]?
JBM: Michael could certainly give you more details. Demi really spent her time with the costumes. I mean, it was such an integral part of her character for her. That specific part of the journey and how she looks in each different phase was so intense in Demi's head. You know, there you have Michael and myself, two hairy brutish guys saying "Really? Does it matter this much?" She said "Yes, it matters this much."
AKT: I was actually taking note of what she was wearing in every scene. It's unusual what she wears and very much defines her. There are two young men who are offered jobs in Blind. Did you want the audience to see them as doubles?
JBM: It's funny, somebody asked me that at Woodstock [Film Festival], "Why do you have those mentor/mentoree relationships?" As a device to kind of show the difference between Bill [Alec] and Mark [Dylan] in terms of how they interact with their protégés. They're both these kind of alpha male guys - there's tough love and then there's just abuse.
On Demi Moore's costumes: "I mean, it was such an integral part of her character for her."
Stephen [Prescod as Gavin] and Drew [Moerlein as Tim], the two protégés they made those characters pop up a little more than just the device that I had written. There's a lot of parallels going on throughout. It kind of was just organic. I wrote this script without an outline. And I found that geometrically it just started to balance out.
AKT: "Brooklyn is the new Paris?"
JBM: Is that a stretch?
AKT: Ahhgggrrr. I don't know. 12 years ago you might have been able to get away with saying it.
JBM: I live in a place now [in Brooklyn] where as a kid I would go for drugs and trouble and that was it. And now I live there, in this penthouse in the heart of Bed-Stuy. I think about my dad and how he lost his love for baseball when the Dodgers moved to LA. I'm kind of wistful that he's not around now because now we got our own basketball team. You know, Brooklyn is really starting to feel like it's fulfilling the potential that was there. If there was no Manhattan, Brooklyn would be its own huge city.
AKT: You really fully identify with Brooklyn, don't you?
JBM: Yeah. The problem with Manhattan now is it's so corporate.
AKT: The film shows a lot of magnificent views but at the same time it's very clear that if the people behave the way they behave, they can have all the riches in the world and their life is shit. Being at the most beautiful place you can imagine can mean nothing. That's at the core of the movie?
On Alec Baldwin: "… he didn't tip his hat as much as he knew where it was going to go."
Photo: Anne-Katrin Titze
JBM: I mean, that set that we had, that apartment is extraordinary.
AKT: Oh yes. Where was that?
JBM: The Zeckendorf, right by the UN. Like a lot of those buildings that are going up, they need something to set them apart. They were thrilled to have us come in and do this. But there was something so cold about this apartment. As I watch the movie, it goes on from the two of them having fun in the beginning and then he goes to prison. Her alone in this apartment, suddenly you feel this - exactly what you said - all the money in the world is not ultimately what fulfills us.
AKT: The scene with the couple on the sofa and he starts unravelling, that's one of the scenes, the rain is falling outside - it makes you think, what do you really want?
JBM: Isn't that one of the most important questions to ask oneself every day? What do you want?
AKT: Sometimes it's just Narcissa Carrot Fries.
JBM: Sometimes all you need is Carrot Fries. And great conversation. But I do find that those who were born affluent have the hardest time figuring out what they want. The lack of need. There's a certain benefit to need. Which is another reason why the dichotomy between Bill and Mark is so important. You have two men who have been successful, one monetarily, one in terms of accolades and just kind of knowing himself. Which one is going to win in the end? The confrontation scene between the two of them is very different from what I had written.
Anne-Katrin Titze with John Buffalo Mailer at Cornelia Parker's PsychoBarn on The Met Roof Garden
Photo: Anne-Katrin Titze
AKT: What changed?
JBM: It was Alec and Dylan getting into what they really wanted to come across in terms of those two alpha males confronting each other. For me it was a big surprise. It actually worked better than what I had originally … So you have the moment when he hits the blind guy.
AKT: And that's when you come in [as the janitor]. Did you always see yourself in this role?
JBM: Are you kidding? When I first wrote that thing 12 years ago, I had the part of the young ingenue writer. By the time we make it I'm playing the fucking janitor [Jimmy]. You know, I love that role. You always need that kind of Shakespearean clown. That's why I have him do a Shakespeare workshop.
AKT: You're saving the day - or not really?
JBM: I may be stopping more abuse. 16 takes. Dylan was so fierce. I had to bring everything just to look him in the eye. He has these piercing blue eyes and he terrified me.
AKT: He is really really terrifying in this. I have never seen him like this.
JBM: I've never seen him like this. You're finishing the take and next you're laughing with him.
AKT: Did you give him the tattoos in the script?
JBM: No, those are his.
Michael Mailer's Blind shines onto the horrors of relationships where money doesn't seem to matter anymore.
Photo: Anne-Katrin Titze
AKT: Frank [Gerardo Rodriguez] on the stoop? Who is he? Where did he come from?
JBM: He was actually directly inspired by my landlord at the time that I was writing it.
AKT: I knew there was a Frank somewhere.
JBM: In a way it's a kind of Woody Allen homage to the characters of New York. The movie is in a lot of ways a love letter to New York. There was one day I was blocked and the first draft was due and I was in Carroll Gardens at the time. My landlord was such a character - this guy had like a pencil-thin mustache and a pompadour, smoked glasses, thoroughly old-school Italian. And he would drink like 15 Coors Light a day. he would keep them outside, he liked them warm. So I was blocked and I hear him outside.
And he said: "When it comes to beer, I have one or two, three or four, five or six, seven or eight, nine or ten, eleven or twelve, even. If it's walking distance, thirteen or fourteen. Don't let somebody tell you how to live!."
AKT: And you just took it!
JBM: Right in! Unfortunately that monologue got cut.
AKT: Less beer. The flashback with the wife in the car has a great line. "I don't know how many parties I can do." It says it all about the relationship.
JBM: For me it's that very sad but real thing that happens often where it was perfect and now it is not. All you can do is acknowledge it.
AKT: What do you think your parents would have said seeing the finished movie?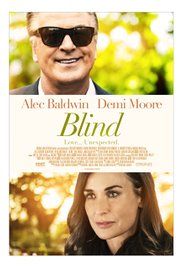 JBM: They loved the script, they really did. Both of them had a hand in it. [About the ending his mother did not agree]. She [Norris Church Mailer] said, "Yeah, but Baby, people don't go to the movies to see the way life is. They go to the movies to see the way they want life to be." That really hit a chord with me. It's funny, I just came across a notecard from my dad [Norman Mailer] which was a possible cast list for Blind.
AKT: Wow, who was on it?
JBM: Alec was certainly on there. But he thought that Alec should play the husband. It was just, you know, Jack Nicholson and George Clooney. My dad's favourites. Obviously I can't imagine anyone but Alec owning this role. I noticed his subtle little shout-outs to my father that he throws in, a certain cadence.
AKT: Is there anything in the decor? Any family heirlooms?
JBM: That we snuck in? Not that I'm aware of. Certainly the aesthetic of his apartment is very much what we grew up in.
Read what John Buffalo Mailer had to say on Matthew Barney's River of Fundament at Cornelia Parker's Transitional Object (PsychoBarn) on The Metropolitan Museum of Art's Roof Garden.
Coming up in the New Year of 2017 - Blind director Michael Mailer, producer Jennifer Gelfer, and a possible special guest conversation.
Share this with others on...