George Sluizer talks abut working with River Phoenix on Dark Blood.
Photo: Eoin Carey
Monday at the Glasgow Film Festival started off a little more quietly than the previous few days but soon picked up, with a second chance to see the celebrated 20 Feet From Stardom and an early screening of The Book Thief, which has since opened in cinemas nationwide. The evening saw the Scottish première of Dark Blood, the last film to star River Phoenix. The young actor, whom more than one Eye For Film staff member has described as their first crush, was part way through filming when he overdosed and died on the steps of Johnny Depp's Viper Room. It was assumed that he film would be abandoned but director George Sluizer somehow managed to put it together and was present at the screening to tell the audience how he did it.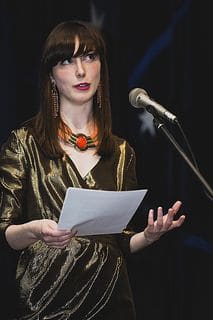 Margret Tait Award winner Rachel Maclean.
Photo: Eoin Carey
Also screening that evening were Violeta Went To Heaven, a biopic of multi-talented Chilean folk singer Violeta Parra and part of the festival's focus on Chile; and agnès b's tale of a runaway, My Name Is Hmm, which the first time director and acclaimed fashion designer discussed with us here. She also put in an appearance to introduce her film. Meanwhile, Michael Caine starrer Mr Morgan's Last Love, a big hit at Locarno last year, pulled in quite a crowd. A Geeks vs Gamers quiz at the CCA saw Kick-Ass creator Mark Millar go head to head with Robert Florence to prove who knew the most obscure fan trivia. Elsewhere, artist Rachel Maclean exhibited A Whole New World, an experimental composite video work taking a fantastical look at British history, for which she received last year's prestigious Margaret Tait Award.
The most dramatic event of the night took place not in a cinema but in Glasgow's Central Station - or, more accurately, underneath it. At 7pm fil fans began to gather underneath the station clock, wrapped up in warm woolly clothes and full of pioneering spirit. Split into smaller groups, they were led to a lift that took them down into the bowels of the station and then, in thickening darkness, into the tunnels beyond. Because this was the first of four such expeditions we don't want to spoil things for others by telling you exactly what they found there, but t was certainly a spooky experience for all involved. Watch this space and all will be revealed on Friday.
Some of those not too broken by the events of the night before where among the crowd that gathered in the GFT on Tuesday to attend a filmmaking masterclass by agnès b, in which she talked about her new film and about her previous creative work with the likes of Matthew Barney and Harmony Korine. The film highlight of the afternoon was lexicographical Japanese love story The Great Passage and, later, documentary fans had the chance to see the excellent These Birds Walk, which explores Pakistani society through the microcosmic world of residents in a children's home. The evening saw sweet Indian love story and Cannes favourite The Lunchbox charming film fans at Cineworld, whilst Who Is Dayani Cristal? presented a mystery stemming from the discovery of a body in the Arizona desert.
Taking on the MCP, Glasgow style.
Photo: Max Crawford
As another expedition made ts way down into the tunnels beneath the station, some of those opting to stay topside gathered at The Glue Factory to for a different kind of journey - one that would take them back in time. Back to the Eighties, to be precise, to a world where Star Wars pinball machines sat side by side with arcade games and Prince and Michel Jackson were he hot thing at the discotheque, with Robert Florence in the DJ seat. This was Ton: Off The Grid and at 8pm attendees headed upstairs to watch the iconic film. Rab, by then quite tipsy, probably spoke for many of them when he admitted that it isn't really very good but he loves it anyway, and it certainly made the crowd happy.
Stick with us and next time we'll take you back to the future for day seven.
Share this with others on...