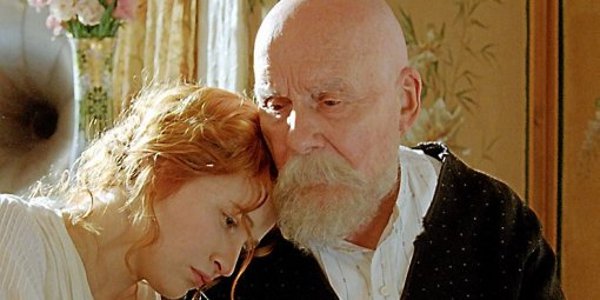 Kensington's Cine Lumiere, part of the self-contained world that is the Institut Francais, is peaceful to the point of ambivalence as a lone journalist, only a few minutes ahead of schedule, pounds its grounds, keen to find the right room without expert guidance.
A neat woman at reception directs the compromised journalist upstairs to the 'salon', which turns out to be all antique elegance with high-ceilings and mismatched but regal furniture. The room holds an affable chap with shaggy blonde hair and an indiscreet mouth. He's fiddling with a camera while a fine-boned brunette, his fiancée, sits in the chair, endearingly bashful at being a surrogate for the talents who will shortly be giving whatever insights 15 minutes can give into Renoir, Gilles Bourdos' fourth feature.
A publicist arrives, yanks furniture around then leads the journalist down to the Marie Celeste of cafes. It's out of primetime hours but a roaring coffee machine still competes with Gilles who has been sitting serenely on a chair for a few minutes.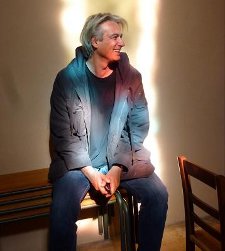 "You may need to correct my English, especially in the morning…" says Gilles. Before revealing with the merest twinkle in his eye, that a few bevvies were sunk after a packed screening and Q&A here last night.
With that it's time for another go on the Q&A merry-go-round. Was he tempted, considering that the film's timeline plays out during World War I, to have more conflict in what has turned out a very peaceful film? Gilles answers philosophically:
"Renoir did voluptuous paintings at a time when his personal life was very difficult. He had grief because his wife had passed away, two of his sons were seriously wounded from the front line and he was really sick because he had rheumatoid arthritis and could hardly move his hands.
"The paradox was the more he suffered, the more beautiful his paintings were. In that is something about his own war. In his painting was a possibility to push away bad things."
Gilles explains that in his film there is a division between how Renoir spends his days and how he spends his nights. "In the day it's light, it's nature, it's for art, in the night, he's suffering and he's in pain as there's no light any more to paint."
It's a film coloured by dreamy landscape cinematography with shots alternating between the painter's canvas and the sunbathed Cote d'Azur. Bourdos, from the same part of France as his dramatised location, discusses how he went about recreating the mood of Renoir paintings.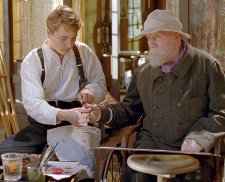 "The goal was not to recreate the exact paintings of Renoir because you can't. Cinema and painting are two different mediums, especially in the last period of Renoir, when his paintings were not realistic. The landscape is a dreaming landscape. Everybody seems to be floating in a kind of paradise. It was almost impossible to film it exactly the same way so I used the sensation that I feel when I look at a Renoir painting."
Prompted to go into more detail about how these sensations break down, the Frenchman launches into an list.
"Something colourful and peaceful, something like paradise, something floating, smooth and voluptuous, just like touching silk or the pleasure of the skin. It's very sensual. There is nothing harsh like anger."
And how exactly did he – armed with cinematographer Mark Ping Bing Lee – approach shooting this sensation festival?
"I don't pre-plan my shots ever. I'm very precise with everything like the make-up, location and props, but the way I shoot depends on last minute details. When you rely on living elements you have to keep your eyes open all the time. For me it doesn't make any sense to make a storyboard six months before in cafes in Paris. I'm making a movie in the real world with the lighting and sky and the reality of human beings
"So the way we work with Mark is … I work with the artists first and establish some blocking. Then if we see some wind we will try to find an angle so we can work the wind. And if it's raining the characters will be under a tree. It's a very organic way to shoot. We use a lot of tracking shots to keep the camera moving because I wanted the sensation of life and in life everything is moving just like a brush on a painting."
Was it intimidating to be depicting two of France's most respected cultural icons in Pierre-Auguste and Jean Renoir?
"It could have been at the beginning but when you decide to make this kind of movie you can't stay intimidated. The most difficult thing is to make decisions especially the decisions about your characters. Whether it's Renoir or a character you invented it's the same thing. They're all born free. It's a democratic point of view."
How much are Jean and Pierre-Auguste like real people and how much are they his characters?
"There is a large part of my own sensibility in the movie but a lot of things are true, a lot of lines they say are coming from the real material. It's what Jean or Pierre-Auguste thinks about life or art. But sometimes, especially in cinema and fiction you have to do not the exact reality to find the truth. Reality and truth are different. Sometimes when you create a fictitious part it may be more true than if you follow the real document."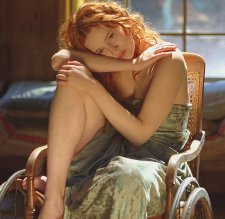 Wise words but it's time to plunge from highbrow to the gutter. Is Gilles worried that people will come to Renoir just to see the lovely Christa naked? The Gallic gent has a ready answer.
"If you want naked girls you can find naked girls on the internet. It's very easy to access pornography. Renoir's more about a relationship with a living human. It isn't sexual. It's about the beauty of the human body and the beauty of being alive."
A speedy reroute back to highbrow; this man has made art his art. With a genial handshake he's wheeled away and the lady whose body serves beauty not pornography is up.
Blonde, in boyishly cut jeans and a black jacket that engulfs her entire top half, Christa looks like a teenage waif – totally different to the Rubeneqsue redhead, Andrée. She gained weight for the part and has been keen to stress this afforded a level of privacy.
"It wasn't my body so it was easier for me. I could have the distance between my previous body and my new body.
"After my transformation it wasn't easy to be naked but I was helped because my mother was a model and my father was a painter so I could understand that relationship. It 's not about sex. It's more sublime. It's like the relationship between a landscape and a painter or an actress and a director. "
This last comparison is clearly informed by a trust in Gilles who helped his 21-year-old lead actress (then only 20) to be comfortable with her glut of nude scenes.
"I asked Gilles to have a reduced crew on set when he shot those types of scenes and afterward he showed me what he wanted to do with the light, with the painter and with everything."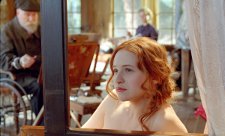 When asked whether she sought guidance from her model mother and painter father, Christa says she spoke to her mother, but not her father, who is dead. She waves away condolences with a sweet smile, either an old soul or a determined pro. Sweet and determined is the way she conducts herself throughout. A translator is by her side yet for the most part she answers in English, leaping in before her aide can take the reins.
When not acting as muse, Christa plays half of a tender and restrained romance with Vincent Rottiers, as Jean Renoir. She credits their affecting chemistry to plain old getting along. Her face lights up thinking of him. "We did a few rehearsals and after it just flowed from there. There was something sincere." Her favourite day on the two-month shoot was spent filming in a boat with Vincent.
At times her answers veer into sound bites printed elsewhere. When attempts are made for more spontaneous responses, appreciative smiles are forthcoming although there is enough steel to keep returning to non-revealing subjects, like how art modeling has changed over the years.
"Now art is very conceptual. When someone is painted it's about proportion and anatomy. It's not about the grace of the human. The relationship is different because there's so much technique involved. At the time of Renoir and Andree it was all about the personality and the body and the idea of muse."
Eleven minutes doesn't go very far, particularly in this three-way party. A final question establishes the unsurprising fact that Christa's favourite Renoir is Pierre-Auguste. "I'm more sensitive to the painter because of my father. I was born around studios so to me it's very familiar."
Christa leaves with most of her mystery intact. The journalist considers harnessing the wisdom of Gilles and using means other than verbatim facts to conjure reality. But there will be plenty of time for us to get to know Theret. With versatility, looks, youth and poise it's fair to say the canvas for her life in pictures is just receiving its first splashes of colour.
There is a little colour left in today. The actress, the translator, the journalist and two publicists band together to return upstairs to the 'salon' where the shaggy blonde and his girlfriend are interviewing Gilles. The door is still shut and one of the publicists puts her ear to the door, exaggerating stealth for comic effect. Everyone puts on a show of mirth except for Theret, buried in her Blackberry. Even in her normal body, she knows how to retreat into the privacy of her own world.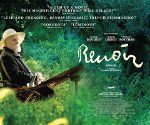 Renoir screens at Dunoon Film Festival on Saturday, June 15, in Studio 1 at 5.45pm. The film will be released by Soda Pictures across the UK on June 28.
Share this with others on...