Some of the fabulous costumes that feature in Baz Luhrmann's Cannes opener The Great Gatsby
Photo: Anne-Katrin Titze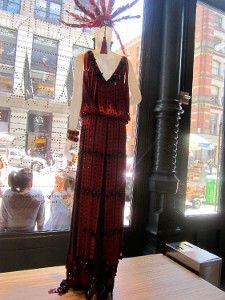 There is a spectacular selection of costumes from Baz Luhrmann's Cannes opener The Great Gatsby, starring Leonardo DiCaprio, Carey Mulligan, Tobey Maguire and Joel Edgerton, on display at the Rem Kolhaas designed Prada Flagship store in Soho, New York City from May 1 to 12.
The Prada/Luhrmann/Catherine Martin collaboration on The Great Gatsby is no surprise - Miuccia Prada made Leonardo DiCaprio's suit in Luhrmann's 1996 Romeo + Juliet and the director filmed the designer for the 2012 Met Costume Institute's fabulous Impossible Conversations exhibit and contrasted her interviews with Judy Davis playing Elsa Schiaparelli.
Miuccia Prada, who provided more than 40 dresses for Luhrmann's extravaganza, re-invented some of her own past Prada and Miu Miu collections and gave them a roaring ravishing 1920s spin. Talking about her Fall 2009 collection, the designer explained what could also be true for the upcoming Gatsby: "To me, the debate between nostalgia and modernity is very relevant, very important, especially in terms of workmanship. I'm very interested in preserving traditional techniques of manufacturing… Critics called them 'gladiator' dresses, but they simply reflected my obsession with leatherwork and beautiful embroideries."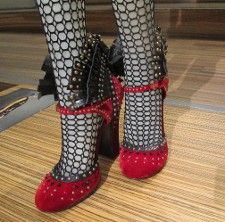 One of these cut-out leather-strip dresses in oxblood, featured in the lavish party scenes at Jay Gatsby's mansion in the movie, currently attracts passers-by on Broadway in Prada's shop window.
The "gladiator" shoes have leather wings or mini-manes, and the paillette dresses in the exhibit are inspired by Prada's Fall 2011 collection. The innovative designer is the perfect choice for visually deconstructing Fitzgerald's parties. "Because I hate evening wear, I try to make paillettes problematic - by making them so big or so heavy, for instance, that they become almost unwearable."
Prada's Gatsby costumes contrast Ralph Lauren's beautiful and airy designs for Jack Clayton's 1974 Great Gatsby with Robert Redford and Mia Farrow, but are no less intriguing. Carey Mulligan's Daisy Buchanan wears a 'Chandelier Dress' that perfectly encapsulates her spirit. Silk and sequins, taffeta and multi-colored fur stoles, necklaces as tiaras and metallic studs on dancing shoes - Gatsby's house that summer was an endless iridescent party.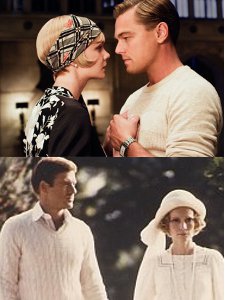 If you can't make it to New York for the costume exhibition, or to Cannes for the opening night, there is always F Scott Fitzgerald's sublime masterwork to revisit and provoke you to figure out the truth about Gatsby:
"On Sunday morning while church bells rang in the villages alongshore, the world and its mistress returned to Gatsby's house and twinkled hilariously on his lawn. "He's a bootlegger," said the young ladies, moving somewhere between his cocktails and his flowers. "One time he killed a man who had found out that he was nephew to Von Hindenburg and second cousin to the devil. Reach me a rose, honey, and pour me a last drop into that there crystal glass."
The Great Gatsby opens in the US on May 10 and the UK on May 16
Share this with others on...