The Museum of Modern Art and the Film Society of Lincoln Center will present the 42nd edition of New Directors/New Films from March 20-31 in New York. The festival will screen 25 features (19 narrative, six documentary) and 17 short films, representing 24 countries.
Matías Piñeiro's Viola, Shane Carruth's Upstream Color, Shannon Plumb's Towheads, Sarah Polley's Stories We Tell, Daniel Hoesl's Soldate Jeannette and Rachid Djaïdani's Rengaine are films to look out for on the conflicts from within and the contentions from without.
Alexandre Moors' Blue Caprice will open the festival at MoMA on March 20. A new component this year is a mid-festival screening at the VW Performance Dome at MoMA PS1, in Long Island City, on March 26, of Sophie Letourneur's Les Coquillettes. Found-footage documentary, Our Nixon, directed by Penny Lane will close the film festival at the Film Society's Walter Reade Theater on March 31.
Here are six standouts that will be presented: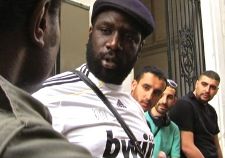 Rengaine (2012) (Director: Rachid Djaïdani, France, 75min) FSLC, Fri, Mar 22, 9pm & MoMA, Sun, Mar 24, 6pm - Djaïdani will present his film
A marriage proposal takes place in a forest and a man counts his brothers, reaching 39, one short of Ali Baba's 40. Romeo and Juliet in Paris 2012 is the forbidden love story between the actor Dorcy (Stéphane Soo Mongo), a black Christian and Sabrina (Sabrina Hamida), a Muslim Arab. The camera is in constant motion, as Paris is. The actor wears a wolf mask, one of several disguises, in this no-budget story of understandings. A young man takes a survey about "urban minorities" who hang out around the station. "Is your gang delinquent?" he asks, as though he weren't actually speaking to a human being. Rachid Djaïdani asks about the directions in which religious differences are heading. How does tolerance actually play out when it isn't an abstract idea but concerns one's own family? A good question for 2013.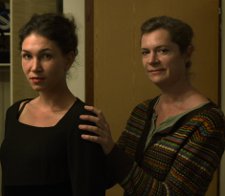 Soldate Jeannette (2012) (Director: Daniel Hoesl, Austria, 79 min) FSLC, Sat, Mar 23, 9pm & MoMA, Mon, Mar 25, 6.15pm - Hoesl will present his film.
Daniel Hoesl's Rotterdam Tiger award-winning, serenely composed film without a script invites the mind to go on safari. Money burns, numbers are magical, Burberry trench coats have lost their outer protective layer and are worn as lining only, for the world to recognise the strict commercial co-ordinates of the plaid. The close-up of the face of a waitress rattling off an elaborate dessert menu, ready to explode any second, or the absurd timing of an improvised tea ceremony will throw you off your carousel at the perfect speed. The serious and the ridiculous make for a fine coupling throughout the movie and absolve you from making up your mind how you feel about these objects of desire. Read the full review.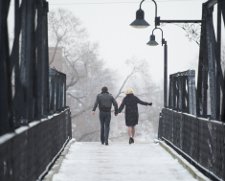 Stories We Tell (2012) (Director: Sarah Polley, Canada, 108min) MoMA, Fri, Mar 29, 6.15pm & FSLC, Sat, Mar 30, 12.30pm - Polley will present her film.
"Can you tell the entire story?" Filmmaker Sarah Polley challenges her own relatives to inquire into the family lore. "Can you tell the whole story in your own words?" She prods, sets the stage for the storytellers, and uses Super 8 footage as camouflage, not unlike Pablo Larraín's tactics in No. Polley's mother Diane, who died when she was still a little girl, left behind some riddles that the filmmaker sets out to solve. Dad calls it an "interrogation process", speaks of himself in the third person about how Michael met Diane while playing Mick in The Caretaker. We learn of "a woman of secrets" between Toronto and Montréal and clips from Vittorio De Sica's Marriage Italian Style with Sophia Loren and Marcello Mastroianni turn out to be key, rather than distraction. Polley scrutinises the nature of family storytelling, in what some relatives may call a "brutal piece of directing". We escape into fiction when we get too close to the real. Read the full review.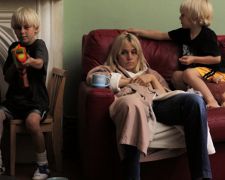 Towheads (2013) (Director: Shannon Plumb, US, 86min) MoMA, Wed, Mar 27, 9pm & FSLC, Sat, Mar 30, 8.30pm - Plumb will present her film.
The film starts with an unusual perspective. The camera looks up between the director's legs, while she holds a snake. Exciting? Yes, but not how you might think. She wears jeans, collapsed and tired on a sofa at 2.30pm, just before it's time to pick up her two sons, the towheads of the title, played by the director's real-life sons. Shannon Plumb is an artist with fantastic comical timing, the comparison to Chaplin or Keaton is not far off, channelled, through Carole Lombard with a bit of Lillian Gish's soulfulness. "How do you get superpowers?" is the big question while she strides through her own private Holy Motors, in shoes too big, and bold mustaches, to escape the still all too present threats of A Doll's House. Read the full review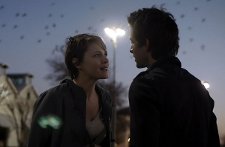 Upstream Color (2012) (Director: Shane Carruth, US, 96min) FSLC, Thu, Mar 28, 9pm & MoMA, Sat, Mar 30, 6.15pm - Carruth will present his film.
Walden is the central point of reference. Civil disobedience can be manufactured out of paper chains. Or is it a science-induced obedience these fragile shackles symbolise? It is hard to tell in this seemingly position-less movie, that rustled up the audiences at Sundance. We know that people are taught to speak like machines in banks. Combining an abduction, samples from the sounds of nature and rocks at the bottom of a swimming pool with a general mystery of identity and boundaries of self, produces a story that is a little bit Wings of Desire, inhabited by a couple with expressionless faces. Good worms and bad worms, worms in the earth, in a lab, stuffed into pills and under the skin invite us to think about science and how little we know about the world's workings. Read the full review.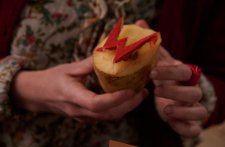 Viola (2013) (Director: Matías Piñeiro, Argentina, 63min) FSLC, Wed, Mar 27, 6.30pm & MoMA, Fri, Mar 29 9pm - Piñeiro will present his film
The only film of my six highlights that I have not yet seen but am looking forward to is Piñeiro's Viola, based on Shakepeare's Twelfth Night. Films by new Argentinian directors have recently been leading the pack in originality and style. Last year's New Directors/New Films had Pablo Giorgelli's surprise hit Las Acacias, a road movie like no other, that took us on board a lumber truck for a 900 mile journey from Asunción in Paraguay to Buenos Aires. And the 2013 inaugural First Time Fest Grand Prize winner Sal, Diego Rougier's inventive modern-day western with majestic sweep, great acting, and a lot of surprises kept up the momentum. Read the full review.
The other feature filmmakers expected to attend are Joshua Oppenheimer (The Act of Killing), Alexandre Moors (Blue Caprice), Alex Pitstra (Die Welt), Li Luo (Emperor Visits The Hell), Tobias Lindholm (A Hijacking), Penny Lane (Our Nixon), Libbie D. Cohn & J.P. Sniadecki (People's Park), Tizza Covi & Rainer Frimmel (The Shine Of Day), Marcelo Lordello (They'll Come Back), Kazik Radwanski (Tower). You can read our ongoing coverage here. For further details and to book, visit the official site.
Share this with others on...