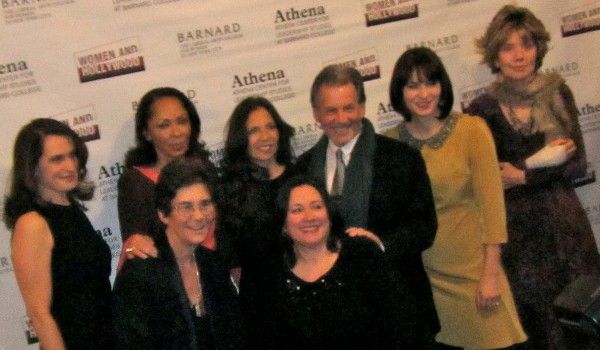 While New York City braces for a blizzard this weekend, the Athena Film Festival with Greta Gerwig and Diablo Cody presenting, honoured five women for their exceptional leadership and accomplishments at the opening reception held on the evening of February 7 at the Diana Center, Barnard College.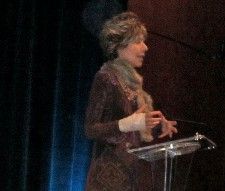 Film critic and author Molly Haskell, Executive Director of the Film Society of Lincoln Center Rose Kuo, President and Chief Executive Officer of the Paley Center for Media Pat Mitchell, and filmmaker, marketer, film distributor Ava DuVernay received recognition for their creative achievements that reach beyond their remarkable contributions to film.
The Laura Ziskin Lifetime Achievement Award was presented to Gale Anne Hurd, Academy of Arts and Sciences' Board of Governors member and Officer of the Producers Guild of America.
Barnard president Debora Spar welcomed everyone warmly and opened the third annual celebration of women and leadership before a full house of enthusiastic film supporters.
Melissa Silverstein, co-founder of the Athena Film Festival and artistic director, introduced Haskell and told us that the winners were given a guideline for their speeches: "When accepting the award, we have asked each of the honourees to tell us about a woman leader, other than her mother, who has inspired her."
Haskell said she was "happy tonight that people are willing to use the word feminism again. There was a time it was a dirty word, and I think that's a disgrace". She sees this festival as a testament that these days are over. The first of her two leaders, Simone de Beauvoir, who was Haskell's "entry into feminism," reinforced her feelings and thoughts which found a sounding board in de Beauvoir's "leitmotiv that one is not born, but becomes a woman… the idea that woman is formed from a male perspective." As her second leader she mentioned Kathryn Bigelow, director of Academy Award nominated Zero Dark Thirty. "Arousing controversy is a sign of somebody entering forbidden territory, and, boy, is she in knee-deep."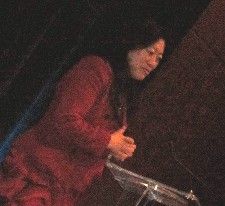 Kathryn Kolbert, co-founder of the Athena Film Festival and Constance Hess Williams Director of the Athena Center for Leadership Studies introduced Kuo, who joked that she is usually the one giving out the rewards, not receiving them. "I grew up in Kansas, my parents were immigrants. We were the only Chinese family for miles and miles. When I was 12, the only other Asian female who I was aware of, was the little girl in the famous photo running away from the napalm attack in Vietnam. Amazingly, that girl (Kim Phuc) now runs her own foundation which provides medical and psychological assistance to child victims of war." Newsreader Connie Chung had an impact on Kuo in her early twenties. "What I saw was that really smart articulate woman on TV who was really well respected in her field."
Co-chair Greta Gerwig, star and co-screenwriter of the upcoming film Frances Ha was happy to be back at Barnard: "I always say Barnard changed my life" and being a student here "shaped me and allowed me to have courage and go forth and be in films and try to make them and keep pushing myself to fail better."
Greta presented the Athena Awards to Pat Mitchell and Ava DuVernay.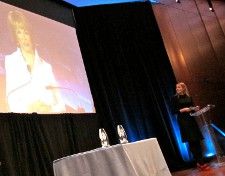 Pat Mitchell accepted her honor with a videotaped message, because she is currently on a humanitarian relief mission to the Democratic Republic of the Congo, helping women who are survivors of rape and domestic violence. She remarked that she wanted to share her honour with playwright, activist, Eve Ensler for her "wisdom, courage, and artistic talent" in "founding V-day, a movement to end violence against women." She shares the award with "each and every Athena on earth."
Ava DuVernay at Sundance 2012 became the first African American woman to win the best director prize for her feature film Middle Of Nowhere.
DuVernay thanked Melissa (Silverstein) for her constant blogging, "and helping me to change the way I think about myself." "My challenges in the film world are more race based than culturally based." Her hero is the filmmaker Julie Dash, who was "never fully embraced by the industry, by Hollywood at large."
"Movies are arguably the most influential, important medium in the world. They have a tremendous cultural impact. Because women are now making movies, then women's ideas, philosophy, point of view will seep into that culture. And that's never happened in history. Ever, ever, ever. We can't even see the impact of that yet." – Laura Ziskin
Academy Award winner for Best Original Screenplay of Juno and Athena Film Festival co-chair, Diablo Cody presented the Laura Ziskin Lifetime Achievement Award to Hurd.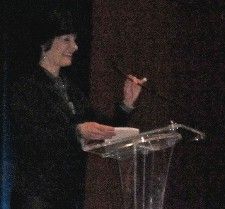 Hurd started her speech by stating how often she was asked why she didn't make chick flicks. "And I said, You know what? The Terminator and Aliens are chick flicks."
The woman who inspired her was the former first lady Eleanor Roosevelt. "Without her influence and impact on national and global policies, many of the opportunities, women and minorities take for granted would never have been possible… Her agenda included supporting the rights of women, racial equality, and labor unions." She especially thanked Roger Corman, who hired her in 1978 at New World Pictures as an executive assistant, and later head of marketing and whom she sees as her mentor: "I learned by making mistakes on his dime," she said he had given her the "most important gift of all: experience and confidence." The next film she made after Corman threw her out of the nest was The Terminator.
Debra Martin Chase, 2011 Athena Award recipient, closed the ceremony with thanks to her co-chairs, the sponsors et al.
"Snow not withstanding, the festival will go on this weekend."
Athena Film Festival runs through Sunday, February 10. Get out your Wellies and join in the festivities. For more information about the festival visit the official site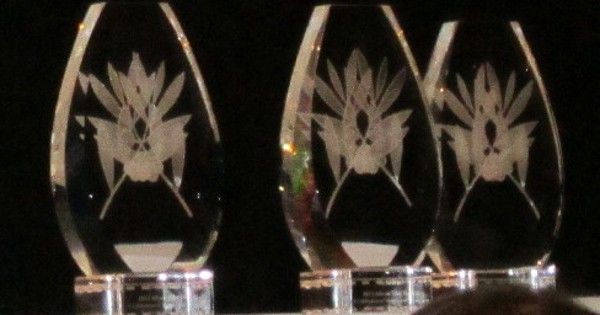 Share this with others on...