Cosmina Stratan and Cristina Flutur in the film
Cosmina Stratan shared the best actress award at Cannes this year with her co-star Cristina Flutur for her portrayal of Voichita in Beyond The Hills - Romania's official entry for the 2013 Oscars - which tells the story of two friends against the backdrop of a convent. Cristian Mungiu's films teach you the art of seeing, while he unravels the common control mechanisms in front of our eyes. "You don't give details," Voichita explains. The girl is referring to confession, not moviemaking, which is as far off her diegetic reality as can be. "They say father has in icon," says Voichita, one that can grant wishes. Mungiu beautifully doubles the meaning.
Anne-Katrin Titze: You were filming in order. Did you feel in danger at the start, in between the trains?
Cosmina Stratan: I was anxious and felt the pressure because it was the first scene in the movie. It was difficult. I think we shot 40 takes. I didn't feel any danger but I felt a bit stressed.
AKT: How did you feel about your costume, the religious garb of the convent you are a part of? It weighs heavily on you. I talked with Cristina (Flutur, who plays Alina) (read that interview here) about her tracksuits and pullovers, which allow for very different movement.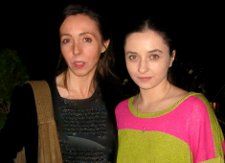 CS: It helped a lot. I was so dressed, with so many sweaters underneath. It really blocked my normal body language. We worked a lot on how Voichita walks. When you know how a character walks, you can start to build the rest of it. Cristian (Mungiu, her director, who won the Palme d'Or at Cannes in 2007 with 4 Months, 3 Weeks & 2 Days) really helped me to find her walk.
AKT: How did he do that?
CS: I tried several ways of walking and we decided on the last one. The most difficult part was to keep that, not necessarily to discover it.
AKT: There's a change in your character's body language near the end. Earlier on, most of the other nuns in the convent are much more hunched with their shoulders up. You show less, how shall I put it, guilt, in your physicality. Then you seem to take on the guilt and in the end transform again.
CS: In a way, you are right. The main goal of the character was to solve that scene when the policemen come and ask about what happened. From the first day of shooting I was thinking about that scene always. I was really afraid that she would look like a plain character, very linear. I admire the chance that Cristina had to express herself in Alina. My character is so introvert, keeping everything inside all the time.
AKT: You saw yourself on the big screen in Cannes for the first time?
CS: Yes, in Cannes. It's a good movie but my performance is [she shrugs her shoulders] it's all right. It's such a great prize… I found out when you have this prize you just have to let it behind you. It's such a great memory but it's just a memory. If you write it on your forehead it is like a fake artificial piece of truth about yourself. Because I didn't get it being secure, being confident. No, I was really scared, not knowing what to do. It's not just about confidence and talent, it's just so subjective.
AKT: Cristian Mungiu mentioned that you were surprised by the massive snowfall during the shooting. Even as a film audience you feel the cold.
CS: It was very cold. But in a way that helped. It was difficult to hang on and be focused. There were moments when I really couldn't talk because my mouth was freezing and I couldn't have any clear thought in my head in order to give life to it. It also helped because the mood of the character is so dense, she's so much under pressure. In a way I'm grateful that I had to deal with that condition, even when you feel it on your own skin, your goal is much higher.
AKT: Speaking of higher goals, what is your religious background?
CS: I have a really religious background. My grandfather was a priest and I was raised in the Orthodox religious style. It would have been very easy for me to say, okay, this girl is like me. Let's rely on my past, but that's not acting. So I kind of draw a line between me and the character. My question about this character was 'what's wrong with that girl?' And the answer was, I think, that she was too young to handle her life. She couldn't understand what was happening and was really afraid of being alone. She was really so not prepared for what life brought to her.
AKT: Most of the characters in Beyond The Hills aren't. What I find so brilliant is, how little Cristian Mungiu actually shows and how vast the implications are. The girl in the hospital for example is described with one line and her whole life story unfolds in our heads. That is his genius.
CS: The script surprised me a lot also because it was so rich. So full of juice and full of life and everything. At first, I thought, that's enough. Then I realized I had to build up things inside to give life to such a good text.
AKT: Did you do this on your own? Did you discuss it with your director?
CS: At first I had so many questions for Cristian. What is the relationship of these girls? Is it a lesbian one? Are they like sisters? Please explain!
AKT: And he said no?
CS: He said no, but in such a lovely way. He just kept on avoiding those answers. It really helped for me to build my own story. If it was my own story, it worked. If it would have been our collective story, maybe it would have been much more politically correct. It would have been a decision, not something personal.
AKT: The audience has to do similar work and make your personal story their own.
The sheltered and safe horrors of Transylvania may be tempting, but it is much more important to go beyond the forest - ultra silvam - beyond play, use your knowledge wisely to wake up from the entertainment slumber, and meet what lies beyond the hills instead. Cosmina Stratan as Voichita operates seamlessly in the convent and is torn by the arrival of her childhood friend. At no point does the film give in to the sensationalism you might desire.
Share this with others on...