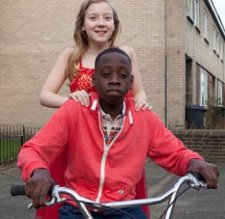 Colour won the Jury Prize
The Scottish Mental Health Arts & Film Festival celebrated some of the best films on mental wellbeing from around the world at its awards ceremony in Edinburgh's Filmhouse last night.
This year's festival theme was 'walk in my shoes' and, as the organisers put it, it was "not just cherry-picking the 'nice' bits of mental health".
The awards were given out in between clips of the films, which were wide-ranging in genre and scope. The topics covered included Alzheimer's, homelessness and post-traumatic stress of female soldiers through to the ways in which adults' ill-health can impact on their children, with moving testimony, educational advice and a good dose of laughter, too.
There was also inspiration from the filmmakers as well as the films, with Claire Lamond - who won the best animation prize for All That Glisters - revealing that she had once been a user of Scotland's Mental Health services herself and that, it was as a result of getting involved in a film there, that she went on to study animation. Her short is a wonderfully textured stop-motion animation about a young girl coming to terms with her dad's asbestosis (watch the trailer here)
The overall jury prize went to director Lynsey Miller and writer Vivienne Franzmann for Colour, their film about a young carer whose mum suffers from OCD and agoraphobia and who finds strength from a new friendship.
The winning films were chosen by a panel of practitioners in the fields of mental health and the arts, this year consisting of Geoff Huggins (Deputy Director of Health and Social Care Integration and Head of Reshaping Care and Mental Health Division, The Scottish Government); Mahmud Al-Gailani (Diversity Facilitator, Voices of Experience (VOX)); (Julie Cameron, Research and Development Manager, Mental Health Foundation, Scotland); Angela Ross (Development Officer, Plantation Productions) and Eddie Harrison, (SMHAFF Film Programmer and film journalist).
The full list of winners:
Best Educational Documentary Winner - Transvisions - Alison Wren and the LGBT Centre for Health and Wellbeing. The film aims to break down stigma and examine issues affecting transgender people. It can be viewed on Vimeo.
Highly Commended - Head Case - directed by Matt Pinder. Young people with mental illness talk about their experiences and explain how to spot the symptoms. The film is available for educational use from the BBC.
Best Animation Winner - All That Glisters - Claire Lamond. Stop-motion animation about a little girl who finds a unique way of dealing with her dad's asbestosis.
Highly Commended - Marvin - Mark Nute and Frank Pudney. Steve Coogan narrates this wry, rhyming animation of a little boy with a hole in his head. You can see the trailer here.
Highly Commended - Growing Space - Kate Broadhurst. Elegant, hand-drawn animation illustrates testimony from adults with mental health issues who have found solace and community in a gardening project. You can watch it online on Kate's site.
Best Personal Narrative Winner The Winner Loser - Darren Hercher. The story of Daniel MacNee, whose hydrocephalus 22 years ago left him with severe memory problems. You can see a clip on the BBC, which aired the film back in April.
Best Short Drama Winner - Pollicino - Cristiano Anania. A man with Alzheimer's tries to make his way through the day with the help of post-it notes. You can watch the film online here.
Highly Commended - You Bring Something Back - Michelle Arbon. Shot for just £250, this is a remarkably affecting drama that brings home hte fear of the post-traumatic stress of a female soldier. You can watch it online here.
Best Long Drama Winner Colour - Lynsey Miller.
Highly Commended - Dylan's Room - Layke Anderson. A grieving mum finds a connection with him as she goes through his belongings.
Best Short Documentary Winner - Maraquita - produced by Matthew Cleaves and George Clipp. The very personal story of a man whose mother was locked up in a mental institution for years on the strength of misdiagnosis. You can watch the trailer here.
Highly Commended - Capicúa - Roger Villarroya. The title means palindrome in Spanish and this short film questions our attitude to Alzheimer's. You can watch it in full, here.
Best Long Documentary Winner - Empress Hotel - Roberta Goodman, Irving Saraf and Allie Light. Stories of the homeless in San Francisco's Empress Hotel. You can read more about the film here.
Those interested in films on mental wellbeing, can find more at www.mindreel.org.uk
Share this with others on...