Flight director Robert Zemeckis with John Goodman, Don Cheadle, Melissa Leo, writer John Gatins, Bruce Greenwood and Denzel Washington
Robert Zemeckis with the cast of Flight on flying, Michael Haneke without a manual for Amour, Peter Kubelka's Monument Film installation, and Richard Peña, aka Richard Parker gives Ang Lee an ultimatum for Life Of Pi.
Flight
Denzel Washington (Captain Whip Whitaker) arrived a little late for the New York Film Festival press conference, sat down next to the other cast members on stage, and was asked about the toughest scene for him in the movie. "Right now," he said, to the great amusement of the audience, and threw the question to his director. "What do you think, Bob?" "They were all tough. Making movies is tough," Zemeckis answered. In my question, I thanked them for not having any bird strikes in the movie and inquired how the real-life miracle landing into the Hudson played into the shaping of Flight.
Writer John Gatins explained: "I can tell you exactly where I was when that happened. In Arizona, at a car show, I got e-mails from people, who said, oh my God, there's a guy who just landed his plane in the Hudson. It's exactly like your movie, because I had worked on the script for so long. But what I've read of Sullenberger, he's a great guy, compared to Whip (he shoots a glance at Denzel Washington)."
I asked the cast, if making this movie has changed their experience of flying, and Don Cheadle (who plays defence attorney Hugh Lang) jumped in first: "Probably not because I haven't seen it yet. I've been on 25 planes this year, I don't know if I want to see it."
Gatins added: "You know, I was a terrified flyer… and Bob (Zemeckis) is a pilot… and I had to fly with him to locations and he constantly wanted to work on the plane… on this sequence (of the plane crashing) what could happen with Whip in the storm and I was on the plane, sweating, trying to focus.
Amour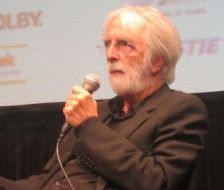 Various cultures all over the world share the superstition that a bird flying into the house, is considered a messenger of death.
At the press conference, after the New York Film Festival screening of his Cannes Palme d'Or winning film Amour, I asked Michael Haneke about the two pigeon visitations in his movie.
I prefaced my question with the fact that pigeons came into my apartment in Paris all the time when I lived there, and Haneke agreed, they do. On the symbolic level, he is famously tight-lipped and not someone "to hand out a manual for reading the film." Haneke did volunteer, though, that shooting the pigeon scene was extremely difficult for Jean-Louis Trintignant, who was not in the best of health, and had to chase and catch the bird and "react to it for two and a half days".
Monument Film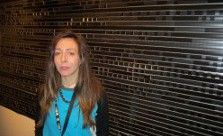 Inspecting a detail of the sculpture Monument Film (2012) by Austrian artist Peter Kubelka at the Film Society's Gallery space during the festival.
Sixty-four strips of 35mm film, each consisting of 144 frames, mounted on surfaces of three-panel enclosure installation in a bright rectangular space defined by three white walls.
The films are cut, each, in 128 strips of equal length, which hang on nails and are arranged in a rectangular, metric form.
The appearance is, theoretically, a BLACK rectangle but the antiphony is articulated by the two strips of film.—P.K.
Richard Peña on Life of Pi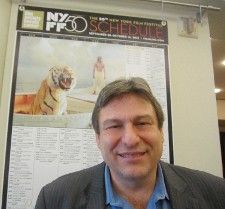 Ang Lee has two more weeks to put the finishing touches on his 3-D animal wonder that is Life Of Pi. "That tiger's name better be changed to Richard Peña by then," the New York Film Festival Program Director for the past 25 years joked, while I asked him to pose for me in front of Richard Parker, ferocious star of Life Of Pi, and tiger of the year.
Share this with others on...