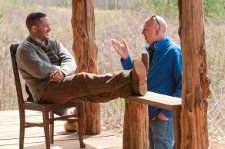 Tom Hardy on the set of the film with John Hillcoat
Director John Hillcoat's Lawless is the dark tale of a trio of brothers making moonshine and ends meet against a backdrop of prohibition and the Great Depression. The story - adapted for the screen by Nick Cave - has, at times, the quality of a fable but is nevertheless rooted in reality. The Wettest County In The World, on which it is based, was written by Matt Bondurant from the recollections of his grandfather Jack (played in the movie by Shia LaBeouf) and other relatives. Jack was the youngest of three brothers, idolising his gruff eldest sibling Forrest and loose cannon middle brother Howard.
The film plays out partially as the story of Jack's growing realisation that he doesn't have the stomach to be a gangster and his desire for romance with the local preacher's daughter (Mia Wasikowska), and partially as the story of Forrest (played by Tom Hardy), a man who bears deep scars despite his 'invincibility' being the stuff of local legend. The family's bootleg business is threatened when a corrupt - and sociopathic - Chicago deputy (Guy Pearce) hits their part of rural Virginia.
Lawless has been a long time in the making, with a previous attempt to realise it - featuring an almost entirely different cast including Ryan Gosling, Scarlett Johansson and Michael Shannon - hitting the brick wall of the worldwide cash crisis.
"The film in 2008 coincided with the global economic downturn," says Hillcoat. "It was a Sony film, with a whole different line-up and cast - and Sony said we can't make these films any more and, sadly, it's almost still true of the big studios.So, we had to go back to the drawing board and years later we finally pieced together a whole new cast and different financiers.
"There was feeling that there was no audience for a period film and no audience for any kind of rural setting. I had offers on the table to make it if we re-set it in the city. I tried to analyse that and I realised that it's just that classic thing of what's more familiar. The Capones in the city, Boardwark Empire in Atlantic City, it's that whole 'whatever's familiar', and I guess the rural crime scene of that period hasn't been done since Bonnie and Clyde, which was a long time ago."
In fact, it was the country setting in particular that drew Hillcoat to the tale, particularly after The Road, which he admits was "a hard film to make".
"I didn't want to do another Capone story - and I was looking at contemporary gangster stories," he adds. "But for me, Goodfellas and The Sopranos are kind of the final word on the mafia. So I was hunting for something different. Also, after The Road, I was desperate to do something that had more range - in colour, emotions, humour, romance, all those things. I was itching to find a different palette. It was the fact that it was a different world. The people that created the Capones, the people behind the scenes."
LaBeouf has become almost synonymous with the Transformers franchise but he was on board with Lawless from the start, helping Hillcoat to push forward with the project. And he is rewarded with a role that allows him to flex his acting muscles more than usual.
"What I saw in Shia was he couldn't sit still, he was incredibly ambitious and had this youthful energy to him," says Hillcoat. "And very much like the character on screen, he admires actors like Tom Hardy and worships people like Gary Oldman [who plays an older city gangster in the film] and Guy Pearce - so much so that when Guy was onset filming, Shia would roll up every day just to watch. So it was that kind of eagerness and youthfulness that suited that character.
When it came to casting the brothers, he adds: "There were three very different energies we were after. Forrest, being a much more distilled, explosive quality and Jason, who's very extroverted, slobby and messy."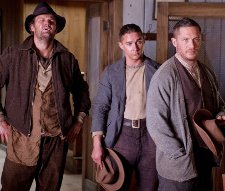 But if LaBeouf was able to draw on his own characteristics to realise Jack, Tom Hardy's approach to Forrest was considerably more off the wall - and Hillcoat freely admits he was "greatly unsettled", adding: "We were all anxious about what Tom was doing." Forrest is a bear of a man who avoids small talk in favour of applying knuckledusters to troublesome conversations, so it's no wonder the tack Hardy proposed to take with the character was unnerving.
"In rehearsals," reveals Hillcoat, "he announced that his approach to Forrest was as an old lesbian and like the grandmother in Tweety Pie. In other words, what he was talking about I realised was that Forrest was like the matriarch of the family - hence the cardigan - and he wanted scenes of darning socks. What he was getting at is that this guy couldn't articulate his feelings but had enormous love and like a mother hen was protecting his nest."
Turning away from the cast to consider the bigger picture of the period in which the film is set, Hillcoat says that it has plenty of resonance even today.
"Well, I think, history has a habit of repeating itself," he says. "There's economic unrest, the war on drugs is still an epic failure in the way that prohibition was an epic failure, there's enormous greed and corruption. I think there are these parallels. The difference of the great depression was that a lot of those bankers went behind bars but no one has been accountable on this epic pillaging of money across the world.
"So I think people share a frustration about those kinds of inequalities. The divide between rich and poor is the exact same as in 1920, which is the tail end of the industrial revolution. Every generation has it's gangster story and I think they're all interconnected, that's what I love about genre."
Lawless is out in cinemas across the UK now.
Share this with others on...