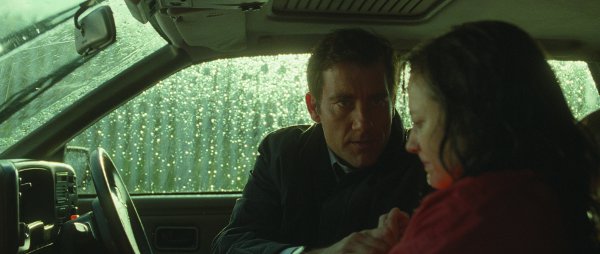 There's no doubting the complexity or longevity of the Irish Troubles - so tackling them onscreen is no easy feat. James Marsh's latest film Shadow Dancer does that, shying away from the larger political situation to give a fiercely domestic perspective on the waning years of the conflict.
Set in the early 90s, against the backdrop of the burgeoning peace process, the film focuses on Collette McVeigh, played by Andrea Riseborough. Left guilt-ridden by the death of her brother as a child, the memory of which hangs over all of her family, she has joined the Republican cause. When she is snatched up in the middle of a bomb-planting episode by MI5 agent Mac (Clive Owen), she finds herself faced with a stark choice - turn informer or lose her son. The decision puts her life in danger and as tensions mount, Mac also finds his loyalties divided.
"When I got the script, there was an initial reluctance to even read it, because the Troubles are an exhausting conflict that blighted many lives in the north of Ireland but also had a big impact on people in the rest of the UK as well, for better or for worse," says the director. "But when I got beyond that initial reluctance to turn the page, I got captivated by the premise of the story. This idea - it's not about politics, it's about human nature, essentially, and how the bargain that Collette is offered, you can easily understand to be an impossible one.
"So that's what drew me to the story, it wasn't the politics of it or any ongoing obsession with Northern Ireland, it was definitely the human conflict that you could see within one family that stood for many other things within the bigger picture of that conflict.
"I definitely needed to ask myself whether I had a right to do it and was this too soon to do something like this but I got comfortable with the psychology of it and felt that we were trying to show something truthful about people in that predicament, as opposed to trying to deal with a complexity of a conflict that has been going on for 1000 years, essentially, and certainly the recent conflict has been going on since 1921, you could say, and 1969 - there are so many jumping off points for this. But we're not trying to do anything like that. What we agreed going in was, we were trying to do was to understand the truthful human behaviour in these circumstances."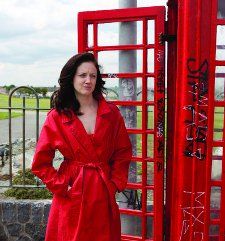 The down-home setting and family dynamic is crucial to the film, as the everyday lives of the characters tick along, with Collette and her mum (Brid Brennan) chatting about bed-wetting and school, despite the fact that acts of terror are being planned by their menfolk in the pub over a point. Marsh says he was keen not to make an action film, but rather to pull the focus closer to one household and that's what drew Riseborough to the project.
"It is the story, for us," says the actress "We were talking earlier about truly exploring [the Troubles] from somebody's perspective who has no outside knowledge of perhaps what's going on in the upper echelons of the political structure. To explore it from the perspective of a young mother, who is the woman on the ground was all that we were seeking to achieve. But in only seeking to achieve that, in a sense it's everything, because she represents one of a section of people who are involved in this huge great story. And the story, really, if we had tried to make it all, would be a series of episodes of epic proportion - I mean, it would never finish."
Marsh adds: "Within the confines of the family, there is a sense of the bigger conflict playing out in that time and place, when the peace process becomes viable. One of the reasons it becomes viable is because British Intelligence are doing this very thing - finding out what's going on. So it's a very cynical thing they're doing, as you see in the film. It's incredibly cynical how they use people's virtues against them."
Turning to the actual mechanics of the film, Marsh says despite the fact people might expect handheld camera and a 'gritty' feel, he opted smoother look.
"There's nothing wrong with British social realism as a way of filmmaking but I wanted this film to be more classic in its execution," he says. "We had a very interesting and naturalist psychology involved, so my idea with Rob Hardy, the DP, was to make it into something that was actually quite, dare I say it, elegant in its elements and camera movements - they're all quite precise, so it felt like, why wouldn't we do that, try to make something that was classical and kind of sleek, if you like, as opposed to being gritty and handheld for its own sake, which is not how you should make a film. The aesthetic impulse has to come from the material.
"The film style has to come out of the material. Bloody Sunday is great in that it puts you so intensely in the moment and it's a film I really like. But I felt this had to be much more controlled in the way that the film is about control of people.
"The material was all about control and pressure and anxiety, and the camera can really help you. Polanski's really good at that stuff. If you take any Polanski movie you can extract the discomfort of the camera moves, which I did, in fact. I looked at Cul-de-sac and Repulsion before we shot the movie."
Riseborough adds: "I think it served the fragility and the gentleness and the love that's in the characters for one another in the piece and the loyalty to one another, as trapped as they all are."
It's a typically thoughtful observation from Riseborough, whose star has risen since she stormed to small screen success in Margaret Thatcher: The Long Walk To Finchley. Even when the 31-year-old's films, such as
Brighton Rock
and
W.E.
, have received a mixed reception, she has been widely praised. And the sincerity she brings to her roles is also evident at interview. When she praises Marsh for his direction, talks about the "fine performance" of Brennan as her mother, or refers to the reassuringly "muscular relationship" all the cast and crew had with the script - able to pull it this way or that - you can tell this isn't just lip service for journalists.
Although she hasn't talked a great deal about the research for the role, Marsh said at the Q&A: "Conversations were definitely had, discretely, with people who were close to those situations. I won't go too far into that. But Andrea in particular did have certain conversations. Am I saying too much?"
Laughing, Riseborough added: "It's happened."
The next day, all she is willing to add is: "Truly, you absorb everything that you possibly can in the most open-hearted way. "
Marsh's career has featured prominent documentaries Project Nim and the Oscar-winning Man On Wire, so drawing on truth is not a new concept for him and he says there is more cross-over than you might imagine between shooting fact and fiction.
"There is an overlap, which I discovered early on," he says. "When you're doing a documentary, you are trying to create that trust between you and the person you're interviewing and my interviews are very long and exhausting. You're trying to make sure the people you're interviewing trust you and you create good circumstances for them. And I think that's somewhat true of directing actors as well. I'm not very articulate with actors, I don't know their language and therefore all I can do for them is to make them comfortable and the circumstances comfortable for their work. And if it doesn't work, then you step in and try to make it work. So there is an overlap with the circumstances of what you're doing and it's really nice to go from one to another."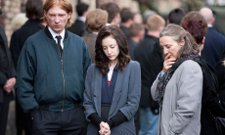 Newcastle upon Tyne-born Riseborough agrees, saying that she embraces the variety of work and thoroughly enjoys giving each of a characters its moment in the sun, even if she also wryly observes that "I've never acted in my own accent in anything." Asked how she moves on from one role to the next, she adds: "It's almost not a decision. There is no choice. With abandon, as much courage as you can muster and jump in. I think it's helpful if projects are antithetical to one another. While we were shooting Shadow Dancer, James was dealing with publicity for Project Nim, so he was talking about chimps and I was doing a wealth of publicity for Wallis Simpson, who is as different as you could get from Collette."
Turning their thoughts to the finished product, Riseborough admits that "of course" they are concerned about how it will be received in Ireland, where the macro-political backdrop is so fresh in people's memory.
"We would be foolish not to," adds Marsh. "But I think our intentions were honest and certainly Brid was from that kind of background. Martin McCann, who plays Brendan, too, he has a very short, stinging presence in the film but it's very important. But the fact they both felt comfortable with what we were doing. I don't think we pass judgement on anyone in the film. That's not what I want to do as a filmmaker - I'm not a moralist. I'm not a preacher, I'm a storyteller and we're telling a story."
Amen to that.
Shadow Dancer is at cinemas across the UK and Eire now.
Share this with others on...