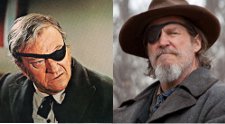 John Wayne and Jeff Bridges in versions of True Grit
Many of us groan when we hear about planned remakes of our favourite films, but the release this week of Takashi Miike's Hara-Kiri: Death Of A Samurai serves as a reminder that on occasion they can outclass their source material. Sometimes a filmmaker comes along with a fresh voice that brings out new qualities in the story. Sometimes improvements in technology make it easier to attain impressive results. And sometimes great ideas that were mishandled the first time around can be made to shine. Here we take a look at ten of the best.
If film fans ever had cause to worry about a remake, it was when they heard that somebody else was daring to tamper with this 1969 John Wayne classic. Fortunately the filmmakers involved were the Coen Brothers and the result was a stunningly shot epic that garnered ten Oscar nominations. Jeff Bridges made the Wayne role his own, with able support from Matt Damon, but the real standout was 14 year old Hailee Steinfeld as the kid who will stop at nothing to avenge her father's death. Kim Darby's turn in the original just doesn't come close. The addition of a poetic epilogue pays homage to the original's mythic status but gives this one a character and weight all its own.
In 1951 a slapstick comedy flick called Fanfaren Der Liebe (Fanfare Of Love - itself based on a French film) was a minor hit in Germany. It featured two down-on-their-luck musicians who found work through passing themselves off as women, only to be caught up in romantic complications. Eight years later it was reborn as the unforgettable Some Like It Hot. The original has its moments and is worth a look, but it has nothing that can compete with the chemistry of stars Tony Curtis, Jack Lemmon and Marilyn Monroe. With vastly more confidence and charisma, the Hollywood version took a promising story and pushed its potential to the limit, creating one of the funniest and best-loved films in its history.
The Postman Always Rings Twice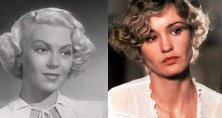 Trying to match the sex appeal of Lana Turner and the cinematography of Sidney Wagner is no easy task, yet the 1981 version of this classic 1946 film noir somehow pulls it off. Jessica Lange, in her strongest performance to date, is a rough-edged, complex femme fatale and her sizzling chemistry with Jack Nicholson goes far beyond that famous kitchen table sex scene. David Mamet's fine tuning gives the script real bite. It's sleazier, uglier, more natural, but its visual style is every bit as powerful as in the original. The result is richer and more satisfying tale that, sadly, still doesn't get the recognition it deserves.
The Mark Of Zorro
There have been many Zorro films, but only one direct Zorro remake, and it's probably the strongest of the whole bunch. Taking the silent 1920 Douglas Fairbanks hit as its source material, the 1940 swashbuckler stars Tyrone Power as the masked man, pitting him against a gleefully sinister Basil Rathbone. The swordplay is spectacular and the script perfectly combines romance and revolutionary spirit with witty one-liners. It's tough to outdo Fairbanks but Power makes a dashing hero. Whilst the original is plenty of fun, the remake is unmissable.
Sometimes the progression of world events gives an old story a new lease of life. The 1958 version of The Quiet American was a solid adaptation of Graham Greene's novel but never attained the power of Philip Noyce's 2002 version, in part because American interventionism in the intervening period, in keeping with the author's predictions, added a weighty political subtext. Yet this sequel also finds strength by keeping the politics in its place. With stronger central performances (from Michael Caine and the frequently underrated Brendan Fraser) it facilitates the emotional subtlety at the heart of Greene's understanding of political, and thence national, interaction. Plus Do Thi Hai Yen makes her symbolic heroine much more than just a pretty face.
The Happiness Of The Katakuris
Here's another way to make your remake stand out: up the ante on everything. The Quiet Family is a great little film in its own right, a Korean black comedy with oodles of style, but it's a little film, whereas Takashi Miike's remake is a phenomenon. Adding zombies, chainsaws and musical numbers and shooting some scenes using claymation, the Japanese director created a unique piece of cinematic art that some people find completely unwatchable but others fall in love with. Melodrama in its purest form, it's also deceptively intelligent and surprisingly heartwarming.
Rise Of The Planet Of The Apes
Have you ever wondered why people keep on trying to remake good films and leave the bad ones untouched? Sometimes a bad film contains a good idea, and you're unlikely to find legions of fans defending the original. That's certainly the case with the well-intentioned but hopelessly cheesy 1972 film Conquest Of The Planet Of The Apes, which tells the story of enslaved simians rebelling against their human masters. The 2011 remake takes full advantage of improvements in special effects to create ape characters who no longer look or act like humans in suits, and replaces clumsy metaphors with multi-layered subtexts and visceral thrills.
The Beat That My Heart Skipped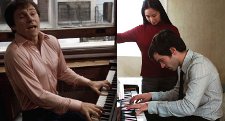 A rare example of a Hollywood film (Fingers) remade - and reinvented - by the French, this takes already strong source material and gives it added potency. Romain Duris turns in a riveting performance as the young criminal discovering an alternative way of living through music. Writer/director Jacques Audiard finds a rich vein of humour in the most difficult situations and handles the romance elements of the film with a confidence perhaps more natural to the French dramatic oeuvre. Although the original is well worth watching, this just pips it to the post.
So familiar is 1941 noir classic The Maltese Falcon that few people realise it's a remake. Sure, the comic 1936 version Satan met A Lady is pretty forgettable, despite the presence of Bette Davis, but the 1931 version (also known as Dangerous Female) made an impression in its time, with a memorable performance by Ricardo Cortez. John Huston drew upon both to create the definitive version, aided by Humphrey Bogart at the top of his game and with Mary Astor as the deliciously duplicitous femme fatale. Not only is it an excellent adaptation of its source, it has come to stand as one of cinema's most esteemed mysteries.
An Affair To Remember
Some films are remade multiple times with varying degrees of success. Despite its several Oscar nominations, 1939's original Love Affair turned out to have little real staying power, and neither the 1994 remake that shared its name nor the 1993 hit Sleepless In Seattle which drew heavily upon it ever really rose above conventional, slightly insipid romance. In between, however, came 1957's An Affair To Remember, starring Cary Grant and Deborah Kerr as the couple whose passionate encounter results in a promise on which their whole futures could hinge. With massive box office success, the film has gone down in history as one of cinema's greatest romances.
Share this with others on...