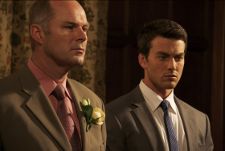 Deon Lotz in Beauty (Skoonheid)
A chance encounter between married, middle aged businessman François and the handsome young son of a friend is the prelude to a tale of dangerous obsession in Oliver Hermanus' award winning film, Beauty. South Aftican actor Deon Lotz gives a remarkable performance in the central role, carrying the audience with him even as François starts to lose his grip. Wih Beauty about to open in the UK, we caught up with him to ask about his work.
By contrast with his character, Lotz comes across as an easy going man with an unusual degree of self awareness. Where many actors quickly tire of doing the rounds of publicity, it's clear that he remains genuinely passionate about the film and keen to talk.
It was the chance to work with Hermanus that first attracted him to the role. "He's a young, inspiring, able director and it just so happened that I had the opportunity to audition with him. We clicked right away and found a happy working relationship. I felt that the story was one I would like to tell as a South African, Afrikaans-speaking man, and it was something people needed to hear. It's the right time in South Africa and in the world in general."
I ask if he sees it as a particularly South African story, but he feels its universality has been a key factor in its success. It won the Queer Palm at Cannes last year and has been greeted enthusiastically at festivals around the world, including in London and Glasgow. This is all the more impressive because Beauty is, in places, a difficult film to watch. I wonder how Lotz felt about taking on some of its more challenging scenes.
"When I read the script and saw those particular scenes I said 'Ollie, we're going to have to trust each other on this one,' and I left it in his capable hands," he says. "I submerged myself in the role and tried to do my best. It was difficult but I always thought 'If Sean Penn can do Milk, I can do this.' It was emotionally very taxing but the wonderful things is that I have the ability to get into a role and then get out of it. I don't let it drain me."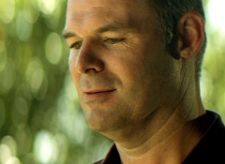 Much of Lotz's previous work has been in theatre. He says he enjoys the fact that film gives him the chance to approach a character with more subtle intensity - "For me, less is more." There can be downsides to film work, not least that it's usually done on a tight schedule, so in this case he was delighted to have a two week rehearsal period before shooting began.. This made it easier for him to develop his character, though he says that he never worried about making him sympathetic.
I ask if he saw François as torn beween two strong emotional influences, but he doesn't feel there's anything left to the marriage. "It's a dead relationship. He's carrying on as normal in the sense of what people think of as normal - getting up in the morning, having breakfast, doing his thing - and then he's suddenly realised what he's missing. Is it worth the sacrifice?" At the end, he says, François comes to a point "where he's seeing what he could have had and maybe wanted," and is faced with a choice about what to do with the rest of his life. This is left for the audience to consider; what choice would they see him making?
The film has had a big impact of Lotz's career as an actor, winning him the Best Actor gong at the South African Film and Television Awards, and he's hoping it will raise his profile internationally, leading to bigger and more varied roles. "If there are opportunities abroad then I'll grab them with both hands," he says. "At the moment I'm doing a lot of theatre but my ultimate goal would be just to do film as I feel I can invest more in an onscreen performance."
So does he think François ever found the beauty of the title?
"For him it's the beauty of the life of this young man," he says. "He has this beauty that can so distract and draw people's attention. I think François is maybe a bit jealous, looking at missed opportunities, and when he eventually claims beauty for himself things go wrong, he reads the signs wrong. He's very confused. I think people can empathise a lot with that."
Beauty opens in cinemas across the UK tomorrow.
Share this with others on...