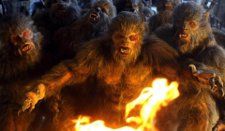 Hungry like the wolf in Lobos De Arga.
Death is like sex: everyone's gonna do it, but on-one wants to admit it will happen just yet. Do we seek out horror films just to sort out our repressed demons? From Aristotle to Carl Jung, there are many theories. But we won't go into those here - you either like being scared or you don't! If you do, here's what we thought of the features at Dead By Dawn.
Director Juan Martinez Morena (Lobos De Arga) complains that he's tired of seeing vampires and werewolves that are 'cool and fuckable.' He wants monsters you can believe in when you go to bed at night. Not the Bugs Bunny horror of CGI that couldn't fool a five-year old. His werewolves will have maximum special effects and stunts but minimum computer graphics. With a limited budget (much of which went on hair from China), Moreno dishes up a picture that is by turns seriously scary and seriously funny. Meet Thomas, a hapless failed writer who holes up in his parental village of Galicia, Northern Spain. A hundred years ago, his great grandmother cursed the village after abducting and forcing a gypsy to procreate with her. Thomas doesn't know a werewolf is out to get him. He doesn't know the villagers are out to get him. Mayhem ensues. But with a cutting edge comedy narrative you'd better examine yourself for bruises after you leave the cinema. When you laugh that hard, it's easy to forget the damage from where you kept jumping out of your seat. Lobos De Arga is a frank and sincere homage to movies such as An American Werewolf, and swooped the audience awards to come first in competition.
The Fields is a classic, beautiful and very believable horror story told through the eyes of a child. "Don't go into the cornfields!" is a cue – but the 'corniness' stops there. I am reminded of Winter's Bone and the art of putting good filmmaking with finely crafted characters before cheap thrills generated with expensive software.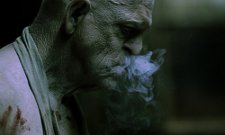 Below Zero is a thinking person's mystery horror. A scriptwriter, Jack the Hack, has writer's block and arranges to be locked in a slaughterhouse freezer until he comes up with a script. Believe it or not, scriptwriter Signe Olynyk tells me she also did this when writing the movie. On screen, the story is dramatised for us as Jack writes, so we have two on-screen narratives: Jack's world (think, Fargo) and that of the alter ego in his story (think Saw). As he considers various re-writes, the story within a story changes. But a third story is at hand: that from Jack's own psyche. His basic plot, surprise surprise, is someone accidentally being locked in a freezer, in a building owned by a serial killer. But if you can stand back from the subsequent onscreen gore, there's maybe time to work out what's really happening! This Kaufmanesque horror story keeps you on your toes all the way through. Signe doesn't recommend new writers try the freezer trick at home, but she does run a scriptwriters' workshop, Pitchfest, and invites any budding writers reading this to get in touch with her.
Haunters is an original take on the superhero movie. No capes, daft aerials, or superman latex costumes. Instead we have two young kids from the streets of South Korea. Both have a limp and both have the strange power to control other people's minds on sight. Cho-in is the bad guy, polishing his powers to live a comfortable lifestyle. Kyu-nam is the good guy, championing honesty and friendship in the face of Cho-in's merciless killing and avarice. From this simple idea, writer-director Min-suk Kim builds an intelligent, fast-paced thriller that keeps the audience wondering where it will go next. Although I wasn't entirely won over, I enjoyed it much more than the high budget but rather predicable niche into which Marvel comic super-heroes have fallen. With its fine South Korean pedigree, Haunters makes sure that people suffer realistically when they die and that blood never looks like strawberry jam.
The Documentary section of this year's Dead By Dawn was covered in royal fashion with Nightmare Factory – a history of special effects crammed into 90 minutes. What made the movie so gripping for me was seeing my favourite horror movie scenes assembled from scratch and then executed with laser-like precision. Tarantino, Romero, Carpenter and Landis, to name but a few, were all on hand in the film to walk us through the nasties.
Retrospectives included John Boorman's masterpiece Deliverance, classic mainstream horror in The Omen, and Romero's original Creepshow. But the real treat for me was the rare Italian cult splatterfest, Demons. A cornucopia of Eighties music, fashion, and style, Demons is a story of art imitating art, as a majestic old cinema shows a special screening of horror - only for the building itself to spawn mutants from the audience. According to director Lamberto Bava, "It was meant to be as if they could represent something inside us – a different personality or something."
Music from Billy Idol, Rick Springfield, Saxon and Go West plays as the audience barricades itself against itself. All the popular images flashforward as you can glimpse the jaws of Alien, the drools of the Evil Dead, the helicopter-slicing of Planet Terror and the rampages of every popular zombie movie ever made. Sound is added afterwards so there is little lip-synch as an English soundtrack is dubbed very badly over actors who can speak any language, but most of it being English. Cinematic tropes assault our senses as a razor blade scrapes cocaine slowly across a girl's breast, heroes and villains swap roles with gleeful regularity only to slow down while we admire their Eighties state-of-the-art transformation into monsters. The script is a funfest of cheese ("They won't get me, that's for sure!" shouts Tony the Pimp.) The acting is hilariously bad. Classic architecture juxtaposes trashcan alleys. Garish colours take us back in time as we sit with the victims in a classic cinema of an earlier period. The restored version offers the added fun of guessing which bits were deleted by censors at which time as we enjoy it in all its eye-gouging beauty.
Watch the Trailers:

The Fields
Below Zero
Haunters
Nightmare Factory
Demons

Share this with others on...