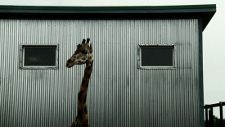 Bestiaire asks us to look again at our relationship with animals.
Mankind's relationship to animals and our more animalistic tendencies dominated my fifth day at Sundance, from the simple observation of man and beast in close proximity in Bestiaire, to our desire to run with the pack in My Brother The Devil and the use of our baser instincts as a means to an end in Nobody Walks. Still harbouring some flu beasties of my own, it made me feel a whole lot better knowing I'd dragged myself out of bed for something good - Bestiaire.
It was preceded by a short called Moving Stories. Nicholas Provost presents the elegance of a plane in flight from just about every angle. What is remarkable, when you consider how seamlessly it all sits together, is that all of the images here are taken from stock footage. A man and a woman have a vague conversation. "I'm in the middle of a mystery," he says. This mystery is reflected throughout the film but not in an unpleasant way, calling us to contemplate the idea of man's relationship to the wider world and marvel at the beauty of flight.
The film sat well with Denis Côté''s Bestiaire, which invites us to consider our relationship with animals and our anthropomorphisation of them, suggesting that one of the reasons we may feel the need to capture them - either in captivity, in drawings or through the perpetual 'life' of taxidermy - is because we project our own thoughts and feelings on to them.
Featuring, cleverly composed locked-off shots for the most part and shot at a wildlife park, all emotion is here. From the slightly absurd sight of an ostrich bobbing in and out of shot, to the impassive stare of a buffalo gazing at the camera and cacophonic noise of zebras kicking against their confinement, Côté challenges us to look again at the animals and at the manmade environment within which they are constrained, juxtaposing the living creatures with a lenghty sequence of taxidermy that neatly accentuates our obsession with other animals. Unlikely to make you feel like chicken tonight... or visiting a zoo any time soon, this is a challenging and rewarding piece that reflects your own thoughts as much as those of the filmmaker.
Welsh filmmaker Sally El Hosaini also offers plenty of challenges to expectations in her accomplished debut feature My Brother The Devil. Films revolving around youth gang members in London are hardly an endangered species, but El Hosaini's film shakes off the urban grit cliches in favour of a taut character drama focusing on two brothers and exploring the nature of love and prejudice. Mo (Fady Elsayed), is a young teen who idolises his brother Rashid (James Floyd), a streetwise older teen, who is a fully serving member of his local gang. The question is, what happens when your idol does something that shatters your expectations?
El Hosaini's slowburn narrative is admirably structured and her choice of shots suggests the work of a much more experienced filmmaker. Scenes cleverly using a bunk-bed to accentuate the reactions of both brothers simultaneously, yet in isolation, are just one example of her attention to detail. And while there are knives and pain in this setting where death could be just a trip to the shop away, she also shows there is beauty, camaraderie and the comfort of family. Slick, sharp and surprisingly fresh. El Hosaini is definitely a British talent to look out for in the future.
Ry Russo-Young should also be commended for her direction in Nobody Walks, but her flair behind the camera and nice performances all round are sadly not matched by the film's content. When elfin experimental artist Maxine (Olivia Thirlby) arrives at the house of Peter (John Kransinksi), a film sound designer, to add some effects to her latest art film of bugs, it's not long before she's jumping into bed with everyone, despite the fact that Peter's marriage to psychiatrist - tick that cliche checkbox - Julie (Rosemarie DeWitt) appears to be happy and filled with healthy sex.
Ostensibly she's happy to sleep with Peter, not to mention his assistant (Rhys Wakefield) because she's "doing what I have to do to get my shit done". Except that causing this sort of atomic-bomb level upheaval is hardly likely to be conducive to long-term shit doing. The idea of a young woman having to sleep with anyone and everyone to achieve something leaves a bad taste in the mouth, while the suggestion of a happily married man jeopardising everything for a quick roll around in a sound-proof booth pushes credibility to the limit. Also, the inclusion of the 'film within a film' scenario smacks of striving for profundity, when there is almost none to be found. Oh, and I haven't even mentioned the 'comedy' Italian paedophile. It would be better if Russo-Young and co-scriptwriter Lena Dunham hadn't either.
My final film of the day was the bitchily enjoyable Bachelorette, which is surprisingly gooey at heart. I'm afraid I cannot make the inevitable comparisons (or contrasts) with the similarly titled Bridesmaids as I somehow contrived to miss that. But what I can tell you is that it's a very funny film, even if some of the characters - most notably bride Becky herself (Aussie actress Rebel Wilson) - are rather thinly drawn.
The basic set-up is familiar, a group of childhood friends get together for their pal's wedding. Only this time around the friends include self-centred bitch queen Regan (Kirsten Dunst), coke-addled Gena (Lizzie Caplan) and dizzy sex bomb Katie (Isla Fisher). When the friends accidentally let rip on the bridal dress, they find themselves in a farcical race against time to patch it up before morning... inevitably patching up aspects of their friendships and past loves along the way. Leslye Headland, writing and directing from her own play of the same name keeps the one-liners coming but no amount of zingy one-line putdowns from Dunst or coke lines from Caplan, can hide the fact that this film is fluffy at heart (and no worse for that).
After the film, even Headland remarked that "Isla is really just a drunk Molly Ringwald". Proclaimers fans should note that they are, not for the first time, likely to be laughing all the way to the bank thanks to yet another creative use of (I'm Gonna Be) 500 Miles.
Share this with others on...