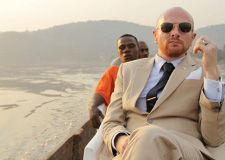 The Ambassador - Mads Brugger's documentary on corruption in Africa
Day four at Sundance brought chills, multiplying and, sadly, not just on the screen. With the flu having a party round at my place, it crimped my style a bit. I did manage to dose myself up long enough, however, to chat to Mads Brugger about his documentary The Ambassador - which exposes corruption in Africa.
We'll bring you the full interview in a couple of weeks, but regarding the genesis of the project, he said: "I was interested in making a genre-bending, subversive documentary. Because Africa documentary as a genre clearly has some problems because people don't want to watch them. So my ambition was to make a film that would be stripped of all the usual codes and the semiotics of the usual Africa documentary, you know, starving children, misty-eyed NGOs, Mia Farrow, and so on.
"Of course I knew that the stakes were high, but when you involve yourself in role- playing like this, I know it sounds schizophrenic, but you have to believe your own character."
After a job-lot of flu pills and a swift lie down I also managed to catch Liberal Arts - Josh Radnor's rather more sensibly named follow up to Happythankyoumoreplease. Like his debut, this is another sweet and gentle tale of love and friendship, although he has vastly improved his handling of subplots, so that those presented here are much more understated and fresh than in his first film.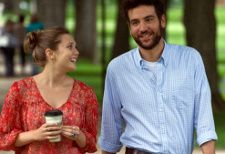 He plays Jesse, a 35-year- old whose life is going nowhere, who falls for a college student 16 years his junior (Elizabeth Olsen) when out visiting his old professor (Richard Jenkins)
The big selling point of all of Radnor's characters are that they are ever-fallible but utterly likeable at the same time, so that you root for them to find their happy ending. He also offers a snappy script - which won several spontaneous rounds of applause during the premiere screening and earned him a standing ovation at the end.
Speaking after the film, Radnor talked about his movie-making ethos, in particular the importance of a happy set. He added: "A movie is not just a movie it's also a documentary of the people who made it at that time. It's like a little time capsule. I do my best work in positive environments."
Despite my best attempts at positivity, the flu would not be denied bed.
Share this with others on...