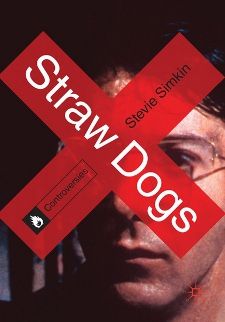 Simkin's book on Straw Dogs
Stevie Simkin is the editor of a new series of books looking at films that have found themselves at the centre of major public controversies. We asked him how the series came about and found that it started with the idea for a book he has written himself, on Sam Peckinpah's 1971 film Straw Dogs.
"I found it fascinating that such an old film, made before my students were born, could inspire such interesting debates," says Stevie, who works at the University of Winchester. "I find myself conflicted about it because it's strong and artful but its gender politics are obviously problematic. So I decided to write a book about it."
The book began with painstaking research. "I spent days in the Peckinpah archive just typing. For some reason they wouldn't let me make copies of things." He found letters, notes and memos that revealed an intriguing story behind the making of the film, and this would become a key part of the book. but as he worked he began to realise that many other troublesome films out there had very different stories behind them, and wondered if there might the potential for a series.
"I set my sights high and invited Julian Petley to co-edit with me. He was very keen to help out and Palgrave MacMillan picked up the books very quickly. There were originally intended to be just three - on Straw Dogs, The Passion Of The Christ and Henry: Portrait Of A Serial Killer, but because the 40th anniversary of A Clockwork Orange was coming up they were keen on that too. We've now contracted 12 and we have another six under negotiation." Titles to look forward to will include The Devils, Basic Instinct, Falling Down, Baise-Moi, The Idiots and David Cronenberg's Crash, with another 25 or so under consideration if they do well.
So who are these books aimed at? "I think they'll appeal to both students and film scholars as they're deeply researched," says Stevie. "We wanted to try and produce definitive accounts, and we think that any informed reader of books about film who is interested in controversy and censorship will like them. I've been teaching about Straw Dogs for 12 years - I must have taught four to five hundred students by now - and the discussions I've had with them have informed my book. I think Straw Dogs is a particularly interesting test case. I greatly admire the film and think it has much more going on than the key controversy about the rape scene that it has come to be remembered for, but unfortunately its legacy has been its impact on the BBFC's treatment of sexual violence. For a long time they said it couldn't be released uncut. Even up until three years before they eventually released it uncut, they were saying in the press that they never would, because of its potential to cause harm.
"Straw Dogs is hovering there in the background of every case where the BBFC deals with sexual violence. They had to invent a very tortuous justification for releasing it in the end. But of course they're in a difficult position because of the laws they have to work with. Take the law on animal cruelty - that meant a lot of old films had to be re-cut for release on video, for instance if a horse fell."
This particular film also interested Stevie because of its historical context. As many people viewing the film today were not born, or were very young, when it was made, it's important to explain the political and social background against which it originally told its story, and he endeavours to do this in the book. "Talking to my students, I realise how alien all this is to them now. The Vietnam War was an important factor then, and the Civil Rights movement in America, and all that social unrest. And of course feminism began to have a big impact in the late Sixties and Seventies. I hope my book is fair to Peckinpah but takes a sober, balanced view of what the film was about then and what it is about today. I hope it cuts through some of the mythology that has gathered around the film, and that it provides a fair assessment of a movie that, almost in spite of itself, can still be a catalyst for very crucial discussions about gender and sexuality, as well as man's capacity for violence."
Straw Dogs is available in bookshops this month, ISBN 978-0-230-29670-1 We will reviewing it in full in our next book column.
Share this with others on...