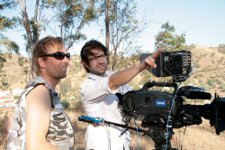 Jarred Alterman and Christiaan Zwanikken shoot Convento
Convento was one of the surprising documentary gems at this year's Edinburgh Film Festival. Though running at just less than an hour (a runtime that is "definitely what felt right"), it has a contemplative attitude to its subject matter - kinetic artist Christiaan Zwanikken and his family - that makes it feel like an enjoyable, meditative walk with a friend rather than a fact-crunching gallop.
I catch up with director Jarred Alterman and Zwanikken on the wettest Edinburgh June day I can ever remember, but despite the rain falling outside the pair of them are in sunny form, obviously great pals and utterly committed to the film. It's a far cry from how they them met, back in 2007, when Alterman was travelling around Portugal with a group of musician pals, just "taking some pictures".
"One of us saw a little ad in Lonely Planet that said: 'Four-hundred-year-old monastery, artists, nature preserve.'," he said "So we thought 'Let's give it a shot.'"
The monastery in question was the Convento of his film's title, a building dating back to the 1600s which was bought by the Zwanikkens years ago and has been gradually nursed back to former glory. Now Christiaan lives and creates artwork there along with his mum Geraldine, a former dancer and avant-garde artist and his nature-loving brother Louis.
Zwanikken moved there with his family when he was around 12 years old and he says the decision to buy the place was originally a bit confusing for the Portugese locals.
"I think they didn't understand anything when we first came there - it was just a heap of rocks," said Zwanikken. "And they said, 'Well actually, we're building all these houses on the other side of the village, why don't you buy one of these?' So, of course, they didn't understand. But now they do - after 30 years they absolutely understand what we are doing there. So time has caught up with a lot of ideas.
"They are now very proud. Sometimes they are a little bit sad because there are a lot of foreign people buying nice plots but now actually many of those people are protecting the heritage of Portugal because they [the country] didn't have the money to do all that. Portugal has come a long way from being very, very poor and not being able to do anything for the people and where it is now."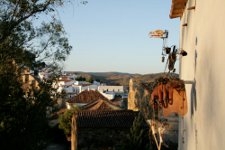 He added: "It's a tough life. It's hard work but we all enjoy it and it's very rewarding to live there. We all feel that we have that place for a little while, we're just there and then we'll pass it on. It doesn't really feel like it's yours. It's property but it doesn't feel like that. It has such a strong energy in itself, it always has, and we just try to show that to other people and to get other people involved in what we are doing there. We're open to the public and we get a lot of artists staying there."
The sense of the place having an energy of its own is very strong within the film and Alterman also says it had a big impact on him as he recalled the first time he visited the Zwanikkens' home.
"Honestly, walking through the gates, going up the path, feeling this strange vibrational frequency of everything coming at me, I knew I was somewhere special," he said.
"In the film there is a slow tracking shot going through the gates, that is literally what I was feeling. You could see Geraldine in the garden, you could see this guy out there playing with horses and we were walking around by ourselves.
"We stumbled on this ruined chapel where suddenly there was all this incredible surreal artwork and sculptures. I knew that we were going to hang around and stay for a while and we did. That was 2007 and we stayed for a couple of weeks. I became immediately close friends with Christiaan and the family. We struck up such a connection to the art world."
Two years later, he returned to begin work on his documentary, although that's not quite how Alterman refers to it.
"I like to call this film an immersion because it was my goal to capture the energy of what it feels like to be there in the landscape," he said.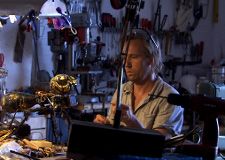 "It feels strange when you're just there alone as well. The word 'convento' originates from Latin, from the word 'convener' meaning to gather or to come together and when you are there exchanging ideas, it really feeds off the energy of the place. That was what was really attractive about them and the story, initially, was drinking a lot of red wine, having late night conversations. I find it so inspiring. It's such an amazing way to live, we get so caught up in our work and daily routines and technology. I feel like thoughts are really free there."
This sense of freedom is something that is woven into the fabric of the film and Alterman, who has previously worked for a decade in the dance world, said that he wanted to bring a similar feeling of "movement" to Convento.
"I like to think of it as the choreography of daily routines," he said. "In order to do that I think you need to let the camera breathe, move through space and not feel rushed.
"The first week actually was so difficult. I just sat and watched and observed and didn't rush into it verité style trying to catch every little thing. It was these observations that I was just trying to emulate and just like a dance, there's an opening, there's this movement and there's a closing and most of the scenes have a classical structure to it.
"You feel a character almost come in through the wings, have a conversation and then the camera flows to the next scene.
"When it comes down to me being this sort of strange voyeur in this landscape, I really think about the work that Chris and I did as a collaboration. I needed to get his trust and describe to him that I'm not just simply observing and taking a portrait of his sculpture. I wanted to treat these sculptures as characters and create micronarratives.
The end result sees Alterman patiently watching Christiaan's artwork as its own narrative unfolds. A scene in which he captures a mechanised donkey, constructed from an animal's skull and a lot of metal and electronic wizadry is particularly mesmerising.
"That was one of my favourite pieces to film," he said. "It took us days to shoot and to think about how we were going to do this thing. I like to think my audiences are also brave to meditate and have the patience to watch this donkey go round in a circle, to watch the water being pulled up from the well and find its way into the garden. Audiences are always being rushed and being spoonfed a bit. And those that really get it, I think are able to meditate on what Chris is really trying to tell us."
That sense of dialogue, between artist and artwork, artwork and landscape and between the film and the viewer is ever-present in Convento - so that one is both listening and responding to the other. Alterman is keen to embrace that 'conversation'.
"Working with this art show, Art 21 [A PBS TV series] we had really strict guidelines about how not to distort or change the perspective of another artist's work," said Alterman. "But my philosophy is any time you videotape or you record another artist's work it becomes something else anyway. So why walk a blurry line when you can really fully embrace it?
"Having had conversation after conversation with Chris and him having a film background, he understood that I wanted to make these little scenes, that I wanted to reiniterpret. I wanted to take certain pieces that may be in more of a gallery setting and maybe take it outside into the landscape. Without his enthusiasm and support I don't think those scenes would have come out the way they did."
Their documentary journey together may have come to an end but their creative friendship continues.
"The next thing for us is the continual evolution of our friendship and our collaboration together," says Alterman "I'm working on a screenplay and we're going to work on an art science fiction film together."
With Zwanniken's humorously surreal artwork and Alterman's love of story, it's a project that can only be hotly anticipated.
Convento and some of the artwork associated with it is currently on tour. It can be seen at Rooftop Films in New York on Saturday July 16, where there will also be a Q&A with Alterman and Zwanikken. For more information, visit the official site.
Share this with others on...