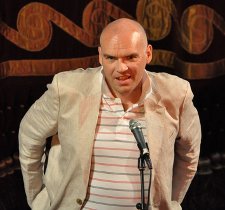 John Michael McDonagh introduces The Guard Photo courtesy EIFF
The Edinburgh Film Festival kicked off its 65th edition last night - and though it retained the impressive setting of the Festival Theatre for its opening gala, after the roaring success of The Illusionist last year, it was an altogether more low-key affair.
Still, if the crowd was somewhat thinner on the ground than 2010 - the theatre was only around three-quarters full - those in attendance, also much more noticeably dressed down than in previous years, gave a broad welcome to John Michael McDonagh's The Guard (read the full review here).
The procedings were kicked off by CEO of The Centre Of Moving Image Gavin Miller (which looks after both EIFF and Edinburgh Filmhouse), who laid on the "it's your festival" spiel rather thick. He was followed by the new artistic director James Mulligan, who branded the night one of the "proudest five moments in my life".
Finally, it was the turn of John Michael McDonagh to take the stage to introduce his film. He gave a surprisingly robust and outspoken speech, pouring considerable amounts of scorn on his previous writing outing 2003's Ned Kelly, and laying the blame for the "bourgeouis nonsense" at the feet of its director Gregor Jordan (although he named no names).
There was a slight glitch with the projection, which lost the picture close to the film's denoument but it was thankfully sorted out with a minimum of fuss, so it didn't become the focus of the evening.
The after party was a similarly low-key affair, with Edinburgh University's Teviot House feeling less full than in previous years. Still, this made the food more plentiful than it has been on some occasions - when people could often be seen waiting like vultures outside the kitchen door in hopes of securing a sausage before they disappeared into the VIP section - and it was nice to see stovies on the menu.
There may not have been a huge number of famous names in attendance but I did spot Ewen Bremner (who is in Perfect Sense, which has its UK premiere on Saturday) and there were plenty of directors in the house, including Tribeca-winning documentary Bombay Beach helmer Alma Har'el, Oliver Sherman's Canadian writer and director Ryan Redford (no relation) and Bryan Mason, who directed Aussie documentary Life In Movement and also edited Shut Up Little Man! An Audio Misadventure.
A relaxed and unassuming kick-off, but still a broadly successful one.
Share this with others on...