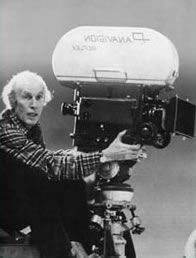 Eric Rohmer
He was a man of many names, of many complex ideas, but of a singular vision. A former editor of Cahiers du Cinéma and one of the most influential figures in the development of the French New Wave, Eric Rohmer, who died recently at the age of 89, has been credited with changing the face of modern cinema. But who was this enigmatic man and how did he come to have such an astonishing influence?
Eric Rohmer films are not for everyone. Indeed, even some leading critics have called them unwatchable, finding them boring and slow. Yet Rohmer never claimed to be making films for everyone - he was less interested in popular success than in film as art, a commitment which contributed much to independent cinema as we know it today. More interested in ideas than plot, preferring conversation to action, he created works that had in common a certain essential stillness. Beautiful to look at, they afforded spaces for relaxation and contemplation in what was a furiously productive life.
Rohmer was born in Nancy sometime in 1920 - exactly when is not clear, as he kept telling different stories to different people. Dissatisfied with his birth name, which he also gave different versions of, he named himself after the actor Erich von Stroheim and Fu Manchu author Sax Rohmer, though he used other pseudonyms when writing as a novelist and as a journalist. In this way he was able to keep his private life quite separate from his work, and though she knew of the success of Eric Rohmer it is said that his mother died not knowing the acclaimed director was her son. Rohmer's characters, throughout his 27 feature length films, display a similar fondness for secrets. He disliked the Hollywood notion that characters would say what they actually thought or believed. Many of his characters are inveterate liars, but we get to know them, and to understand their real motives, by watching the way they interact.
From the moment he directed his first film, Le Signe Du Lion, Rohmer's style was distinctive, seeming to emerge fully formed. It was very different from other work around at the time and at first failed to impress audiences, but what was to become known as the New Wave soon gained momentum thanks to the contributions of Jean-Luc Godard, François Truffaut and Claude Chabrol. Though these visionary filmmakers often referenced one another and borrowed each other's ideas, Rohmer's work still stood apart, and he held on to his core principles long after the others had begun to experiment with different things. His career was to span 57 years yet he focused again and again on the same subjects, fascinated by the subtleties of human interaction.
What makes Rohmer films distinctive, apart from their deceptively complex characters and philosophical dialogue, is a visual style with which the director sought to explore the possibilities of cinema itself without ever losing its grounding in reality. He famously eschewed close-ups because, he said, people don't see each other that way in real life; much of his work is shot from a distance, almost theatrically, with whole bodies visible. Often we see characters travelling, which he felt reflected an experience common in day to day life, bringing the cinematic world closer to that lives lived by viewers. He had no interest in using special effects and also, for the most part, shunned the use of music. Watching a Rohmer film, one is forced to focus on different things, to notice the tiny shifts in body language and tone of voice that are the key to unravelling his stories and to exploring their hidden meanings.
Whilst Hollywood focused on film as visual entertainment, Rohmer saw his cinematic experiments as a species of literary endeavour. They also functioned as a form of spiritual expression, often posing moral questions related to his Catholicism, though without the trappings of religion necessarily being evident. Notably, he always refused to discuss them with fans or the press, preferring people to draw their own conclusions. He said simply that his films could speak for themselves.
And so they did. In 2001 he received a lifetime achievement award at the Venice Film Festival, one of many prizes collected overall. He was often considered conservative both in his philosophy and in his cultural concerns, yet his work stands out as something quite different from anything that had gone before, and it has won him admirers right across the spectrum, with Quentin Tarantino now one of his most vocal fans. Every would-be film-maker should see at least one of his pictures. He leaves behind him a legacy that will continue to influence cinema for many decades to come.
Share this with others on...