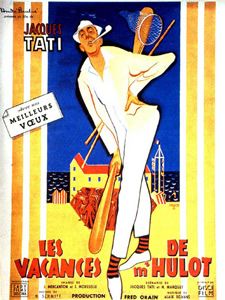 A restored print of M Hulot's Holiday will feature in Totally Tati
New 'country-themed' film extravaganzas seem to crop up almost every other week, but if you only make time to see a selection from one this year, make it a choice from the French Film Festival. Now in its 17th year, this veteran fest – like the country's industry that it showcases - continues to go from strength to strength.
Launching the festival with a screening of gallic farce-cum-thriller The Girl From Monaco last night, Richard Mowe revealed that "against the odds, the programme has been expanded". And there is certainly something for everyone in the 40-film line-up, which will screen at 13 cinemas across the UK during the next four weeks.
"Many venues want a piece of FFF action," says Richard "but logistically we can only do so much. We are pleased to add in St Andrews, Stirling and Dumfries. In fact, Dumfries even with a limited programme has already notched sell-outs and has to scramble to put on repeat shows to meet demand. We want to do more ... and we'll try our utmost."
Its unlikely that Dumfries will be the only place to sell out of tickets to see some of the hottest films to come out of France this year, including the country's Oscar contender and festival favourite A Prophet. This story of an illiterate teenager who, on being sent to jail begins a far-from-formal education, also won the grand prix at Cannes. Other big-hitters getting an early screening before UK release include the beautifully rendered art biopic Seraphine – which won a slew of Cesars - and melodrama The Father Of My Children, which was inspired by the real-life tragedy of French film producer Humbert Balsan.
It is in no small part thanks to previous editions of the festival that the demand for Gallic-flavoured film continues to grow in the UK, so that we are now lucky enough to enjoy more French flicks all year round – and several of the festival's sections continue to showcase as-yet-undiscovered gems.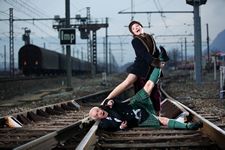 Among the films to look out for in the Discovery strand this year is the beautifully shot Another Man – which sees the festival broaden its remit by including the Swiss feature. Lionel Baier's film, which he describes as his most personal, tells the story of an ingénue film critic Francois, who finds himself falling for an older femme fatale. Although tonally a little uneven as it shifts from French New Wave homage into film noir territory, this is still an engaging psychological drama and features terrific performances from up and coming actors Robin Harsch and Natacha Koutchoumov.
Also featuring in the Discovery section are bittersweet comedies Eldorado and Neuilly, Yo Mama as well as more weighty drama, including Pierre Schoeller's Versailles. It stars Guillaume Depardieu - in one of his final roles before his untimely death to pneumonia last year - as a vagrant left holding an abandoned child, when a destitute mother sees him as a way out.
Over in the Panaroma section – aiming to showcase the established names of French cinema – Depardieu's dad Gerard teams up for the first time with veteran director Claude Chabrol, for Bellamy, which, surprisingly, marks the first collaboration between the two. Depardieu plays the titular police commissioner who can't resist turning his vacation into a busman's holiday by investigating an insurance claim. Older stars also lie at the heart of A French Gigolo, which, far from being the salacious romp the title might suggest, is rather a subtle exploration of relationships – both romantic and fiscal. It features stand-out turns from Nathalie Baye as the gigolo's client and Josiane Balasko – who also wrote and directed the film – as her sister. If the relationships in A French Gigolo are unusual, they are downright quirky in Samuel Benchetrit's I Always Wanted To Be A Gangster. This comedy, similar in tone to Jim Jarmusch's Coffee And Cigarettes, threads together four stories, each involving hapless criminals and a café on the outskirts of Paris.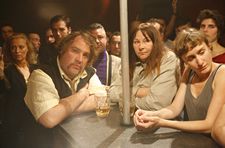 An incompetent criminal also lies at the heart of Louise-Michel – as a bunch of factory staff hire a hitman to bump off their boss when their company is forced into closure, while crime gets a distinctly playful touch in Agatha Christie adaptation Crime Is Our Business.
There's plenty of more serious subject matter on offer, too, courtesy of Christophe Honore's The Beautiful Person – a teen drama focusing on a central character who becomes an object of desire at her new school – and Lady Jane, which sees Robert Guediguian (The Town Is Quiet) again exploring the dark side of Marseilles, this time telling the story of a trio of criminals reunited by a kidnapping.
The new films on show may be tantalising but they are matched step for step by two terrific – and very different - retrospectives. The first concentrates on the work of the hugely influential Jacques Tati, whose screen alter ego Monsieur Hulot, is an enduring and meticulous comic creation. This showcase includes a restored print of M Hulot's Holiday a Michael House's new documentary on the man behind the camera The Magnificent Tati.
The festival has always shown the odd restoration of Tati films," says Richard "but never have we had the chance to put on them all in a Totally Tati season. Who could resist with pristine digital prints available of such classics M Hulot's Holiday, Trafic, and Mon Oncle?
"This summer France went Tati mad with a huge exhibition and screenings at the Cinematheque. We didn't want to miss out on the momentum. And besides all of that he is a comic genius on a par with Buster Keaton."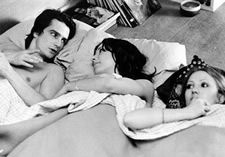 When it comes to a rare opportunity to see films, though, it is the second retrospective at this year's festival that is the real gem. Focusing on Jean Eustache – an 'outsider' to the New Wave movement – many of the films being shown are incredibly hard to come by. In addition to showing The Mother And The Whore – based on Eustache's own, incredibly complicated love life and the winner of the Grand Jury and International Critics prizes at Cannes in 1973, there is a broad selection of his other films, including documentary The Pig, and docu-fiction oddity A Dirty Story.
Richard says the retrospectives combine to make the perfect pair.
"The austere and highly personal work of Eustache appealed as a complete counterpoint to the antics of Tati, although they have something in common in their innovative use of sound," he says "Eustache's work is rarely seen and most of his film are almost impossible to find in the UK on DVD. This provides the perfect opportunity to assess his work with various speakers putting it into context."
Yet again, the French Film Festival finds its strength in diversity - vive la difference.
The French Film Festival runs across the UK from November 8 to December 20 at the following venues: Glasgow (GFT), Edinburgh (Filmhouse), London (CinéLumière), Manchester (Cornerhouse), Warwick (Arts Centre), Cambridge (Arts Picture House), Durham (Gala Theatre & Cinema); Aberdeen (Belmont), Inverness (Eden Court), Dundee (DCA), St Andrews (New Picture House) and Stirling (Macrobert). Read our ongoing coverage here and visit the official site for full programme details and times. Watch the trailer for the festival below.
Share this with others on...