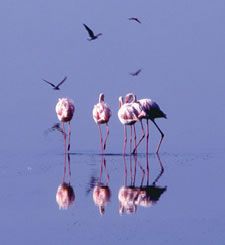 Crimson Wing is in cinemas now Photos: ©Disney Enterprises, Inc.
It's some 50 years since Disney took any real interest in natural history – but all that has changed with the inauguration of its Disneynature label. Spurred on by helping to co-produce March Of The Penguins, the company has decided it's time to embrace some animal magic and Crimson Wing is the first film to be made by the new branch.
Directed by Brits Matthew Aeberhard and Leander Ward, and written by Melanie Finn, I caught up with them and Executive Vice President and General Manager of Disney Nature Jean-Francois Camilleri when the film received its premiere at Edinburgh Film Festival earlier this year to talk about the film – and Disney's urge to go natural.
Camilleri says: "I think it is a good time to go back to these types of films in cinemas because digital images, digital sounds makes it a very good experience. People usually enjoy 'survival' stories on TV but now it is time to tell them there is something on the big screen that is even better. We came across the story of the Crimson Wing, which is a very beautiful and strong story and we wanted to tell it."
The story centres on the life cycle of the millions of flamingos who breed at Tanzania's Lake Natron – an expanse of water so salty that for part of the year a salt island forms at its heart, providing a nesting place for the birds. It is an area the filmmakers – already in the country working – found fascinating.
"Our initial concepts were pretty far out there," says Finn. "Natron is a place that pretty much resembles another planet and we wanted to make a much more eccentric film. But on the journey we became involved with Disney and I think the film necessarily became more modest in its ambitions, more focussed… which is no bad thing. I don't think it's a compromise at all, but you make choices and you begin to go on that journey."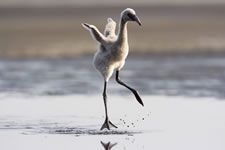 Ward says: "Matt and I were both working out of east Africa, near to Lake Natron, on separate projects. He was doing something for National Geographic about baboons and I was filming buffalo for the BBC. And just by being out there and becoming friends, we started talking about what we wanted to do next and he had had a good experience working on theatrical nature documentaries, which was, for me, like the Holy Grail.
"And when we were talking about ideas, we were aware of this lake about 70km away that was under-explored by filmmakers."
Aeberhard adds: "I made forays to Lake Natron just to explore it and climb this fantastic volcano at the southern end of the lake, so I got to know it over the years.
"But I think the really defining thing for us was some pictures that were taken by a friend of mine from a microlight, which showed the lake from the air, with the fantastic colours of different algae, just the mirror-still surface of the lake reflecting the sky and the heavens, all set in this fantastic location of the volcano, with a fantastic storyline of 2.5 million birds breeding in this one location. A sort of equivalent to the Serengeti wilderness migration but a bird migration."
The microlight footage marked the start of a documentary journey that would last for years as the two directors worked with Finn – now married to Aeberhard – on the script.
Finn says: "Initially, Matt and Leo approached me in 2002 – I had started dating Matt and worked for cheap, in other words, free. So the three of us worked on the concepts together, just trying to get a handle on what was this film we wanted to make. All we really had was this footage that had been shot from a microlight and [the question] how were we going to turn this into a film? And because I'm a verbal person, Leo's into music and Matt's very visual, the three of us were able to work together crafting this thing."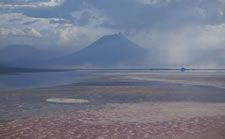 This may sound reasonably straightforward - after all there are many birds on the lake to capture on camera - but despite its beauty, Natron's environment is harsh. Many of the flamingo chicks fall foul of the salt within the lake – which can harden to form deposits round their ankles, preventing them from keeping up with the rest of their peers – but its corrosive nature also presented a unique set of problems for the filmmakers.
"It was very tough," says Aeberhard. "We had volcanoes erupting on-set, we had a whole series of earthquakes lasting five months and then we had the lake itself, with its salt and access problems.
"You wouldn't believe the salt. It is very caustic, but it also gets everywhere. You get covered with spray and the water is saturated with salt, so as soon as it evaporates it leaves a deposit of soda ash salts on you. So much so that you can take your shirt off at the end of the day and literally stand it upright on the top of your shorts and it will maintain the shape."
Ward agrees that even getting out on to the lake to film was a tough job "because the salt is so rigid and it can cut through anything".
"The hovercraft that we used to get out there operates by floating on a rubber skirt. And whenever we crossed over these very hard salt plates they would rip up the skirt and without the skirt you can't move the hovercraft. So the times when that would happen, that was perhaps when the salt was our biggest enemy because we would have been stuck in the middle of the lake with a 20-mile walk like the flamingos have."
The trio spent 16 months filming by the lake – not a long time considering that most documentary films are shot over a two-year period – and were forced to contend with heavy rain stopping their shoot and that small matter of the local volcano erupting.
"I love the scene in the beginning where the rainbow is over the water," says Finn. "I think partly because I was with Matt when we shot that and it followed two months of rain in which we hadn't been able to film anything.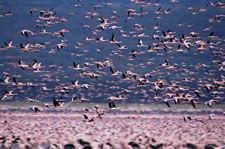 "There was panic, Burbank was panicking – they were asking questions like: 'When's it going to stop raining?' or 'Why is it raining?' So on that particular afternoon, we had to walk about two miles across the mud flats carrying all this gear and up the hill, thinking: 'this is a disaster, we've got to get something'. And suddenly the sun came out and with the sun, this rainbow that cast its colour shadow on the lake and it was just a beautiful moment. We knew then that we were actually going to make this film because - at that point Burbank were thinking about pulling the plug."
Speaking about the Lengai volcano, which broke a 30-year dormancy during their stay, Ward adds: "I knew before we went out that the volcano was something to worry about, so in my head I thought it might go off and thought, what would I do – imagining a sort of Pompeii scene with everything covered in this stuff. And when it went off, actually, because the prevailing wind was going away from our camp we just got used to it. And we just made it part of our landscape."
In fact, by the end of the filming schedule the filmmakers found that they had almost become part of the landscape too, so much so that Finn and Aeberhard went back to the area once they had finished editing the film.
Aeberhard says they wanted "to try to get some projects up and running, help the community and appreciate the place without the film".
Finn – who has now returned to the UK with her Aeberhard to await the arrival of their twins – adds: "We just left two weeks ago. We'd been so captivated by the place, by the wilderness, by the beauty of it and living among the Masai. There was so much that we wanted to do that we hadn't be able to do because we were just incredibly busy filming. So we just wanted to go back and have some more time to really experience the place, to explore the landscape and the people and just enjoy it.
"Makat is just full of rocks and we wanted to build this airstrip so they could get a flying medical service in. And we went round looking for graders [used to flatten surfaces], but they all wanted huge amounts of money and there was no way that we could raise it. So, in the end we had to move the rocks by hand, you're talking almost a kilometre of bush… we must have moved a couple of hundred thousand rocks and I'm not exaggerating. It was a labour of love but I think, for the community, it was really important to realise that they could do it. And the result was they're going to get a medical service every month, which they've never had."
It's nice to know that the legacy of the film is more than just the images captured on celluloid.
"This film is encouraging an appreciation of nature," says Aeberhard. "If we don't have that, we're lost, we're not talking about species survival, we're talking about human survival here. These are realities now."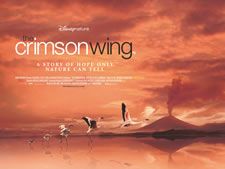 Crimson Wing is out in cinemas across the UK now. For more information about the film, visit the official site. To view the trailer, click here
Share this with others on...