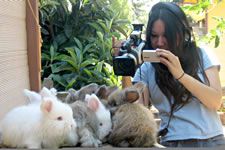 Director Amy Do and her fluffy subjects
Billed as 'a hare raising story', Rabbit Fever is a torrid true life tale of teenage bunny enthusiasts competing for the coveted titles of Rabbit King and Rabbit Queen at the annual National American Rabbit Convention. An intimate, quirky documentary, it's already gathering praise and looks set to provide a big breakthrough for its young director, Amy Do. But how did she find herself making it in the first place?
"I blame my dad for encouraging me to get into this backbreaking industry!" says Amy. "Instead of toys, he equipped me with my first Hi-8 video camera when I was nine years old and made me shoot all of our family vacations for many years. I guess it makes sense that I transitioned into documentary filmmaking after I graduated from film school."
Having decided to make a documentary, Amy was quickly drawn to the subject of rabbits, which she had always loved.
"My favorite pet as a child was my Dutch rabbit, Thumper. He always followed me around the house and quickly became my loyal sidekick. Years later, when I moved away for college, I missed having the comfort of an animal around the house and decided to adopt a new rabbit. The breeder had me meet her at a local rabbit show and I was amazed with what I discovered there! The whole obscure world - the sight of so many exotic breeds, the colorful people, and the actual show competition - is extremely fascinating. If there's any real reason why the title of the film is Rabbit Fever, it's because I think I caught it as soon as I attended my first rabbit show. After that day, I ended up raising a few purebred rabbits of my own while studying at film school. It was only natural that my two passions - filmmaking and rabbits - collided into what turned out to be a feature-length documentary. Little did I know that it would take me more than seven years to complete!"
So how easy is it to be objective when making a documentary about a subject one is so close to? I asked Amy what she felt about the culture of the rabbit show world. Is it as strange and obsessive as it might seem to outsiders?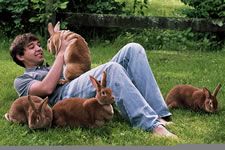 "I think every community that stems from a common passion definitely has its fair share of obsessive and competitive people, and the rabbit show world is no exception," she acknowledges. "I interviewed a wide spectrum of people - from those who participated simply because they enjoyed the camaraderie, and others who were intensely motivated to win Best in Show or the title of Rabbit Queen at all costs. People in the rabbit world are not obsessive enough to bring their bunnies to pet psychologists like Christopher Guest's satirical portrayal of animal lovers [in Best In Show], but they're passionate enough to commit to breeding, raising, feeding, grooming, cleaning, studying, judging, and showing anywhere from 30 to 300 of their own rabbits at a time. That takes true dedication."
So how did the rabbit show community feel about her making this film?
"As a hobby, it's almost 100 years old, so I was surprised to find out that the media had never really covered rabbit showing in the same vein as dog shows," she says. "The main reason why I enjoyed covering the rabbit world for so many years is because a lot of the people that I encountered were so welcoming in helping me accomplish my goal. Of course, a few people were worried that I was from PETA and thought that I was trying to produce some exposé on the rabbit show industry, but after getting to know me and my own passion for rabbits, they trusted that I had their best interests at heart. The majority of the almost 30,000 members of the American Rabbit Breeders Association are just happy that their community will finally be recognized after Rabbit Fever debuts. I've seen and filmed the historical documents and photographs of their organization - it's amazing that such a rich world has remained underground for so long."
Was it difficult to capture people - and rabbits - behaving naturally in the presence of a film crew? Amy says she didn't find it a problem.
"In true indie fashion, a lot of the time it was just me, my camera and no other crew members. The intimacy of this setup allowed my subjects to really feel comfortable and ignore the fact that they were being recorded. I've gotten some really personal stories from people that I've interviewed this way. I think it's really important to get to know your subjects and be sensitive to their comfort level and boundaries, because then your interviews are more like conversations between friends and everybody is more relaxed that way. At other times, especially when I was shooting the younger subjects that were competing for Rabbit King and Queen, they were so focused on studying and preparing for the actual competition that they didn't have time to worry about the fact that they were being filmed. I also think that kids are so used to things like 'show-and-tell' that talking to an adult and showing things on-camera comes naturally to them."
Rabbit Fever was originally developed as a 20 minute project for film school, but such was the reaction of viewers that Amy's teacher, Charles Braverman (director of the critically acclaimed Curtain Call) encouraged her to expand it into a feature-length piece.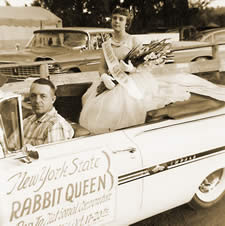 "Just describing the spectacle of the 20,000 rabbits that I saw during my first visit to the National American Rabbit Convention is enough to pique anyone's curiosity," she says. "As for getting my crew together, I've just been really lucky to have met such talented people who believed in the project enough to become a part of it. The majority of my crew I met in the Star Wars universe by way of working at Lucasfilm Ltd. on the behind-the-scenes documentaries for Star Wars: Episode III. Even Rick McCallum, the producer of Star Wars, was gracious enough to review Rabbit Fever and gave me positive notes. So, if you're trying to make a movie, make friends first, that's my first piece of advice to any aspiring filmmaker!"
Going from shooting wookiees to rabbits was a big leap, Amy admits, but in both cases she found stray fur on her clothes at the end of the day. So what will her next project be?
"While I still plan to work on documentaries, after being a slave to reality for so long, I thought it would be refreshing to work on the other end of the spectrum where I could control everything. It's still in its incubation period, but I've already started developing an animated feature which I will talk more about once Rabbit Fever is put to bed. Stay tuned!"
If you want to know more about Rabbit Fever, you can visit the official site and read Amy's blog at
www.rabbitfever.com
. Amy is currently in the process of submitting the film to festivals.
Share this with others on...