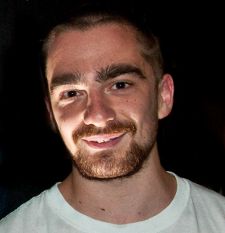 Robbie McKay (all photos by Max Blinkhorn)
It's often said that we're turning into a nation of couch potatoes preferring to sit at home with beer. Doritos and DVDs. But a quick look around the darker corners of MySpace and Facebook and you'll be surprised at what you find. Down at The Crypt at the Jekyll and Hyde pub on Hanover Street in Edinburgh, there's a thriving agglomeration of aficionados of lesser known films, the Edinburgh B-Team.
Each Monday, this varied group of trash lovers meets to enjoy the shared experience of watching a film together even if it is less than a blockbuster. "It's about watching a film in company", says Robbie McKay, one of the group's founding members. "We have had as many as 20 people attending our evenings though more often it's a dozen or so. The more the merrier though – anyone can pop down for the show".
The Edinburgh B-Team has no rules about what it watches – anything from slasher movies to spoofs is on the menu. "We began with horror, that being my preference, but then the themes widened," Robbie explains. From that came the idea of "the B-Team" – B- movies that is. "We watch two movies each night and try to keep to a particular theme, keeping everyone informed through our MySpace and Facebook pages".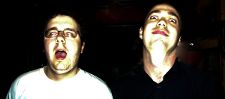 "The essence of the B-Team is that the films are enjoyable and don't take a huge amount of brain power to watch – easy watching if you like. It's about the shared experience of watching a film together. We're all about zombies fighting sharks."
So what sort of movies appeal to the B-Team? "Snakes On A Train we liked." said Robbie "The cover showed a giant snakewoman eating a train but there was no such scene in the film. While trying to sell the film in Japan, one distributor asked if there was a giant snakewoman eating the train. The film hadn't been completed at that point and they were struggling for a good ending so they changed it to suit the Japanese distributor's idea!" The B-Team has also held a blaxploitation night, a Dangerous Dames night (with Foxy Brown), and classic Universal monster movie nights, as well as showing films like Street Trash and the all-midget western The Terror Of Tiny Town. It's the backstory to many of these films that makes them really interesting. But it's more than just an extension of movie trivia. It's great to go out to the pub, meet like minded people and share the experience of watching a film with something unusual about it.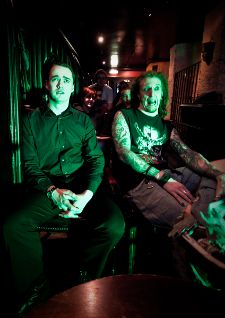 The Crypt, while not an ideal cinema venue, certainly has the right décor and atmosphere for a screening dark movies and being in a pub has numerous advantages! Robbie is trying to find a bigger venue in Edinburgh but stays he would still want to hold events in the pub too, as he loves the atmosphere there. He first discovered it because a friend of his drank there - he'd been going round lots of different pubs looking for one which could host his planned event, only to discover that the manager of the Jekyll & Hyde had already been planning something along those lines.
I was impressed by Robbie's energy – it's clear that he's enjoyed the experience of bringing this group of disparate people together to resurrect these old films and he has lots of plans for the future, including a 24 hour trash film spectacular. He's involved in joint projects with fellow Edinburgh film fan group The Zombie Club, and rare dvd shop Cult Fiction. "Maybe you're on the point of setting up an Edinburgh Film Festival fringe," I venture. I'm not sure he's thought that far but I sense there are cogs turning in Robbie's head... what a concept!
The B-Team are currently organising a big event at the Cameo with an in-person appearance by Troma Pictures chief Lloyd Kaufman. This will take place at 9pm on Thursday the 13th of August and it's open to the public, so if you're going to be in Edinburgh, why not go along? Alternatively, you can visit one of their regular events - new members are always welcome.
To find out more about the B-team, visit their Facebook group.
Share this with others on...