Handsome Harry
The programming at Tribeca is notable for always including narrative films with older protagonists, as well as more standard fare. In the past this has meant films such as The Visitor and Quiet Chaos being programmed, and this year is no different with several films fitting the bill, from the cross-cultural older romance in Here And There, to Adrienne Shelley's Serious Moonlight - which sees Meg Ryan and Timothy Hutton as an long-time married couple trying to square their relationship differences in a very unusual way.
Another film which takes its older protagonist very seriously is Handsome Harry. Starring Jamey Sheridan - best known for his role as Captain Deakins in Criminal Intent, it is a story of repression and the search for redemption. Although not a conman in the 'Flash Harry' sense, Harry Sweeney is adept at conning those around him in an emotional sense, not least himself. When a phonecall from an old Navy buddy (Steve Buscemi) triggers memories of a violent crime conducted by his cabal, it triggers an odyssey to find out not only the truth of the incident but also the truth of himself.
Sheridan is quite simply brilliant as Harry, bringing the sort of unspoken gamut of emotions to the role that Richard Jenkins brought to his older conflicted character in The Visitor. His performance is definitely the stuff that award nominations are made of. Although the narrative itself may seem slight, it is the exploration of emotions which holds the pull.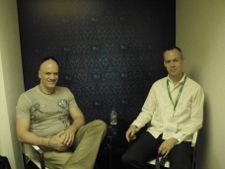 Most of the rest of Day Four was spent conducting interviews of various sorts at the Direct TV sponsored press centre - which is pretty swish this year. First up, I spoke to Anders Banke and producer Sam Klebanov Newsmakers, a remake of Johnnie To's Breaking News.
Klebanov, apparently, is also a writer, distributor, actor and sometime interviewer... though what he does in his spare time was not revealed.
I haven't seen the original, although it is now on my to do list, so I started by asking them why they chose to remake the film.
"Well, it's pretty simple," said Klebanov. "Because I like the story and I think it was approximately in the middle of the film, when I saw it in 2004, that I thought, this story would work really well in Russia. And I started this little mindgame. While I was watching the film I was imagining it on the outskirts of Moscow and I started to think about casting choices. I even cast Sergey Garmash, who plays the older killer in the film, while watching the original.
"Then the idea stayed with me. I've been in the film industry for nine years, I have my own distribution company. I've been doing a TV show about films and have been moving gradually into production. I felt that I got the story and I had something to start with. I was thinking of buying the distribution rights to the original film and I talked to the company and asked them if they could include remake rights. There wasn't a major argument about the price because I was trying to buy something which nobody else would buy."
Banke adds: "I saw the film and thought exactly the same thing as Sam thought, that this could be a Russian story and really would work so well, given the media information and the hostage situation."
We went to talk about the nature of remakes and the aims of the film, and will bring you the rest of the interview soon. It was a quick dash downstairs to catch the roundtables for Handsome Harry, with its star Jamey Sheridan, supporting actress Karen Young and director Bette Gordon. There's something slightly odd about quizzing someone who you've watched on telly every Saturday night for years, but Sheridan turns out to be a very chatty actor, with strong opinions on the film and his character - a refreshing change from many who simply use these affairs to go through the motions. Gordon and Young are equally entertaining and it's pretty obvious that they all get along very well.
Filing the resulting interview in the increasingly worrying stack of things that need to be transcribed, I headed back to the cinema for a screening of Michael Cuesta's Tell Tale. Introducing the film, the director. Introducing the film, he said: "So, if anyone is expecting something like L.I.E. or 12 And Holding, my previous two films, you're going to be a bit surprised here. This is more of a genre film. You may see elements in there but this is much more of a thrill ride."
He then proceded to take a picture of the audience to send to producer Ridley Scott, which is nothing if not sweet.
He went on to add that he has tried to capture the "textures and feelings" that come from reading the work of Edgar Allan Poe.
He wasn't kidding when he said it was a genre film, as Tell Tale turns out to be more pulpy than a bag of oranges. Even the set-up screams Pulp. Josh Lucas stars as Terry, a single dad with a congenitally sick daughter who has just had a heart transplant. Although he initially seems to be recovering well - and is embarking on a tentative relationship with his daughter's doctor - he begins to have strange flashbacks to his donor's murder and, despite being a mild, mannered sort, his heart begins to beat to the rhythm of revenge. Brian Cox - who seems to be getting quite a taste for this sort of pulp work lately (see also last year's Red) - is good value as always as a copper who seems to want to help. That said, despite flourishes, this never really manages to shake off it's B movie feel.
In a rather shocking case of life imitating art, an audience member actually suffered some sort of seizure at the premiere - not the screening I attended - but fortunately recovered sufficiently for the show to go on.
Taking questions afterwards, Michael Cuesta and Josh Lucas talked about the film. Cuesta says: "A lot of the overall tone was Poe and setting it in Providence. I felt that was the right city to capture the gothic feel. It is one of the cities he visited. It was important to capture that turn of the century, sea-faring quality."
Lucas talks about talking to transplant patients and adds: "Scientific research is now starting to talk about cellular memory and the possibility that people could hold pain and their dreams and all sorts of things within the structure their cells. when something is given from one person to another there are oftentimes when the person has dreams they never had before that are of that person's [the donor's] life."
Lucas went on to talk about the fact that there were 21 different make up 'looks' to illustrate where the heart was, so to speak - whether benign or murderous - including contact lenses to change his eye colour. He says: "At the beginning we had seven different types of contact lens possibilities. They are full contact lenses that are basically like wearing a piece of glass across your eye - insanely uncomfortable."
Lucas also talks about how Brian Cox is a bit of a method actor, so because the character was grumpy, "he was grumpy all the time".
Cuesta says they embraced the pulpiness of the film, largely through Brian Cox's character.
Strolling back to the cinema, I found my 'Think you've seen it in New York?' moment, courtesy of a female beggar in Union Square, who was touting the sign: "Sick of prostitution, please help." You couldn't make this stuff up...
Share this with others on...